Cleansing is to remove dirt, sebum, bacteria and makeup after a long day of work. Makeup remover helps the skin to breathe so that new cells are formed and easily absorbed nutrients from the masks, Skin care products. However, removing makeup incorrectly or in the wrong way can lead to skin problems acne skin.
Let's find out the mistakes in removing makeup through the following article of Miss Tram - Natural Beauty Center ok
Mistakes When Removing Makeup Cause Acne
1
Do not use specialized makeup remover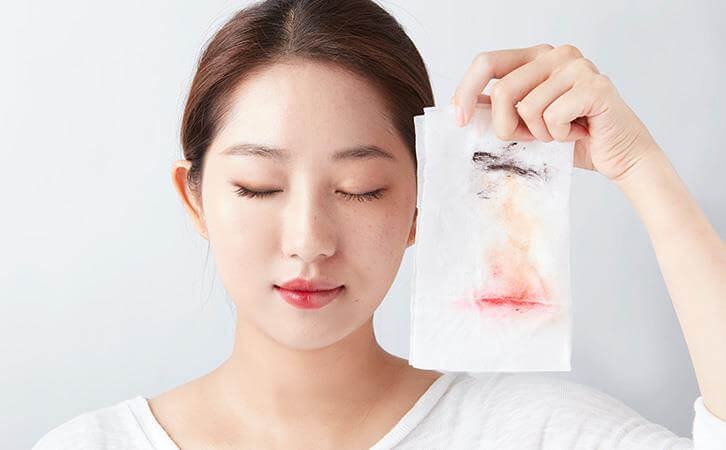 There are many people who use paper towels and wet wipes to remove makeup – this is very harmful to the skin. Because using a towel to remove makeup not only can not remove all makeup and dirt on the skin, but also easily causes scratches, from which the skin will be damaged and prone to acne.
On the market, there is a makeup remover tissue product that is advertised as being able to clean all layers of makeup and dirt, very convenient to use. However, it is not recommended to use a daily makeup remover tissue, but should only be used in an emergency, when you do not have specialized makeup removal products and cleansers.
>>> Good knowledge on how makeup remover for dry skin, to ensure the skin is taken care of safely and best, avoiding skin tightness, discomfort or irritation due to makeup removal.
2
Not removing makeup thoroughly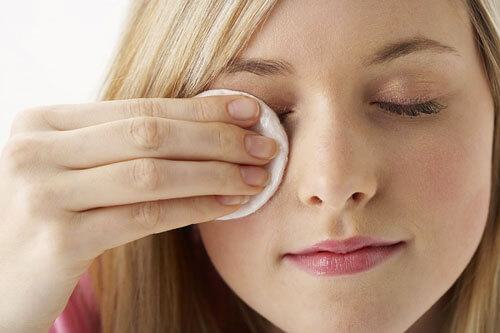 Maybe you still remove makeup regularly, but only doing it through the speaker makes the skin not completely clean – this is also a cause of acne. According to Dr. Jeannette Graf in New York, this mistake really entails a lot of consequences for the skin: "Makeup residue, dirt, bacteria can cause acne, dull skin, even wrinkles. ugly wrinkles".
Therefore, please remove makeup thoroughly and always perform enough 2 cleaning steps, that is: remove makeup and use cleanser to clean again to make sure makeup residue, dirt, sebum are thoroughly removed.
>>> Experience makeup remover for oily skinAcne-prone skin is the most difficult skin type to take care of, so makeup removal also needs a special formula.
3
Only remove makeup when makeup
If you think that you only remove makeup when applying makeup, you are wrong. Sunscreen is also an oil-based product like makeup products, leaving behind pore-clogging remnants that face wash alone won't treat - this is a cause of acne that you don't want expected.
4
Using the wrong makeup remover
Many people think that all makeup removers are suitable for all skin types – that is a mistake. If you have oily skin but choose a makeup remover with moisturizing effect, it will make your skin more oily, easily clogged pores and acne. And strong makeup remover products will also strip away the natural oil layer, making the skin easily irritated, sensitive, stimulating the skin to secrete a lot of excess oil and this is the cause of acne.
In addition, use specialized makeup remover products for each area: eyes, lips and face for best results.
>>> Good article about The secret to tightening pores at home with habits, recipes, natural ingredients.
5
After removing makeup, do not wash your face with cleanser
Many of you after using makeup remover often do not wash your face again because you think that is enough. But in fact, after removing makeup, there may be some stubborn cosmetic residues, the chemicals in the remaining makeup remover can cause skin irritation, clogged pores and easy acne. So, wash your face with a mild cleanser after removing your makeup to remove any remaining dirt and chemicals.
6
Do not use makeup remover bông
Many of you often use wet wipes, paper towels or ordinary medical cotton to remove makeup instead of specialized cotton - this is completely wrong. Because makeup remover cotton is designed with many thin layers of soft cotton, it is used to deeply clean dirt and makeup without scratching the skin; Ordinary paper or cotton cannot be substituted.
Therefore, if you do not use a specialized makeup remover, it will not deep clean the dirt in the pores, easy to form acne.
However, the use of poor quality makeup remover cotton does not bring the desired cleaning effect – you should choose to buy a branded and clear makeup remover for the most effective makeup removal process.
7
Forgot to remove contour makeup
Sometimes, due to too much focus on removing makeup on the eyes, cheeks, forehead or nose, many people forget that the contour around the face is also the place where makeup is applied and a lot of sweat and dirt accumulate. If you forget to remove makeup in this area, acne will only grow louder.
8
Using the wrong makeup remover
Recently, makeup remover oil is more popular among young people than makeup remover because of its deep cleansing effect. However, there are many cases where using the wrong makeup remover oil causes acne on the skin and is difficult to treat completely.
So, if you want to use a makeup remover, follow these guidelines:
Step 1: Get the oil:

Use dry hands to take about 5 drops of cleansing oil

Step 2: Massage on dry skin:

Gently massage the cleansing oil onto your face

Step 3: Emulsification:

Gently pat warm water on the face and continue to massage, at this time the cleansing oil on the face will turn into a milky white, making it easier to remove the oil layer.

Step 4: Rinse:

Wash your face with warm water and use a face wash right after.
>>> Reference information about Professional Makeup Course, if you want to become a makeup artist for your clients or simply for yourself then join now.
The above are mistakes in removing makeup that can cause acne, Miss Tram - Natural Beauty Center Hope this article will be useful to you. Wish you always take proper care of your skin to have a good skin!
See More About News – Beauty Secrets By Miss Tram - Natural Beauty Center:
Preparation of Skin Whitening Mask for Pregnant Women