Things To Note After Eyelid Sculpting
To create a sharp eyelid contour, to make the eyes more glittery, in addition to tattooing, we have another modern technique that is eyelid sculpture. This method uses a specialized blade, carved diagonally on the eyelid area to put ink in. Eyelid sculpting can overcome defects in eye shape such as small eyes, drooping eyelids, monolids, etc. to help beautiful eyes naturally and safely.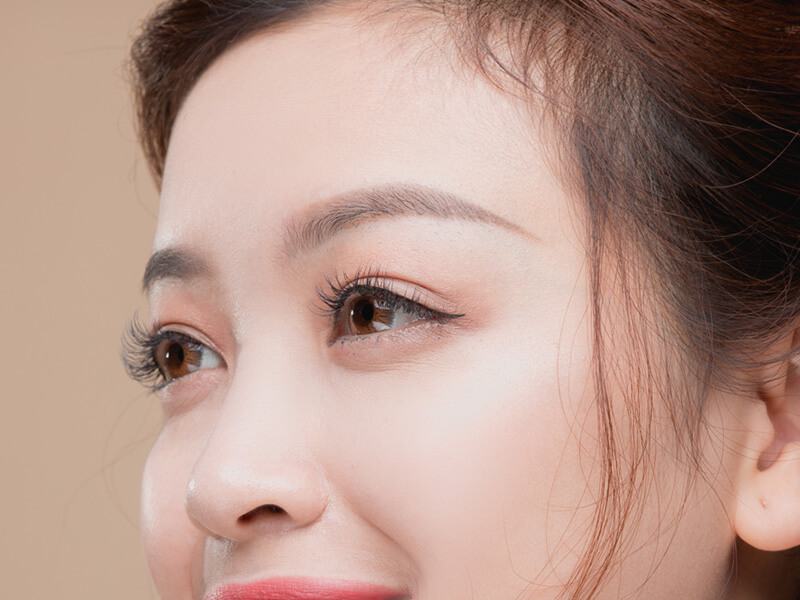 1. Eyelid sculpting and advantages at Miss Tram - Natural Beauty Center
Miss Tram - Natural Beauty Center has successfully applied new eyelid sculpting technology, helping many customers to own the most beautiful, attractive and natural eyes possible. If eyelid spraying uses an embroidery machine with a micro-needle attached to the eyelid skin to bring ink in, the sculptor will use a specialized engraving pen, carving each stroke very meticulously. As a result, the eyelid contour is beautiful, the ink line is definitive and has a certain slenderness.
>>> Related posts: Korean Eyelid Spray Method - Modern Korean eyelid spray technology will help overcome the disadvantages of the eyes, making the eyes more glitter, bigger and more beautiful.
Eyelid sculpture at Miss Tram uses high-quality herbal ink, 100% natural ingredients that do not contain lead or other chemicals. Therefore, even after a long time, the eyelid color is still not oxidized and colorless, and there is no unsightly patchy appearance. At the same time, the quality of ink will not affect the eyes and health of customers. This is also one of the important notes for you to choose a cosmetic facility if you want to "refurbish" your eyelids.
This beauty method does not affect the eyelids deeply, does not cause invasion or damage to the skin, so it is highly appreciated for its safety. During the implementation, you do not have to worry about unpleasant pain, and there is no need to spend time on rest or strict abstinence. It can be said that the recovery of the eyelids after sculpting is quick, leaving no side effects, and at the same time giving us a very natural looking eyelid.
>>> Related Articles: What Is Puffy Eye Surgery? - Puffy eyes are one of the causes of aging, less flexible eyes and denouncing people's real age. So how to cut eye bags? See the article.
2. What should I pay attention to after sculpting eyelids?
According to the most standard process, when finishing the sculpting stage, you will be cleaned by the experts with physiological saline, carefully cleaned the eyelid area and applied tetracycline to lock the color. Tetracycline also has anti-inflammatory and anti-swelling effects to help the eyelid area quickly stabilize. In case you do it at another tattoo parlor and do not see this step, you should immediately ask the experts to make sure your eyelids are taken care of.
Eyelids after sculpting within the first 3 days need to be applied tetracycline continuously, otherwise the eyelid line will occur the phenomenon of fiber breakage, the eyelid peeling will not be as perfect as expected. In addition, we also avoid water in the early days and absolutely do not peel off the eyelids.
In the days after sculpting, the eyelid area will be itchy because the skin begins to heal and peel off the color layer, so that the ink is the most beautiful, try to let it peel off naturally. After 3 days, we will wash with normal water and you can even use a damp cotton ball on the eyelid line to make it fall off faster.
Eyelid sculpting does not need to be abstained from foods and drinks that are too strict, it's just that if you have a sensitive body or an itchy allergy, you should avoid eating seafood, beef, water spinach, ... because of these types. This will increase the itch sensation causing you to scratch and leave scars. You should drink enough water, supplement with fruits containing many vitamins to help eyelids peel off quickly, up a beautiful standard color.
>>> Related posts: Doll Eyelash Extension Method - The method of doll eyelash extensions is why so many people love it, let's refer to it.

If you are about to sculpt your eyelids, take note of the above notes of Miss Tram - Natural Beauty Center to own the most perfect eyes!
See More About News – Beauty Secrets By Miss Tram - Natural Beauty Center:
Top 05 Natural Anti-Aging Eye Masks