Red lipstick Although it is the original lipstick color, it is indispensable in the "collection" of lipsticks of beauty believers. Because this color tone not only makes the lips more attractive and sexy, but also exudes a confident - powerful - arrogant attitude on a woman's face. In particular, no matter how the "trend" changes, the red lipstick line is always trendy, classy and never outdated.
So, how to use red lipstick properly? luxurious - fine - smooth Best? Do not skip the following article of Miss Tram - Natural Beauty Center ok
Basic Rules When Using Red Lipstick
1
Don't forget to exfoliate your lips
No matter what lipstick you use, how you apply lipstick, you should regularly exfoliate your lips every 1-2 days. This care step will remove dead cells, dry lip skin and ensure softer lips. Thanks to that, the lipstick process will be evenly colored and smooth, much more glossy.
note: Because Exfoliating Lips often, so give priority to natural recipes such as: olive oil + brown sugar, coconut oil + coffee grounds, ... and moisturize your lips right after that to keep your lips soft and healthy.
2
Choose a tone that matches your skin tone
Red lipstick has many different shades, so it is not easy for everyone to find their own "true love". Therefore, you can refer to Tips to choose red lipstick that matches your skin tone by the following simple formula:
If you have light skin tone: Choose raspberry red, rose red.
If you have brown skin tone: Give priority to brick red, orange red.
Of course, the charisma on your face will be the deciding factor, but choosing the right lipstick color for your skin will help your face be more harmonious and perfect.
3
Don't be afraid to mix
Lipstick in the end is only for the purpose of increasing freshness and expressing the user's personality. Therefore, what color lipstick to use, how to use it will largely depend on your style and feelings - these factors are always changing, so don't be afraid to experiment and mix lipstick colors. .
In particular, red lipstick is the most primitive and basic lipstick color - from this color gamut, you can create for yourself a lot of different colors. Don't be afraid to experiment!
>>> Experience: Fixing Dull, Dry Lips Because of Lipstick In many cases, regularly applying lipstick makes the lips dull and dry. This makes women more and more dependent on lipstick. Check out these 7 great fixes.
4
Prioritize matte lipstick instead of lip gloss
The red tone is extremely prominent, so just a little bit of color smearing, a little bit of tooth stick or a little bit of sticking to the glass will make you awkward. So it's best to use matte lipstick instead of lip gloss to minimize the above risks.
5
Make sure they don't smudge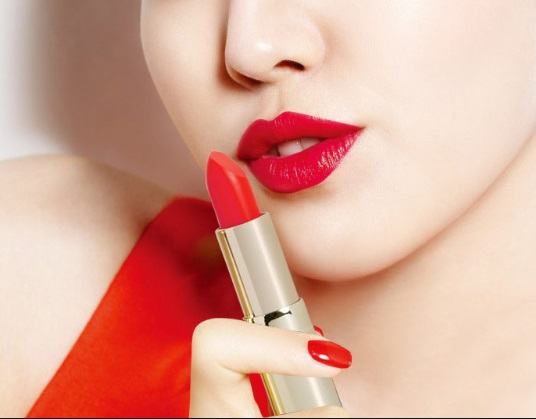 Of course, the perfection of the lips will greatly affect your "elegant" point. And the smudged lipstick will make you lose a lot of points. So, in addition to checking your lips carefully after applying lipstick, bring a small mirror to check your lips from time to time.
>>> Good article: How to take care of lips in summer - 7 lip care tips to help you always own beautiful lips, full of vitality on summer days.
6
Should create lip contour with lipstick
Using a lip pencil to create a lip line first will help you define the lip frame clearly, this lipstick will also help you "cheat" the thickness of the lips most naturally. Therefore, if you want to have a fuller, fuller and sexy red lips, it is best to use more lipstick.
7
Using a brush will have a softer lip color
Many girls think that brushes are only for professional makeup artists, and normally just lipstick with lipstick is enough.
But actually, the more "fuzzy chicken", the more you need to use this type of tool. Because according to the experience of makeup believers, makeup brushes will help you spread lipstick more evenly, especially the corners of your lips and bold lip lines.
8
"Reduce" other parts of the face
Red lipstick itself is an extremely prominent color, so once you have used them, you need to limit other details on the face. Don't make your eyebrows too bold, don't press your cheeks too openly, don't have too "deep" eyes. Because they will make your face become gaudy and "inferior".
Hint: Choose light eyeshadow, thin eyeliner and moderate mascara – this will help your face look more harmonious.
>>> Related posts: How to take care of lips in winter 10 tips to take care of your lips in winter to help you avoid worries because your skin and lips are always in a state of being easily dry and lifeless due to dry weather.
9
Pay attention to the outfit
Red lipstick color is quite suitable for personality style, elegant and slightly power. So to have the best look, you should use neutral colors such as white, black, gray, beige for your outfits. Therefore, the black dress-red lipstick combination is the perfect "combo" if you want to score "elegant".
10
Ton sur ton nail polish
The ton sur ton effect of red lipstick and nail polish is just a small highlight, but they will score "absolute" for your sophistication. Especially, in luxurious dinner parties, this style will make you stand out much more.
However, do this with classic, deep reds only – bright reds also make you stand out, but only less luxurious.
The above are the share of Miss Tram - Natural Beauty Center about the most standard red lipstick rules that girls need to know. Lipstick is a "weapon" to help the face become fresher and more attractive, but to use it effectively, you also need to practice a lot. Don't give up!
You are viewing the article 10 Basic Rules When Using Red Lipstick in a good forum News – Beauty Secrets of Miss Tram VietNam. All reviews and comments please send them directly to the email address teamcrmmisstram@gmail.com or you can comment right below the article. Don't forget to follow other good articles of Miss Tram and share it with everyone!
Review Top Skin Care Products