Because at this time, the high temperature makes the UV index also increase. As a result, the skin will darken because it needs Melanin to protect from damage. In order to have a bright white skin during this time, not only do you need to take care of it, you also need effective sun protection.
How to Whiten Skin In Summer
Before whitening, need sunscreen chống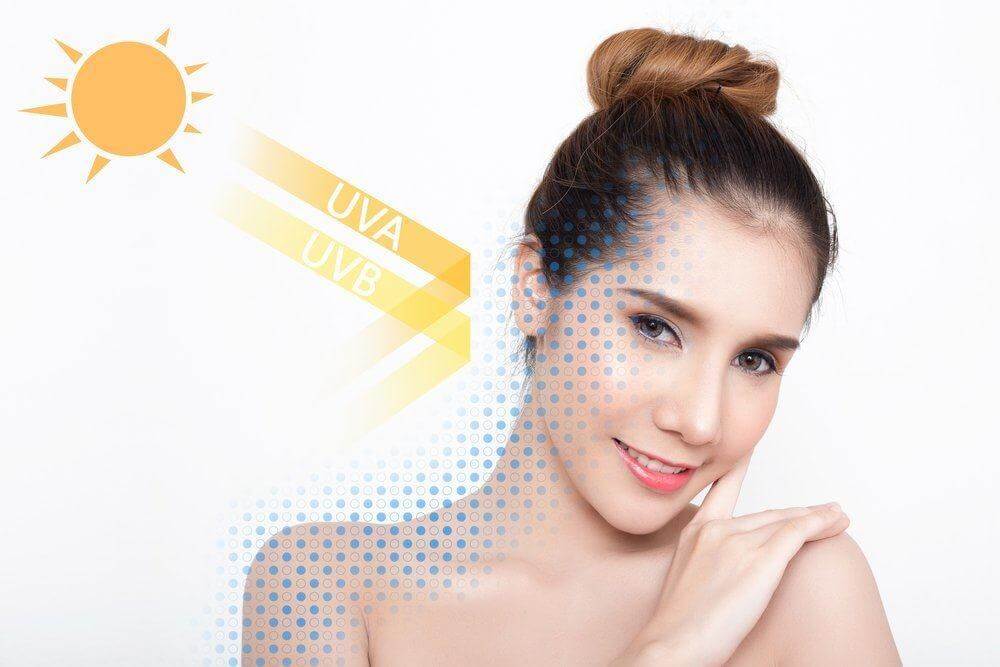 According to Assoc. Prof. Tran Hong Con - University of Natural Sciences - Hanoi National University, UV intensity depends on clouds, season, weather... For example, if it's sunny but cloudy, the amount of ultraviolet rays will be weaker. and vice versa when the temperature is high, the UV index will also increase.
To protect the body against the penetration of ultraviolet rays as well as substances that cause skin oxidation, leading to malignant melanoma cancer, the Melanin plays a part in the role of the "shield" of the skin which is formed into each day will rapidly increase the synthesis rate.
As a result, the body is not only protected, but also causes the skin to darken, even darken, freckles. For humans, Melanin is a double-edged sword.
>>> Recommended articles: 3 Levels Of Melasma And How To Care For Each Level - Melasma is the fear of many women because this skin condition greatly affects the aesthetics and youthfulness of the face. Melasma has many levels with different manifestations, so the treatment method also needs to be customized accordingly.
Therefore, in hot summer days, if you want to make your skin whiter, you should first know how to protect yourself from the sun. According to BSCKI Hoang Van Minh, Head of Dermatology Clinic, University of Medicine and Pharmacy Hospital, Ho Chi Minh City, all sessions of the day have UV rays, but the strongest intensity is from 10 am to 2-3 pm. The main prevention measure is to use protective means such as wearing a wide-brimmed hat, wearing sunglasses, using umbrellas, sunscreen, gloves, masks, sunscreen ...
In addition, build a diet rich in substances such as Lycopene (found in watermelon), Vitamins (in green leafy vegetables), Omega-3 (in fish and nuts), Folic acid (in cucumber). , Catechins (green tea)... will make a great contribution to protecting the skin from the sun by destroying free radicals, reducing inflammation from within the cells.
It's sunny and needs whitening
"Naturally beautiful but not natural but beautiful", especially on hot days, the skin is very vulnerable not only to UV rays but also to dehydration and lack of nutrients.
Not only to help whiten skin but also to nourish healthy skin, besides using specialized creams for each skin type, you should also make some suitable masks.
For lane dry skin, The best way to take care of it is to provide enough water. Cucumber with the main ingredient is water, and many minerals are essential for dry skin to moisturize. In addition, the folic acid in cucumber is also a good sunscreen agent. With cucumber, to make a mask, you just need to cut it into thin slices, apply it directly to the skin, and then wash it off with clean water without having to do anything else.
For lane oily skin, tomatoes will be the fruit that helps you prepare a 100% natural whitening mask. Because the composition of this fruit contains quite a lot of nutrients including: Vitamin A, Vitamin B6, Vitamin C, Lycopene and Beta-coraten ... promote the ability to remove darkening while ensuring ventilation. To make a mask, you just need to squeeze out tomato juice, use a cotton pad to absorb it, and gently apply it to your skin. After 10-15 minutes, relax and rinse with clean water.
For combination skin, Watermelon honey mask will be a whitening choice that should not be ignored. You just need to use 2 tablespoons of watermelon juice mixed with 1 tablespoon of honey, then use the mixture to apply it on your face several times. Then relax for 30 minutes for the nutrients to penetrate deeply to nourish the beautiful skin and then wash your face with cold water. Vitamins along with Lycopene are extremely valuable antioxidants that not only help the skin to be brighter, but also do not limit aging.
If you don't know what type of skin you have, do the test skin test quiz simple. See more tips on choosing Fruit mask suitable for each skin type for optimal skin care.
good luck!
See More About News – Beauty Secrets By Miss Tram - Natural Beauty Center:
Skin Whitening Secrets For Sensitive Skin
Learn The Path To The Beauty Profession