Things to Note Before Spraying Lip Tattoos.
No Deep Lips Do You Need Lip Treatment When Doing It
Treating dark lips before spraying, lip sculpting is a matter of concern to many people. So is it necessary to treat dark lips for less dark lips?
Question:
Hi Miss Tram - Natural Beauty Center, if my lips are not dark, do I need to treat them when I spray because I don't see that my lips are dark? I hope the experts can help me answer my questions and tell me how much the treatment costs? I would like to thank you! (Xuan Mai – 23 years old – Thu Duc)
Reply:
Hello Xuan Mai, thank you Mai for your interest and question about the consulting column of Miss Tram - Natural Beauty Center. If your lip base is not dark at all, there is no need for treatment. However, if the bottom lip is naturally pink, but the upper lip is still slightly dark, or vice versa, you should treat dark lips. Because if not treated, when spraying, there will be an uneven phenomenon between the upper and lower lips or the inside of the lips and the contours of the lips, causing the lips to lose their natural beauty.
Currently, the cost of treating dark lips will range from 1,000,000 VND to 4,000,000 VND depending on the degree of darkening of each customer.
Dark lip treatment technology - the solution to help women own smooth lips
Today, with a new generation, greatly improved lip spray technology, it only has a slight impact, does not penetrate deep into the skin, so you will have a rosy, sexy lips, no longer dark. It can be said that the worry about your dark lips will quickly be dispelled with the modern method of dark lips spray.
At Miss Tram, the exclusive standard ink color is derived from natural herbs, does not contain chemicals, ensuring safety for health. In addition, the ink color must also be selected and mixed extremely well, according to the needs, interests, skin color and personality of each customer to ensure the most natural lip color.
Outstanding features of the dark lip treatment method at Miss Tram

:
- Treat dark lips thoroughly, prevent dark lips from returning
– Ensure safety, no pain, no scars, no complications
- Bring pink, fresh, fresh, softer lips
- Balanced lips, up to the color standard after spraying
- Long-lasting treatment effect, prolonging lip spray time
- Done quickly, don't take much rest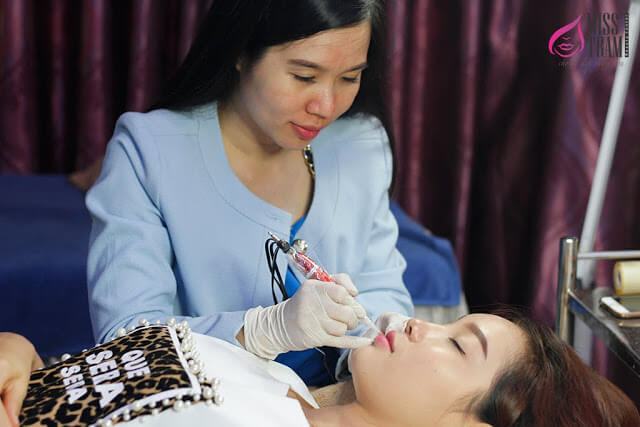 The process of treating dark lips at Miss Tram Natural Beauty Center
Step 1: Examination and consultation
The specialist examines and considers the dark condition of the lips to advise, choose the course and treatment method. Then, together with customers, choose and try new lip colors that are suitable for age, skin, and trends. Reshape the lips to balance and harmonize with the face.
Step 2: Antiseptic and numbing for lips
This step is an important step affecting health, so at Miss Tram - Natural Beauty Center, we always use standard anesthetics recommended by the Ministry of Health. Customers are cleaned and disinfected on the lip area to avoid infection and be more comfortable during handling.
Step 3: Treatment of dark lips
Based on the results of the examination, the specialist will choose a treatment method suitable for each client's dark lips.
Step 4: Spray new lip color
After treating the dark lips, the specialist will proceed to mix the ink according to the color selected by the customer and proceed to spray the lips according to the exclusive technique at Miss Tram - Natural Beauty Center
Step 5: Check and advise
After the technician is done, the customer will be meticulously checked to see if the ink color as well as the lip shape is complete or not? After that, the experts will guide you on how to care for your lips after spraying with care and attention to give you a beautiful and radiant lips.
>>> Recommended articles: Summer Lip Care Secrets Keep Lips Soft and Smooth - 7 good habits and experiences to help your lips stay soft, pretty, and attractive in the summer.
Miss Tram - Natural Beauty Center committed to warranty lips for you within 1 year since implementation. You can come to re-color or change another color as you like, unlimited number of times if you have a need. For more information about lip spray service - deep treatment, please call 1900 7018 for free advice and answers.
See More The Question and Answer Other At Miss Tram:
How to Treat Allergies to Lip Tattoo Ink
Is it OK to Sculpt Eyebrows After Spraying Tattoos?
Lip Sculpting Ever Sprayed Does It Need To Remove The Old Color
Review Top Skin Care Products