Spray lips is a beauty method that not only changes lip color but also conceals blemishes, helping women look fresher, sharper and more radiant. However, at different ages, lip spray colors need to be carefully selected to best harmonize with the contours of the face.
If you are in 40 years old and are looking for lip spray color If so, then this article will be extremely helpful.
The Benefits of Choosing the Right Lip Spray Color
At the age of 40, many women come to spray their lips to increase their charm and keep their youth. Depending on the skin color, personality, spray color also has more diversity and richness for women to choose from.
Benefits of choosing the right lip spray color:
Choosing the right color increases confidence and youthfulness, helping U40 women shine.

"Conceal" for signs of aging such as wrinkles, dark spots, cracks ...

Choosing the right lip spray color will create accents on the face, and create sympathy and eye-catching for the opposite person.

Express your style and personality effectively through lip spray color.
To choose the right lip color appropriate, the esthetician will depend on the customer's lip condition, body skin color to advise. So be alert when beautifying, don't choose your favorite color and choose the right color. This is a prerequisite to help you become beautiful and radiant.
Top Beautiful Lip Spray Colors For 40 Years Old
1
Deep red
Spray deep red lips brings many outstanding advantages such as improving pale lips, reducing dark spots and concealing uneven colors. This is a color that increases charm and power for U40 women, also a color that helps to raise skin tone and whiter teeth.
2
Brown pink
Brown Rose is a color that easily makes the overall face stand out. Because this is a bold color, combining the youthfulness of pink and the quiet of brown.
Spraying pink-brown lips gives women an elegant, aristocratic blend of elegance and coldness.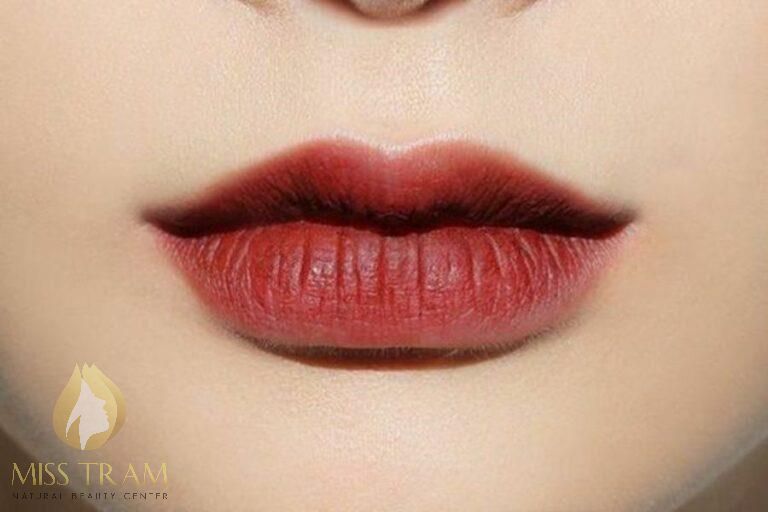 3
Nude color
Nude color This color is extremely suitable for women who love the liberality and charm of Western style. Nude tone is extremely suitable for dark-skinned girls who love modernity.
4
Earth pink
Red earth is a lipstick color for women with bright white skin, who like gentle and feminine makeup. This color gamut is a mixture of pink and deep red, easily helping women stand out in the crowd.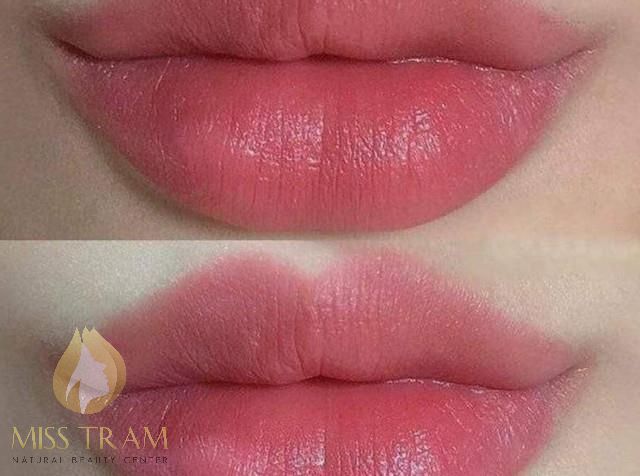 5
Brick red
Brick red color gamut known as trendy colors, easily match with many skin tones as well as outfit outfits. Although this color is deep, it is extremely proud and attractive.
Spray brick red lips to help women cover up the defects of wrinkled, pale lips.
6
Peach pink
Peach pink is a combination of light pink and red colors, on the lips, it looks plump and full of life. However, this color is only suitable for those with light skin and white teeth.
7
Ruby red
For those of you who love a sexy and seductive style, ruby red is the perfect choice. This color palette helps the skin look fresher and more radiant. Expressing aristocratic and luxurious beauty like honoring late bloomers but brilliant and haughty.
Should choose collagen lip spray technology to bring the best and most standard results.
Miss Tram - Natural Beauty Center: Address for Tattooing, Professional Cosmetic Lip Sculpting
As one of the pioneer addresses in the field Tattooing, Aesthetic Sculpture in Viet Nam, Miss Tram - Natural Beauty Center proud to be appreciated for professional quality, thoughtful service. Customers can completely trust when they need to refurbish and change the color of their lips to make them more attractive.
Developing a "sustainable" beauty orientation, Miss Tram builds a scientific tattooing - lip sculpting process, helping customers feel the professionalism when coming to the spa.
Reasons to choose tattooing and sculpting at Miss Tram:
Diverse color palette, suitable advice for each customer.

The team of technicians is well-trained, well-versed in skills and processes.

The tattooing process says no to invasive and convalescence.

aesthetic ink color, tattoo ink High-end products are imported directly from abroad.

Committed to standard lip color, no smearing, long lasting.

Free mileage warranty for the first 1 year.
Besides the above advantages, customers come to Miss Tram - Natural Beauty Center will be guided lip care after using the service in the most specific and dedicated way. In the process of owning beautiful lips, there will be technical staff to answer questions for customers' peace of mind.
In addition to lip spray, Miss Tram also handles cases dark lips, Defective spray lip, smeared to return aesthetic and attractive lips to customers. Some pictures of spraying and lip treatment at the spa: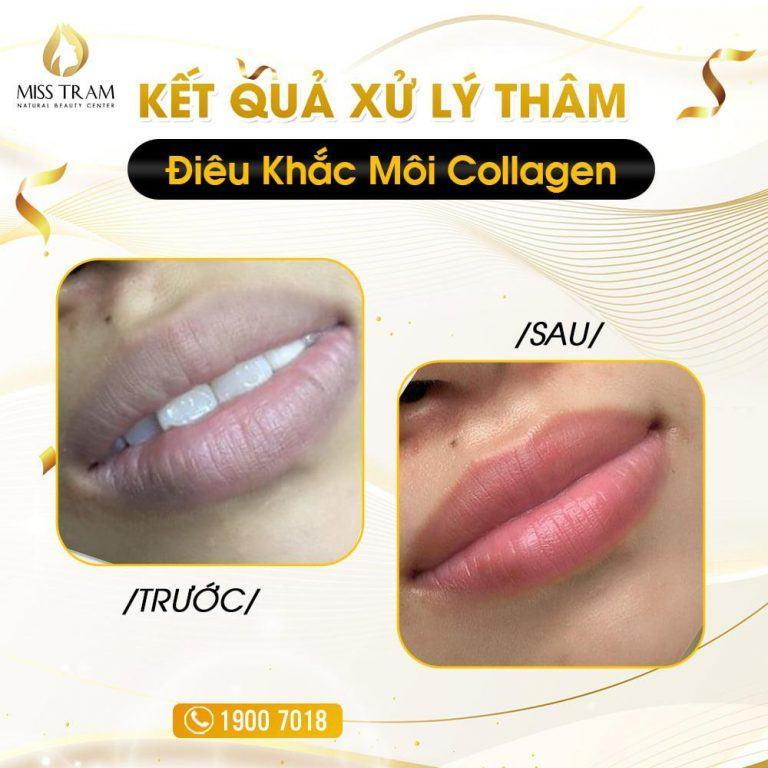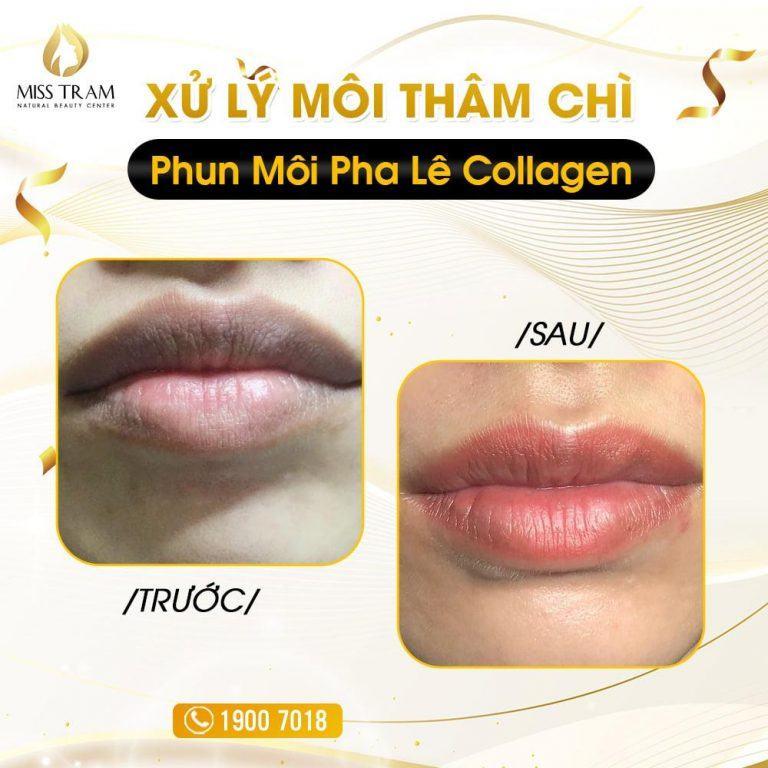 Hope with Top Beautiful Lip Spray Colors For 40 Years Old mà Miss Tram - Natural Beauty Center provided, middle-aged women will have more suitable choices for themselves.
Beautiful lip color also depends on the brightness of your skin, so let the experts with aesthetic eyes and experience help you become the most beautiful and attractive. Contact to the hotline number of Miss Tram VietNam for specific advice.
Hope you find your favorite lip color soon!