|Question – Answer| Want Beautiful Lip Color After Spraying Tattoos Should Note Which Cosmetics Use
Beautiful lips - Beautiful lips - Attractive lips is the final goal when deciding to choose beauty for the lips. So after the KTV has completed the tattooing process, you also need to pay attention to the following foods to make the lips color more perfect: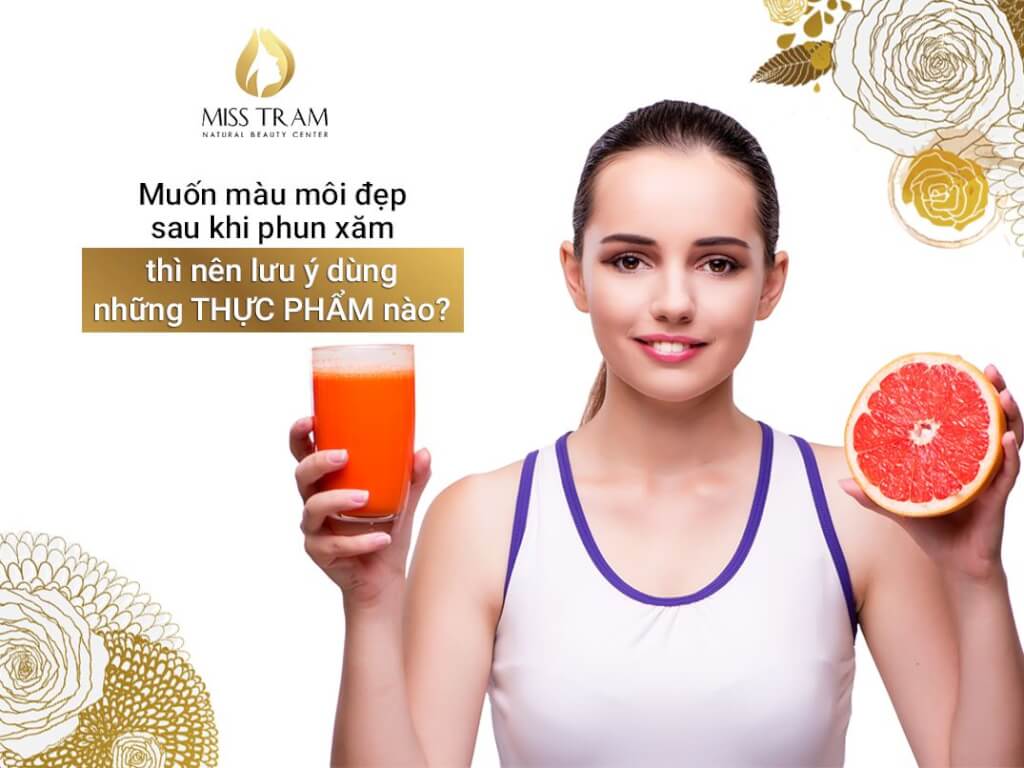 What foods should be used after tattooing to have a beautiful lip color?
Carrot: Carrots contain about 80-95% water and about 10% carbohydrates. They also contain many vitamins and minerals, especially vitamin A (from beta-carotene), biotin, vitamin K (phylloquinone), potassium, and vitamin B6. These are all important substances to improve the immune function of the skin of the lips, increase the production of red blood cells so that the lips quickly become more beautiful and standard. Carrot smoothie will reduce dark spots, eliminate toxins deposited on the lips.
Tomato: contains many beneficial ingredients that support the ability to color lips after tattooing such as: Betacarotene, vitamin C, vitamin A are effective antioxidants, prevent skin damage and help your lips. you are more beautiful.
Oranges: Oranges are rich in nutrients such as vitamin C, fiber, folate, and antioxidants. The micronutrients in oranges have the ability to prevent viral infections, the important compound is polyphenols. Moreover, the rich source of vitamin C neutralizes other free radicals, making lip color more natural.
Pineapple: Miss Tram had a pretty detailed post about the benefits of using pineapple after lip spray. So in this topic, Miss Tram does not repeat it again.
You can see more detailed articles: Why Is It Often Recommended To Use Pineapple Juice When Finishing Lips?
Just a few small notes that help me get perfect, satisfied lips, why not remember and do it right. Miss Tram hopes that after you have your desired lips, don't forget to send back pictures for Miss Tram and everyone to see!
To help you quickly own fresh, soft and glamorous lips, Miss Tram is happy to suggest you a few beauty methods:
- Crystal lip spray helps lips look natural, keeping the color quite stable.
- Collagen Crystal Lip Spray and Stem Cell Lip Spray help you own smooth, soft lips.
– Spray queen lips Natural lip color – Painless – Durable – Safe.
– Micro-lip sculpting for fast color and correct color selection.
- Treatment of darkening and natural lip spray for both men and women.
-------
Do not hesitate to #Comment/ Inbox or call #HOTLINE 1900 7018 for advice on all your questions about the service.
Miss Tram Natural Beauty Center - Beauty but must be natural.
Miss Tram - Natural Beauty Center
Hotline: 1900 7018
Mobile: 0899 194 519
With Miss Tram - Natural Beauty Center Some Questions Answered Other:
If Lips Are Thick And Dark, Will Spraying Last Longer
Remove Moles Thanks to CO2 Laser Technology
Don't Dare to Tattoo Husband Covering Skin Color To Remove Tattoos