Criteria for Choosing a Good Salon For Eyebrow Embroidery
Eyebrow embroidery is one of the modern beauty solutions chosen by many women. Unlike traditional eyebrow tattooing, which is easy to fade, less natural, eyebrow embroidery technology is capable of bringing about an elegant eyebrow that matches the contours of the face, creating a highlight to help brighten the face. However, in order to ensure the elements of harmony - natural look and especially safety, we encourage women to choose a reputable beauty center, possessing modern equipment and skilled KTVs..
Eyebrow embroidery: The beauty trend chosen by many girls
Eyesbrown is one of the important elements on any person's face, especially our girlfriends. An elegant eyebrow, clear lines, balanced with the overall face can help enhance our beauty and create accents for us. Not to mention, in terms of anthropology, eyebrows are said to decide 80% of the face, closely related to the path of fame, fortune and good fortune of a person.
Those who are born with delicate, dark and harmonious eyebrows will not need to spend a lot of effort to trim and adorn it. On the contrary, those who have pale, less sharp eyebrows will have to take more care in the makeup steps. The problem is that with the limited time of modern life today, do we have the patience to meticulously use pencil to adorn our eyebrows every morning?
>>> Related Articles: Guide to Beautiful Eyebrows with Feng Shui – Share the 5-step process of fast, beautiful eyebrows.
Therefore, most women have resorted to the support of beauty aesthetic technologies. The earliest and most familiar form of eyebrow cosmetic surgery is eyebrow tattooing. Eyebrow tattooing is done by using a needle dipped in tattoo ink and then pierced through the skin to bring the ink in.
After tattooing, eyebrows will be much darker and sharper. Although it is outstanding, it is undeniable that it is no longer beautiful and relevant in the current period. Tattooed eyebrows look quite "evil", not natural and can make girls a few years older.
Today, the most chosen eyebrow beauty trend is the embroidery technique. This technology was born based on the traditional tattoo form but much more optimal. Eyesbrown embroidery spray meticulously done by using specialized embroidery needles to create each eyebrow thread interlaced with real eyebrows.
This method has the following advantages:
Gentle eyebrow shape, still keeping the natural eyebrow color;

Satisfy your desires with a tailored and layered brow shape;

The small needle only acts gently on the epidermis, so it does not cause burning pain;

Beautiful ink color, high color fastness;

Does not hurt or interfere with daily activities.
In particular, eyebrow embroidery is also suitable for many different ages, creating accents for the face and the ability to "overwhelm age" rather than contributing to making us older.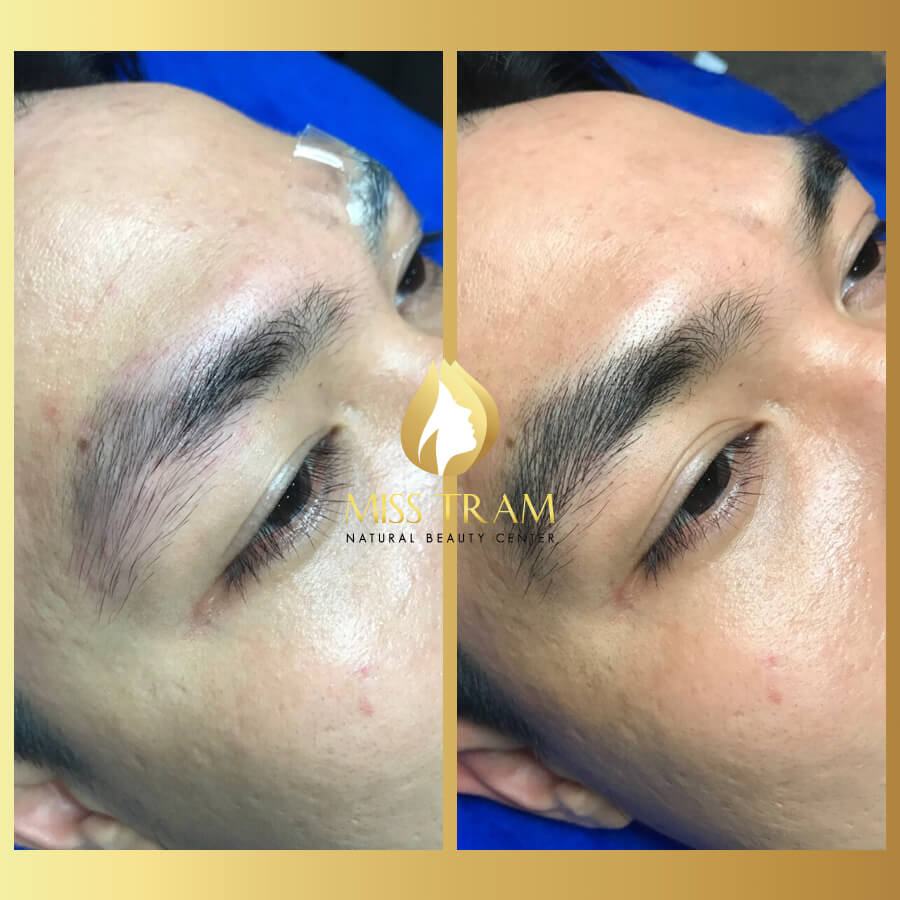 Which cosmetic center should eyebrow embroidery be sprayed?
Eyebrow embroidery is an advanced beauty technology that is popular in Vietnam because it conforms to Asian beauty standards. In recent years, most cosmetic centers and facilities nationwide have updated this technology to serve their customers. Any center can do embroidery but not everywhere is successful and highly appreciated by customers. Why is that?
firstEyebrow embroidery requires dexterity, meticulousness and high concentration to control the micro-needle to release ink on the eyebrows. The performer must manipulate slowly and steadily to create a definitive, soft and flexible line.
Monday, The performer must know the technique of recognizing and evaluating the shape of the eyebrows in accordance with the face. Only in this way can you create a beautiful eyebrow shape, not "breaking the general" because the eyebrows are very important due to the concept of "Your preciousness is in you, your fortune is in yours, your life's in yours, your happiness is in yours" fortune - longevity a person looks at the eyebrows).
Tuesday, Inkjet ink must ensure quality, beautiful color and durable over time. This factor makes an important contribution to creating a natural, harmonious look for the eyebrows.
Wednesday, Equipment when performing must ensure safety, meet the regulations of the health authorities because it will affect the health of workers if not clever.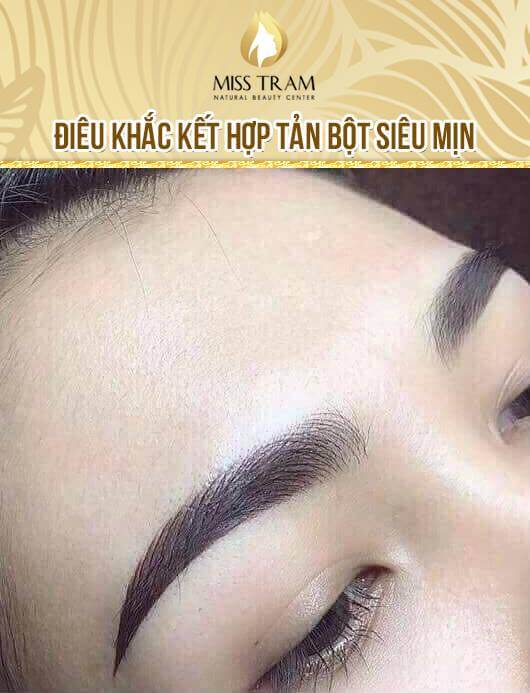 Obviously, to make its brand, any beauty center must meet at least the above 4 criteria. Only then, new customers trust to choose to use the service and refer more friends and relatives.
To avoid "losing money" when spraying eyebrow embroidery, the advice for everyone is to learn carefully about the center that you plan to choose. By learning about the scale and working process of the center as well as consulting more information channels and experiences from our predecessors, we will be able to make a more comprehensive assessment, thereby making an informed decision. .
>>> Recommended article: Learn Eyebrow Sculpture Embroidery Course At Miss Tram - The article is for those of you who want to learn and become an expert in tattooing and sculpting eyebrows, lips, eyelids.
Tell you a reputable eyebrow embroidery spray address in Ho Chi Minh City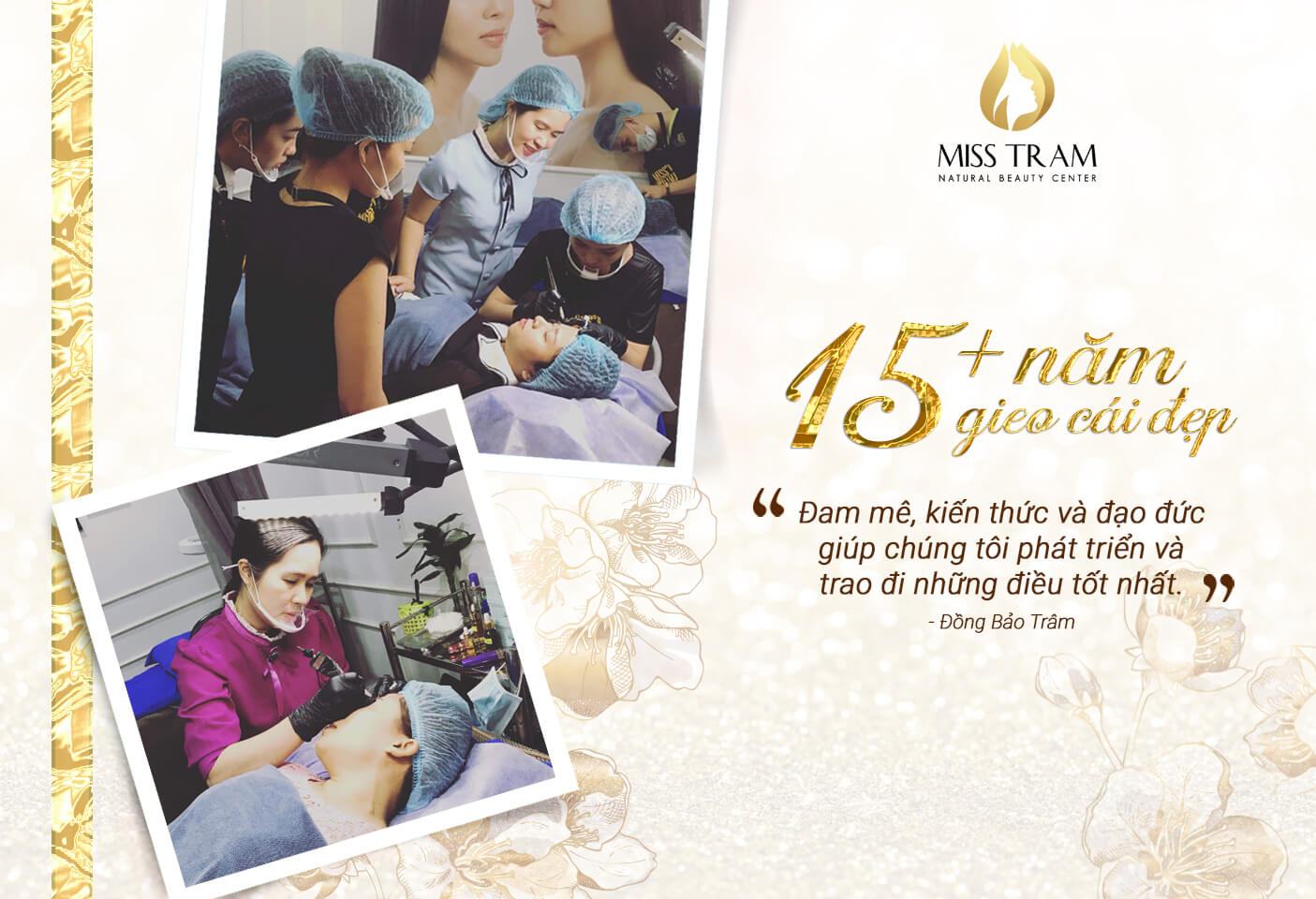 During the period when beauty centers sprang up as densely as today, Miss Tram Natural Beauty Center still has its own place.
With more active thickness is 17 years Over the years, Miss Tram has not stopped learning, improving service quality, updating advanced beauty technologies to bring her customers absolute satisfaction.
With human, material and CENTER of professionals, Miss Tram's team always receive the trust and appreciation from a large number of customers across the country.
Choose Miss Tram to perform embroidered eyebrow sprayCustomers will own beautiful eyebrows according to aesthetics and good anthropology.

Miss Tram meets the criteria of a prestigious, quality and professional beauty center.

The KTVs are well-trained, undergo rigorous training and practice with the spirit of "all for customer satisfaction".

Each stage performed in the embroidery process or any other beauty treatment is guaranteed to be professional, committed to customer safety.
Come to Miss Tram, customers will be consulted In terms of technology, choose the right eyebrow shape so that after it's done, everyone is satisfied with the beauty and naturalness of their face. Not only that, the embroidery spray here also commits to a long-term warranty, color durability over time, in line with modern beauty trends.
Clcik See Customer's FeedBack After Making 9D Threads at MissTram Spa
See More About News – Beauty Secrets By Miss Tram - Natural Beauty Center:
Which Beauty Salon Sculpts Beautiful Eyebrows
Collagen Lip Spray – Modern Lip Tattooing Techniques