For modern women, makeup seems to have become a basic need in life. In particular, for those who have many skin defects such as acne, melasma, dull skin, etc., makeup will make them more confident when communicating.
However, many people still wonder that Acne-prone skin Should I wear makeup or not? Because the layer of cosmetics on the skin for many hours can cause mystery and make acne worse. Let's Miss Tram - Natural Beauty Center Please clarify this issue.
Does makeup cause acne?
Acne It is a skin condition that almost everyone has experienced. The main causes of this skin problem are:
The inner cause: due to internal hormonal disorders, drug use, prolonged stress, unhealthy diet, lifestyle, etc.
External causes: due to poor skin care, environmental factors, improper use of cosmetics, etc.
Thus, using cosmetics can also be a cause of acne. However, it is not the product but the way you use it that causes acne: you use cosmetics that are not suitable for your skin or you do not clean your skin thoroughly before and after use.
Therefore, to avoid the risk of acne skin when wearing makeup, you need to choose cosmetic lines that are suitable for your skin condition. And especially always carefully remove makeup to ensure the skin is clear.
So when you have acne, should you wear makeup?
If you are suffering from acne, you should minimize the use of makeup. Because even if you know how to apply makeup or use appropriate cosmetics, more or less makeup can cause blockages on the skin. And of course, acne skin is always more sensitive than usual, so it is very easily irritated.
4 notes when makeup for acne skin
Acne skin needs to limit makeup. But for necessary cases, you can't leave your face bare when going out. So, Miss Tram, please note the following points if you have to wear makeup when you have acne:
1. Clean skin before makeup trang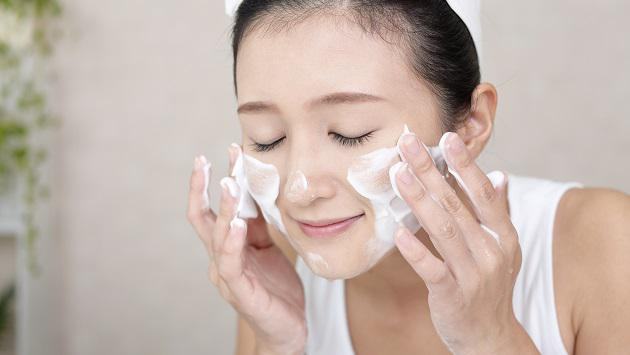 Not cleaning the skin before applying makeup is one of the main causes of acne. Therefore, to prevent your acne from getting worse, make sure your skin is thoroughly cleaned and nourished by following these steps before applying makeup: Wash your face - Toner - Acne treatment (if any) - Cream moisturizer – Sunscreen (during the day) – Then comes makeup.
2. Use a multi-purpose foundation nền
On the market, there are many lines of 2-in-1 multi-purpose foundation primers with the function of: both skin care, sun protection, and gentle concealment of imperfections. This cream will limit the use of many layers of makeup while still providing an effective foundation for the skin. So, give preference to this type of foundation primer.
In addition, review the lines of makeup you are using have any ingredients that are easy to irritate acne skin? Some ingredients in cosmetics that are easy to irritate acne areas you should avoid:
Isopropyl Myristate, Sodium Lauryl Sulfate, Myristyl Myristate and Laureth-4.

Silicone or Dimethicone.

The ingredients include alcohol, oil and acrylic.

Lane acne skin very easily irritated if the cosmetics you use contain these ingredients. Therefore, it is best not to use them.

Don't wear too much makeup
In addition to using safe cosmetics for acne-prone skin, you also need to be careful not to wear too much makeup. This will cause the pores to be blocked, the skin will be stimulated to secrete more oil, causing clogged pores. As a result, the acne skin area will be more susceptible to irritation.
3. Make sure makeup tools are always clean
Another point you need to keep in mind is to make sure that makeup tools (brushes, sponges, makeup sponges) are always clean. The accumulation of bacteria in these tools makes the skin very prone to acne, spreading the acne area, and the acne is not completely eliminated. Therefore, regularly clean your makeup tools – at least once a week, and make sure they are clean before putting them on your skin.
4. Remove skin makeup thoroughly
Cleansing the skin is an extremely important step and directly affects the condition of your acne. Because after applying makeup, if the skin is not cleaned thoroughly, sebum and cosmetic residues will stick deep in the pores, causing irritation and spreading the acne area very quickly.
So do a two-step cleaning: makeup remover for oily skin And after that Wash your face properly Repeat with cleanser to ensure that the skin is deeply cleansed, preventing acne from developing.
***If for many reasons you need to regularly wear makeup, it is best to find a way to treat acne first. You can resort to acne treatments at dermatology centers to quickly get rid of this skin condition. When your skin is healthy and acne spots disappear, you will be more confident when using makeup products.
>>> Related posts: Requirements When Treating Acne - 8 important things to do in the process of acne treatment to help speed up the acne treatment process, quickly recover the skin, minimize scarring and acne. Check out more popular acne treatment today.
With the above shares of Miss Tram - Natural Beauty Center, you probably understand more that acne-prone skin can still wear makeup. However, it is necessary to make sure to use the right cosmetics, light makeup, and make sure the skin is always thoroughly cleaned before and after applying makeup. That way, you can confidently apply makeup without worrying about the spread of acne. Hope this article will be useful to you. Wish you always have a beautiful healthy skin!
See More About News – Beauty Secrets By Miss Tram - Natural Beauty Center:
The Most Advanced Toxic Skin Care Treatment Today
The History of Vietnam's Beauty and Skin Care
Eyebrows Are Falling Out Frequently What To Do
Review Top Skin Care Products