Before traveling, she often prepares clothes, makeup tools, etc., but forgets or doesn't pay too much attention to carrying items. Skincare products for skin care. And this is the potential risk of making women's skin vulnerable and worse!
Therefore, before traveling, prepare yourself with luggage Skincare carefully to preserve the beauty of the skin. And to avoid errors in the Skincare process when traveling Miss Tram Natural Beauty Center We invite you to read the article below.
Why do girls need to have their own Skincare process?
As you know, the skin is the first sensitive part that is exposed to all elements from the surrounding environment. Therefore, the skin is very susceptible to impact and damage by external factors if not protected and well cared for. Especially for women, the skin is even more important.
The right Skincare will help them get healthy skin, no acne, no freckles, small pores, no sagging and finally a brighter white color.
When traveling, you need more skincare to protect your skin because this time you are outdoors for a long time, which means that your skin has to face more damage. If your Skincare is overdone or improper, your skin will be "degraded". (Refer to the Common mistakes when taking care of skin you must know).
Skincare mistakes to avoid when traveling
1. Use weak sunscreen or forget to reapply when the time is over
According to experts, sunscreen only works best for 2 hours. So if you need to stay in the sun longer, reapply sunscreen to protect your skin.
If you spend time in the sun between 11am and 00pm, expert advice is to use a sunscreen with at least SPF 15. And at the same time, use a broad-spectrum sunscreen to protect your skin. better skin.
2. Skip the moisturizing step
During travel, your skin will be exposed to a lot of sun and wind, so it is easy to dry and damage your skin. Don't just apply sunscreen but forgot to apply moisturizer Please. You need to maintain applying moisturizer twice morning and night to maintain moisture for the skin so that the skin can be restored and soothed in time.
3. Using makeup products that clog pores
In order to get the photos to live virtual for life, makeup to look more beautiful is essential. But when exposed to the external environment, the skin will produce a lot of sweat and sebum. The layer of makeup cream easily clogs pores, causing acne breakouts, the skin loses its smoothness as before.
Therefore, please equip yourself with cosmetics that do not clog pores so that your skin can breathe easily to avoid acne. (Refer Basic skin care steps for men highly rated nowadays).
4. Cosmetic storage is not good
During travel, the place you go to may have a hot or humid climate… If cosmetics are left in a place that is too hot, has direct sunlight, or is too wet, the ingredients will be degraded and damaged. broken.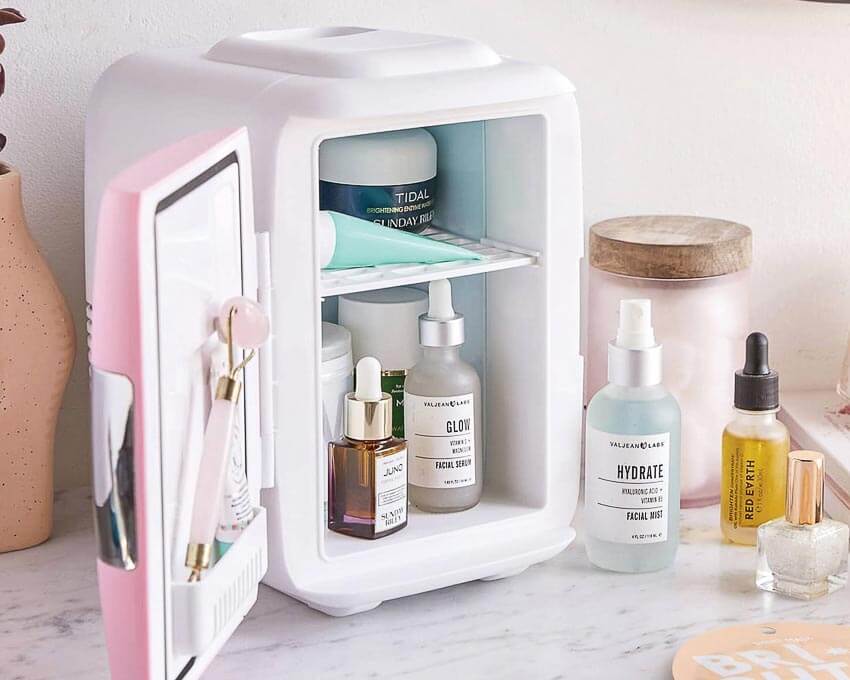 Therefore, you must always ensure that your cosmetic items are well preserved so that the Skincare process when traveling is effective and continuously helps to maintain the skin's shape.
5. Depends on wet wipes/makeup remover cotton
Because of its quickness and compactness, women often choose wet wipes / makeup remover cotton to carry when traveling instead of oil / makeup remover. However, wet wipes / makeup removers cannot remove all makeup and sunscreen on your skin.
Skin care tips while traveling
Before traveling about 2-3 days, you should temporarily stop using cosmetics containing retinoic, salicylic acid ... to avoid making the skin more sensitive when exposed to the sun. And most importantly, apply moisturizer during travel so your skin doesn't dry out.

Always carry with you basic skin care products such as sunscreen, mineral spray, moisturizer, makeup remover, cleanser and some cosmetics suitable for the climate where you go.

Sunscreen should be applied to the face and body to protect the skin when in the sun. Choose a broad-spectrum sunscreen with an SPF of 30 or higher. And about 2-3 hours to reapply to protect the skin.

The gentle makeup, as little as possible, will help the skin not to clog pores and avoid acne.

The skin on the feet is probably the least noticeable when traveling, regularly moisturizing the skin of the feet if the skin is dry from walking in the sand. Or often change socks and shoes if the feet sweat a lot, it will be easy to get fungal infections…

And finally, do not forget to add enough water to maintain moisture for the skin because outings always make the body lose a significant amount of water. But pay attention to avoid adding soft drinks, carbonated and alcohol…!
Above Miss Tram Natural Beauty Center just introduced to you 5 Skincare mistakes to avoid when traveling for girls. Hopefully, these sharing will be useful for those who are passionate about travel! (Learn Skin care secrets from Korean women you should not ignore).
You are viewing the article 5 Skincare Mistakes To Avoid When Traveling To Protect Your Skin in a good forum News – Beauty Secrets of Miss Tram VietNam. All reviews and comments, please send them directly to Email teamcrmmisstram@gmail.com or you can comment right below the article. Don't forget to follow other good articles of Miss Tram and share it with everyone.