SKIN CARE FOR Oily, Sensitive, Pigmented, Wrinkled Skin: OSPW
"With lane oily skin and sensitive, finding sunscreen products to use every day can be difficult. Admittedly not being protected from the sun often and wanting to do better. Anti-aging skin is also important."
– ABOUT YOUR SKIN
Many people with oily, sensitive, pigmented and wrinkled skin types are the first to arrive on the beach in the morning and the last to leave when the sun goes down.
Their flawless bronzed tan is the envy of other skin types.
You are surfers, activists with tanned skin, CEOs with bronze skin.
And it is impossible not to mention French women in bikinis sunbathing on the beach.
Unlike people with non-pigmented skin ‒ who cannot tan, your pigmented skin will change color from white to yellow-brown.
And unlike healthy skin ‒ who pride themselves on their flawless complexion and hide from the sun, you'd think there's nothing better than a tan.
Therefore, you have not taken care of many problems that your skin is likely to encounter such as: papules, acne scars, brown spots and small dark spots. Tanned skin will make the opposite person pay more attention to your slim legs.
The myth that sunlight helps reduce acne ‒ this is just a myth. In fact, many studies show that sun exposure increases acne because it promotes oil production.
If the questionnaire says you are OSPW but you are not a sun worshiper, congratulations on changing your sun exposure habits unlike most other OSPWs. Many OSPWs, after stopping sun exposure in their adult years, still face many skin problems such as wrinkles, dark spots ‒ the consequences of years of sun exposure.
Refer to more Service of Treating Pimples - Long-term Pimples at Miss Tram
– EXPOSURE: BAD INFORMATION
OSPWs of all ages and can claim that a brown tan makes you look good when you're young but as you get older it makes you look like a prune, how disappointing will OSPW skin type be? wrinkles, sagging skin, sagging skin and other signs of aging. It's much better to keep sun exposure to a minimum or at least less now, to avoid paying a hefty price later, both in terms of money and skin.
– Aging and Skin: Face to the Truth
Although genes determine your skin type, when the aging process that causes wrinkles occurs, genes interact with your lifestyle habits to determine whether your skin is wrinkled or tight.
That explains why if you have this skin type, lifestyle habits are the main cause of wrinkles, only a small percentage is due to genes.
– A CLOSE OF YOUR SKIN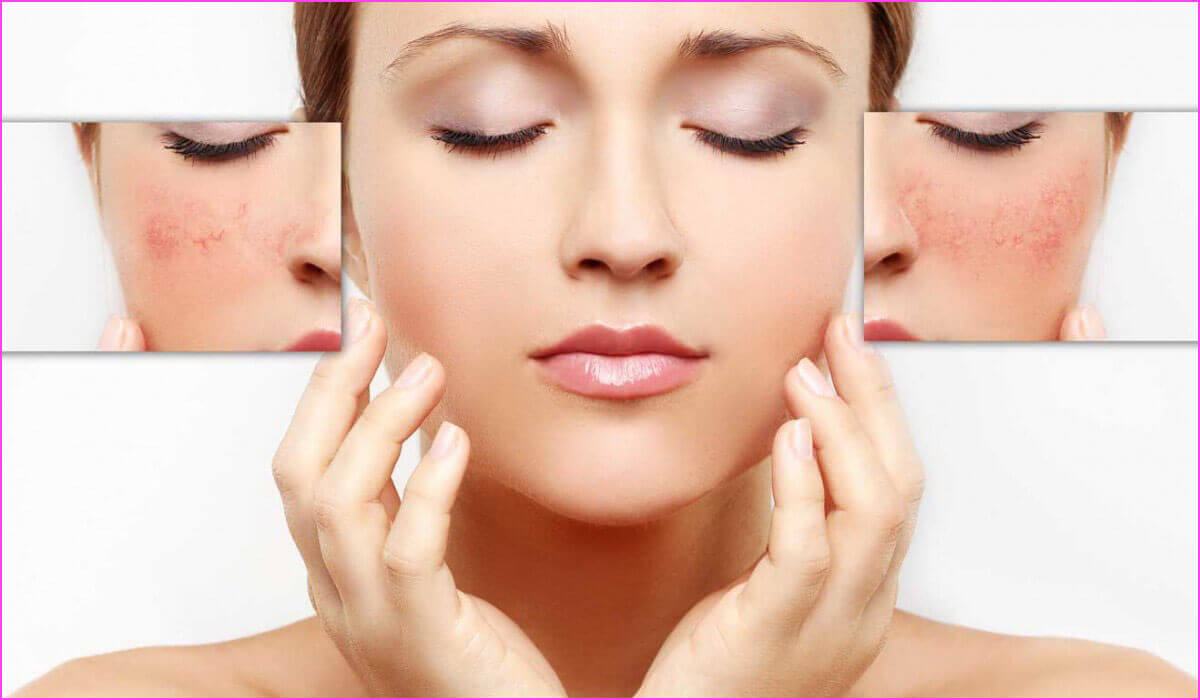 * If the questionnaire indicates you are OSPW, you may have:
Signs of sun damage

The red and brown

Areas of skin mottled with brown and white spots

Freckles on chest and face

"Mermaid face": clearly dilated blood vessels on the face

Or get acne

Skin redness, numbness, or burning sensation when using certain types of skin care.

Sunscreen feels oily and makes the face hot.

Ordinary makeup products are easy to wash off, but long-lasting makeup products make the skin red and itchy.

Wrinkles appear when you are about 30 years old

Bruises appearing in the area of ​​previous trauma such as cuts, burns, bruises, scrapes and acne

Black patches on cheeks

Lipstick flows down the corner of the lips

Dark circles under eyes
Oily skin leads to acne, which in turn causes dark spots after acne is gone. Acne scarring is also common.
Most people with OSPW skin type, because they have a lot of skin pigmentation, are also at risk of unsightly dark spots, which often appear suddenly and take a while to fade. Other irritated skin conditions such as inflammation, trauma, and cuts in the skin will also form bruises later.
Increased levels of the female hormone estrogen due to oral contraceptives or pregnancy also contribute to dark brown spots.
In addition, sun exposure promotes skin pigmentation which causes hereditary dark spots, freckles and spots.
In fact, symptoms of OSPW are worse with sun exposure. Because your skin is sensitive, it can be difficult to find a sunscreen that doesn't make your skin hot and red.
Regular sun exposure can create a build-up of the skin's natural pigment melanin, which has one benefit: the pigments that surround the nuclei of skin cells protect cells from degenerating into cancerous cells.
Black OSPWs are hyperpigmented, so they appear to have a lower risk of non-melanoma skin cancer. However, sun exposure contributes to skin aging and creates dark brown spots, so people with OSPW skin should not sunbathe.
Even if you use a broad-spectrum sunscreen (against both UVA and UVB) with an SPF of 15 or higher, a small amount of sunlight will still reach your skin you won't be able to fully protect it.
+ What skin type do you have? Questions you will be answered with the article How To Choose The Right Acne Treatment For Each Skin Type
– MYTH ABOUT ANTI-AGING
Because of wrinkles, many OSPWs want to use an anti-aging cream, but it contains many ingredients that irritate sensitive skin while others are ineffective. Many expensive creams contain Hyaluronic acid (HA), a sugar found in the skin that normally diminishes with age and sun exposure that causes the skin to lose volume.
In fact, one of the most popular cosmetic dermatology treatments today is injecting HA into the skin to fill in wrinkles and sagging skin.
Therefore, it is assumed that topically applied HA creams have similar benefits. But this notion is wrong because the skin cannot absorb HA in topical form. HA hydrates the skin by its ability to draw water from the environment to the inside, but applying HA cream on the outside can be counterproductive.
Because if in a dry environment it will pull water from the skin out causing dehydration and drying of the skin.
People with oily skin like OSPW will not benefit from dehydrated skin. Make a distinction: Reducing oil (the oil that causes acne) and reducing water (the water that gives the skin its shape, helps reduce wrinkles) are two completely different things.
You may also be tempted by commercially available anti-aging creams or skin care products containing alpha lipoic acid and DMAE (dimethylaminoethanol).
In fact, these ingredients are effective in treating wrinkles for healthy skin, but not for sensitive skin.
– SENSITIVE SKIN, PROGRESSIONAL REMOVAL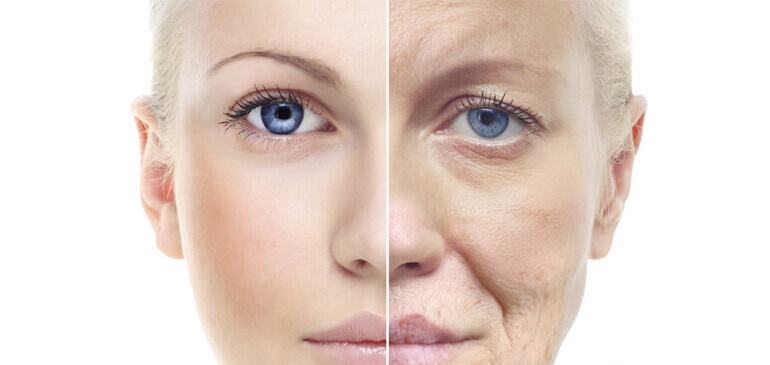 Serious OSPW skin problems such as wrinkles and dark spots seem to require drastic measures.
As a result, a lot of people with OSPW skin type spend money trying out products that contain potent active ingredients, but are completely unsuitable for their skin.
Many OSPWs have a hard time finding a sunscreen that won't cause redness or skin irritation. Skin-whitening products that contain bleaching ingredients also frequently cause irritation. Later in this chapter, you will learn how to "deal" with your sensitive skin. And will give a mode Skin Care help protect your skin from the sun, treat dark spots and wrinkles with safe products. You need ingredients that soothe, not inflame the skin. You should also learn to recognize and avoid ingredients that irritate your skin.
Reducing the activity of oil factors ‒ sensitization pigmentation (to prevent acne and dark spots) by avoiding sun exposure is the first measure,
In middle age, especially after menopause, oil and hormone production both decrease. This change helps to reduce many of the skin problems you suffered when you were young.
However, your skin has a tendency to form wrinkles, and the aging process is not pleasant. That's why it's important to come up with a strategy to prevent wrinkles when they start to appear in your 20s and 30s. In addition, prescription treatments or therapies are also great to minimize the appearance of wrinkles. visible signs of aging.
*Note: Protect skin and treat wrinkles, dark spots as soon as possible.
– WHAT DOES DAILY SKIN CARE DO?
The purpose of daily skin care is to control oil, dark spots and wrinkles with products containing antioxidant and anti-inflammatory ingredients.
In addition, a daily skin care regimen helps to solve other problems by preventing and treating both acne and dermatitis.
Any cosmetic that is strong enough to improve wrinkles and dark spots can irritate your skin.
Will recommend products that are strong enough to be effective, containing antioxidants (such as green tea) and anti-inflammatory ingredients (such as licochalone), which both protect your skin and soothe its sensitivity.
Wrinkles and dark spots are two concerns, so provide a two-stage plan. The first phase is summarized here, you will follow a basic skin care regimen to help reduce brown spots. Read the care instructions and choose the products you need.
+ Together with Miss Tram consult and learn more about skin care process thanks to the right way
DAILY SKIN CARE TIPS
1. CARE mode for red and/or dark skin
In the morning, wash your face with a cleanser containing Salicylic acid (SA) to help reduce acne and clear pores, reducing pigmentation problems without irritating your sensitive skin.
If your skin is red and inflamed, use a gentle, non-foaming cleanser that doesn't contain salicylic acid.
Use a soft washcloth and avoid vigorous rubbing.
Next, to treat dark brown spots, apply whitening product to the entire face.
If you are mainly acne prone, have little redness and skin irritation, or if you have a low S/R (sensitive/healthy) score (25-30), you can mix skin whitening agent with vitamin C powder. as.
Then you can use eye cream if you like. If you have red skin, do not use toners and skin whitening products containing hydroquinone and vitamin C.
Replace with a product containing kojic acid and arbutin, like Philosophy A Pigment of your Imagination. In case of skin redness, you can also use extra cream (anti-inflammatory lotion).
Next, apply sunscreen. While a topical cream (lotion form) is best, sometimes people with sensitive skin may be allergic to sunscreen ingredients.
If your skin is too sensitive to sunscreen products, look for ones with z-cote like: SkinCeuticals Sheer Physical UV Defense SPF 50. Finally, wear foundation or powder if you like.
In the evening, remove makeup thoroughly and wash your face with the same cleanser as in the morning.
Next, for acne and dark spots, mix a pea-sized amount of morning whitening product with retinol product and apply together.
Retinol products should only be used at night, it helps control acne, dark spots and prevent wrinkles.
For red, swollen skin, apply a whitening product only to the dark spots, then apply a serum all over the face like Olay regenesist Daily Regenerating Serum (Fragrance Free), then apply a product containing retinol.
If desired, you can apply an eye cream and lightly moisturize the area dry skin.
Use Vitamin C powder
Vitamin C can help prevent dark spots and wrinkles. Philosophy Hope and Prayer's Vitamin C powder boxes come with a small scoop, which you use to scoop the powder into the palm of your hand and mix it with a pea-sized amount of the whitening product. Mix well and apply. If you experience redness, flushing, or an S/R score >= 34, do not use this product and continue with your morning skin care plan as above.
– Choose and use face wash products
When removing makeup, use a non-irritating cleanser that contains ingredients such as salicylic (SA), aloe vera, licochalone, feverfew, chamomile, or niacinamide. They will help reduce redness, inflammation, and acne, and clear pores.
*CLEANSER
If acne is your main problem and you don't experience burning or stinging, you can also use Stifel Laboratories 10% PanOxyl Bar.
– Using Toner
While toner isn't necessary for you, many people with oily skin like the clean feel of toners.
You can use toner after washing your face. If you add this step, you'll also benefit from the anti-inflammatory, anti-pigmentation and oil-controlling ingredients found in toners.
However, if you have an S/R score ≥34, or have dry or combination skin (O/D score 27-35), you shouldn't use toner. If any other type of skin care product makes your skin red or numb, you shouldn't use a toner either.
– Acne Treatment
Above all, do not steam your face or use a hot towel or place ice on the pimple. All of these cause sudden temperature changes, so absolutely do not use on skin prone to inflammation like yours.
As discussed before, many people believe that sun exposure improves acne, but their condition often worsens during the summer, so sun exposure does not help. Products in your daily skin care regimen should work to prevent acne and acne, plus, you can treat acne with special products introduced ...
If you prefer, these products can be combined with concealer to treat and clear blemishes. Immediately after washing your face or using toner, mix concealer (about 1/3 the size of a pea) with acne product and apply to the acne area. Other treatment products and moisturizers should only be applied afterwards.
- Treatment of dark spots
Apply whitening products after cleansing and toner, before the rest of the products. The products listed below of the program should be used as soon as the stains appear and maintained until they disappear completely.
- Moisturizer and Serum
Moisturizing isn't necessary for most oily skin types. However, if you have a low O/D score (27-32), please feel free to use moisturizer on dry areas. Serums are also an option. Serums contain skin-strengthening ingredients with high concentrations, so they penetrate the skin better. Packaged in a dropper bottle, serums are usually more concentrated than other products, requiring only a few drops to be effective. You can apply a moisturizer on top of the serum if you want.
A mild moisturizer will help reduce the flaking side effects of products containing retinol or retinoids. Moisturizing will help when your skin is slightly oily with an O/D score of 24-30.
- Eye cream
For dark circles under your eyes, use an eye cream (like Quintessence Clarifying Under-eye Serum) containing retinol and vitamin K to address blood vessel congestion ‒ the cause of these dark circles. If after seeing a dermatologist and prescribed retinoid around the eye area, dilute it by mixing it with an equal amount of moisturizer.
- Mask
The concentrated ingredients of the mask stay on your skin for a longer period of time, so the mask is beneficial. Apply an exfoliating and anti-pigmentation mask once or twice a week, like the MD FORMULATIONS Vit-A-Plus Clearing Complex Mask. You can use them in the evening right after washing your face. Follow the instructions on the product box and after you have washed off the mask, move on to step two (apply skin whitening agent). Or you can also go to a spa or salon to have the staff perform this skin care, but make sure the mask is for sensitive skin and contains anti-pigmentation and anti-inflammatory ingredients. introduce.
- Kill death celk
OSPW skin type is suitable for using Retinol. While retinoids can cause skin flaking, they do not cause dryness. Exfoliation demonstrates the benefits of peeling, a process that helps the skin shed dead cells.
How to exfoliate dead cells? Do you think Dry Skin Should Exfoliate?
*BUY PRODUCT
By reading labels to identify ingredients in a product, you can broaden your range of choices.
As a result, you will choose products that contain ingredients that are beneficial for your skin type, avoiding ingredients that cause allergies, stinging, burning, redness, acne, dermatitis or increased oil.
Take an ingredient list (below) with you when you shop so you can read product labels, identify common skin "culprits" and avoid products containing those ingredients.
If your skin is acne-prone or sensitive to sunscreen products, double-check product labels for ingredients to avoid.
Some of the products on this list contain sunscreen ingredients that may not be suitable for some people, but remember: not everyone reading this chapter has acne or is sensitive to sunscreen. .
People with sensitive skin will react to ingredients differently, so try products with questionable ingredients carefully and pay attention to your skin's needs.
If possible, try products on at cosmetic stores or use samples before you buy to make sure they are right for your skin. Not all reactions are immediate, wait 24 hours before deciding to buy. A little extra effort will save you money and find the right cosmetics for your skin.
- Sunscreen for your skin
OSPW is easily damaged by the sun, so sunscreen is absolutely essential.
However, most sunscreen products contain oils, which can make your skin look shiny and melt your foundation or makeup. Plus, certain sunscreen ingredients can irritate your skin leading to acne.
The list of sunscreen ingredients to avoid below applies only to people who are sensitive to sunscreen. If sensitivity to sunscreen isn't a problem for your skin, there's no need to avoid these ingredients.
It is recommended that you use sunscreen products containing Zinc Oxide (ZnO) and Titanium Oxide (TiO2). If your skin is darker, look for a product that's lighter in color so your skin doesn't look yellow from using a white cream. A gel or foam sunscreen is better than a cream.
While advising people with OSPW skin types to avoid sun exposure or to keep it to a minimum, many of you still adore the sun.
If you get a sunburn, take Advil (ibuprofen) or aspirin every 4 hours to reduce inflammation and fight redness. Using an over-the-counter 1% hydrocortisone cream also helps treat sunburn.
If your skin is severely oily, to protect your skin from the sun and reduce shine, mix an equal amount of sunscreen with an oil-control product and apply it.
- Make up
Sunscreen powder is good for OSPW because it covers dark spots, controls skin shine and protects skin from the sun. If you use a foundation to cover dark spots, look for an oil-free product that contains anti-inflammatory ingredients.
Every time you put on makeup, you need to remove makeup and put on a mask. And let's see Instructions on how to make a mask of potatoes and fresh milk
2. TREATMENTS FOR YOUR SKIN
If you want to increase the effectiveness of your skin care regimen, try some cosmetic dermatological treatments. OSPW skin is prone to wrinkles so you may want to treat it with Botox or Dysport (botulinum toxins) and Dermal filler.
- Light therapy
IPL (Intense pulse light) light is used to erase blood vessels and dark spots on your skin quickly. Currently the center is using Cutera's Cool Touch IPL, but many other types are also available. And there are also other devices that use blue or red light, which can be used alone or in combination with an element that helps the skin to interact with light (called Levulan) to treat acne, dark brown spots. and shrink the size of the sebaceous glands.
- Chemical peel
In addition to using a salicylic acid wash, OSPWs can also use a chemical peel that is applied in a dermatologist's office. These chemical peels contain very high concentrations of Salicylic acid (20-30%), much more than the over-the-counter products (about 0,5-2%). Chemical peels help to clean pores, remove acne and improve dark brown spots.
Caucasian OSPW will be suitable for deep peel services such as TCA or Obagi Blue Peel, which are effective in treating dark spots and wrinkles.
Another option is to apply a mask at a salon or spa. Remember to choose masks that contain antioxidants, skin lighteners, and anti-inflammatory or oil-reducing agents.
Colored OSPW may be suitable for superficial chemical peels (which are shallower than TCA), which are often done in salons or spas; deeper peels are not suitable for blacks.
Microdermabration method
In lieu of deep-acting chemical peels and light treatments, people with black OSPW skin types can use Microdermabration.
In this therapy, the machine will blow aluminum crystals, clay or other crystals onto the skin to remove dead cells from the surface of the skin, speeding up the natural peeling process, making the dead cells contain pigments. Melanin is shed, so the dark brown spots disappear. When combined with Retinoid, this therapy can help the Retinoid penetrate deeper, helping to increase the effectiveness of removing dark brown spots. You can also combine your skin care regimen with microdermabration or a shallow chemical peel containing salicylic acid to remove dark spots.
FOR HEALTHY SKIN PROTECTION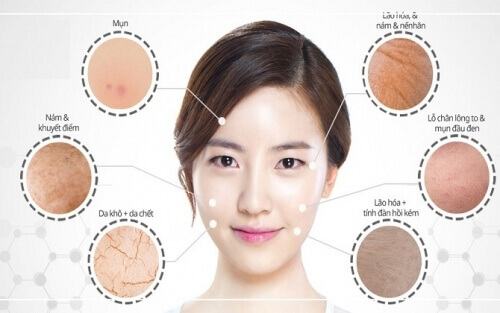 A- Skin Barrier
The epidermis of the skin is made up of many different layers of cells. The outermost layer (the stratum corneum) plays a protective role, which is the skin barrier.
1. Lipid Membrane (Lipid Layer)
Under normal conditions, there is a fatty layer on the skin (called the lipid/lipid layer or moisture/moisture layer) that connects the keratinocytes to help form a solid wall to protect the skin, has the effect of water-proof, blocking bacteria, allergens, irritants, or other microorganisms, prevent them from entering our skin. When the lipid layer is weakened, the bonds between the keratinocytes become loose, resulting in the skin barrier being unable to hold water and protect the skin anymore.
The harmful effects of a weakened hydrolipid film:

The skin will experience the phenomenon of "trans-epidermal water loss", becoming dry, sensitive, weak, easily irritated.

The body's defense system will have an overreaction to fight the invasion of foreign bacteria, leading to inflammation, redness, itching, pain, and swelling.

Ease of hyperpigmentation (melasma, dark spots, freckles) and increased skin sensitivity when exposed to the sun.

So what is the key to having a healthy skin? There is a strong skin barrier. Want a strong skin barrier?

The lipid membrane must be protected to avoid it being weakened or damaged.
2. Acid Mantle
The horny cell wall and lipid membrane are covered above by a thin, acidic shell, with a pH ranging from 1 to 4.5, called Acid Mantle.
Bacteria and microorganisms "like" an alkaline environment and are very resistant to an acidic environment
If the skin is acidic, it will be difficult for bacteria to stay.

If the skin is too alkaline, bacteria will multiply, causing the stratum corneum to become soft, fragmented and lose its ability to protect -> the skin is dry, peeling, acne, allergic, sensitive, red, ..
Therefore, the acid mantle protects the skin from the invasion of harmful bacteria, fungi, and parasites, and ensures that the stratum corneum of the skin is supple and durable.
* Causes of Acid Mantle damage: using cosmetics that are too acidic or too alkaline, excessive exfoliation, tobacco, tap water, detergents, pollution, sunlight...
The pH represents acidity or alkalinity, on a scale of 1 to 14, with 1 being the most acidic and 14 being the most alkaline, and 7 being considered neutral. However, the ideal pH to have a healthy skin is not 1 but slightly acidic - pH7
Healthy skin usually has a pH of about 5.4 - 5.9, which is the most ideal environment for good microorganisms to grow, destroy harmful microorganisms, continuously form epidermal lipids, enhance control enzymes the process of sloughing off scales, restoring skin cells in the stratum corneum when damaged.
If the pH is too acidic or too alkaline, the acid mantle of the skin can be imbalanced, disturbed, easily leading to conditions such as dermatitis, eczema, rosacea (redness of the skin), psoriasis ...
B – pH of Skin Care Products
One of the most dangerous culprits that destroy and weaken the acid mantle is soaps, shower gels, and cleansers with high alkalinity (pH 7).
Facial cleansers with high pH (create a lot of foam, lots of detergent) give users a feeling of dry and clean after washing their face. But there are many side effects such as:
If used regularly, it will cause the lipid membrane on the surface of the skin to be damaged, the skin will lose trans-epidermal water.

The high pH creates an ideal environment for bacteria to multiply and grow, making the skin sensitive and prone to acne.
So say NO to cleansers with a pH higher than 7 to keep skin healthy. Regardless of skin type (especially sensitive skin) should pay attention to use skin care products with pH in the safe zone.
How to determine the pH of skin care products: Test the actual pH of your products yourself with a few simple home tools such as:
Purple litmus paper with standard pH scale

pH tester

pH test kit
If you can't afford to buy a pH test tool, please refer to the pH summary table of more than 400 popular cleansers (although not all of the cleaning products in the world, but also a document for you to choose from). Please refer), if you find that the product you are using is in the danger zone (pH 1), don't regret it, just throw it away and replace it with one with a pH that is more friendly to your skin. .
C – MOISTURE BALANCE OF SKIN
70% of the skin is water, lack of water is the cause of all problems such as dry skin, oil, aging .... Therefore, in order to have a healthy skin, it is necessary to keep the skin hydrated and well-hydrated.
1. Avoid soaking the skin in water which reduces the water content of the skin
Soaking the skin in water for a long time (such as bathing, swimming, etc.) destroys the strength of the skin barrier, especially hot and chlorinated water. So to prevent dehydration, we should:
Take a quick bath or shower (5-10 minutes) with warm water.

After bathing, use a soft cloth to absorb the water on the skin, apply lotion as soon as the skin is still slightly damp to create a water-retaining film on the surface of the skin that does not evaporate.
2. Regularly hydrate the skin
There are 3 simple and most popular ways to use mineral spray, apply a mask or make a lotion mask.
Mineral spray: is an additional product, not too necessary.

Masks: sheet masks have a much better effect of hydrating and moisturizing than wash-off masks.

Lotion mask: is a beauty method of Japanese women invented by Chizu Saeki in the book 'The Japanese SkinCare Evolution', she is famous for a youthful skin full of vitality despite being over 70 years old.
Prepare:
– Mask: choose 1 of the following types:
1 sheet mask sheet without nutrients

1 compressed mask

8-10 cotton pads are thin enough to cover the entire face. If the makeup remover cotton is thick, it can be separated into many thin layers.
Lotion: Any moisturizer that can be dissolved in water. For example:
Lotions/ the first serum/ booster contain fermented ingredients such as Bifida, Galactomyces

Alcohol-free Toner

Liquid lotion of Japanese cosmetic brands

Aloe vera gel, honey, beer…
– Water: filtered water or bottled mineral water
Making:
Wash your face before applying lotion mask
Step 1: Mix 1 to 2 caps of mineral water + a few drops of lotion (or 1 cap of beer, 1 teaspoon of honey...) into a small bowl/cup.

Step 2: Drop the mask or cotton pad into the solution in step 1. Wait a few seconds for the nutrients to absorb.

Step 3: Apply the lotion mask on your face for about 5-10 minutes and then remove it (don't apply it for too long because if the mask is dry, the desiccant will backfire and draw back the water in your skin). Gently pat to elastic skin, no need to wash your face again, you can continue with skincare steps or apply moisturizer right after.
In just a few minutes you have a moist, smooth and hydrated skin. Applying a lotion mask every day is beneficial for all skin types (from dry, oily to sensitive skin), helping to hydrate, soothe, and strengthen the skin barrier.
3. Use the right moisturizer
There are 2 main moisturizers: a coating and a water/moisture absorbent.
Occlusives: coating the skin with a thin film to protect the skin, prevent water from evaporating, soften the skin, and prevent roughness. Common coating ingredients include:
petrolatum (petroleum jelly)

carrier oils (oil): coconut oil, almond oil, jojoba oil…

butter: shea butter, mango butter, cocoa butter...

wax (wax): beeswax, soy wax…

propylene glycol

Allantoin

Silicone derivatives (dimethicone, cyclopentasiloxane, etc.)
Humectant: has the ability to absorb water (hydrates) very well, so it can pull and absorb water from the skin (in the deep epidermis and dermis) to the surface of the skin or from the environment. in order to help the skin retain moisture. The most common desiccants are:
glycerin XNUMX%

Hyaluronic Acid

Panthenol (pro-vitamin B5)

Butylene Glycol

Sodium Lactase

Sodium PCA

Sorbitol

Honey
The best moisturizers to keep the skin barrier hydrated and healthy are those that contain both a coating and a humectant.
Oily, acne-prone, dehydrated skin should use moisturizers containing humectants >> coatings (Humectant-based moisturizers) to avoid squeezing the skin.

Dry, flaky, chapped skin needs moisturizers with coatings >> Occlusive-based moisturizers to soften and retain moisture.
D – Protects Skin From Sun Damage
One of the biggest causes of skin barrier damage is UV rays in the sun.
A lot of you think "It's shady, you don't need sunscreen" or "If you're black, then why apply sunscreen?", some even think that "Sun exposure helps cure dermatitis and clears acne"? !?
But do you still despise the sun when you know: The sun dries out the skin, the sun makes the skin dehydrated, the hot sun makes the skin more oily, the sun makes the skin red, peeling, dark, the sun is the cause of freckles, melasma, age spots, sun causes wrinkled skin, aging.
UVB:
Short wavelength, acting through the epidermis, causing sunburn, tanning, skin irritation

Active at 9am - 14pm, strongest in summer

UVB cannot penetrate glass but can be reflected through glass and water.
GRAPE:
95% of sunlight is UVA, wavelength is longer than UVB, can penetrate the epidermis and affect the dermis, affecting free radicals, collagen, elastin, and other components, causing the phenomenon of aging, less elasticity, wrinkles, sagging, melasma under the skin.

Actively active at 14h-18h

Always present no matter the season of the year, whether it's sunny or not. It is even most active when it is shady, especially after rain.

UVA penetrates glass and many fabrics.
Nearly 90% of UV rays still successfully "pass through" when it is cloudy. They can also reflect through glass, water, metal and impact your delicate skin. So you still get sunburned even if you stand in the shade. Even when sitting in a car, if the car does not have special UV-blocking glasses, you still need sunscreen.
* For sunscreen to give the best protection, you need to do the following:
1. Pay attention to the sun protection index
SPF (Sun Protection Factor) is a measure of a product's ability to protect against UVB rays, expressed in numbers (eg SPF15, SPF40, ...), in which 1 SPF = 10 minutes protects skin from UVB.
PA (Protection Grade of UVA) measures the ability of a product to filter UVA ultraviolet rays, represented by the + sign (for example, PA+, PA+++, ...)
The level of sun protection is moderate, safe and suitable for daily use or for sensitive skin and thin skin areas is SPF25 to SPF35, PA++. When going to the beach or going out on sunny days, you should use a sunscreen with a higher protection factor with SPF 40 to 50, PA+++ or PA++++.
2. Choose the right sunscreen for your skin type
Physical sunscreen
Creating a barrier to help block and reflect UV rays, so it will make the face a bit mysterious and white, in return, physical sunscreen is very durable and safe for the skin.

Recommended skin type: sensitive, easily irritated, acne-prone skin

Common ingredients: zinc oxide, titanium dioxide.
Chemical sunscreen
Absorbs, penetrates and self-destructs UV rays before they can harm the skin. Chemical sunscreens are thin, light, quickly absorbed, do not whiten the face, but are less stable and can cause irritation if the skin is too sensitive.

Recommended skin type: oily, greasy skin

Common ingredients: avobenzone, oxybenzone, octinoxate, octisalate, ...
Chemical hybrid physical sunscreen
It is a new generation sunscreen that integrates all the advantages of physical and chemical sunscreens: both shielding and absorbing and diffusing UV rays, being stable in the sun without causing mystery or whiteness. .

Recommended skin type: suitable for all skin types

Common ingredients: Tinosorb, Mexoryl
SUMMARY, HOW TO HAVE A HEALTHY SKIN IS:
1. Pay attention to the pH of all skincare products you are using – say NO to products with a pH above 7, especially cleansers.
2. Use an acidic toner (pH 3.5-4.5) to balance the skin after washing your face (because tap water in Vietnam has a pH of 7).
3. Do not wash your face with cleanser more than 2 times / day, do not exfoliate more than 2 times / week, do not use a towel that is too rough and hard to avoid damaging the skin barrier.
4. Protect your skin from UV rays every day by using the right sunscreen
5. Give enough moisture to the skin barrier with a moisturizer that contains both Oclusives (coatings) and Humectants (desiccant)
6. Absolutely do not use quick bleaching products in a short time because they will erode and thin the skin barrier.
7. It is recommended to use more plant-based oils containing fatty acids in the daily skin care routine to strengthen the lipid film and increase the cohesion of the horny cells.
8. Do not use water that is too cold or too hot, do not soak the skin in water for too long to limit dehydration of the skin.
9. Regularly supply more water by spraying minerals, applying lotion mask, applying skin care masks.
10. Eat healthy, avoid stimulants, avoid pollution, dust.
From theory to practice
Although Baumann's skin classification system is somewhat more specific and accurate in assessing skin, we should understand that this is only a systematic method from the perspective of four factors. factor, not a specific solution, is if your skin belongs to any group, you need to take care of your skin.
There are two issues to keep in mind:
• The skin on your face can have different characteristics, it is normal for the cheeks to be dry and the forehead to be oily. If the difference is small, that's okay, but if it's too big, maybe you should treat each skin area as different skin types and treat them separately.
Suppose in the above case, you can consider your cheek skin as DRNW and forehead skin as OSNT and then follow the corresponding regimen for example. The specific skin care is also reasonable to explain the spot treatment method, for example, if your skin has acne, where is it considered a special skin, only apply acne cream there. Just don't apply the whole face.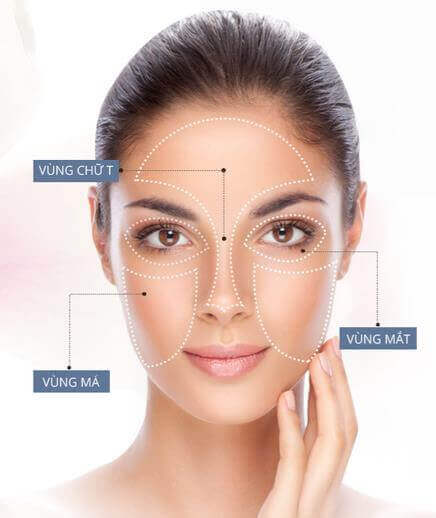 • Distinguishing skin type and skin condition: One of the dangerous mistakes of skin classification is the confusion between skin type and skin condition. Each person's skin type is fixed, but the skin condition is constantly changing depending on the environment and care.
For example, people with oily skin will have the characteristics of large pores and sebaceous snow is highly active, this is a genetic factor, skincare normally cannot be changed. However, in the dry winter, the person's skin becomes more balanced, even showing signs of dryness. In this case, the skin type is still fixed with the element of oily skin (Oily) but the fluctuations in the weather have caused the moisture on the skin's surface to change. The purpose of skincare is to overcome the disadvantages of the skin type through the effect of balancing the state of the skin. This means that even if you know your skin is oily, when the surface of your skin is dry, you need to change the appropriate moisturizing measure to bring the skin state back to balance.
See More Skin Types With Category Skin Classification: