SKIN CARE FOR OIL, SENSITIVE, NON-PIG, TOUGH SKIN: OSNT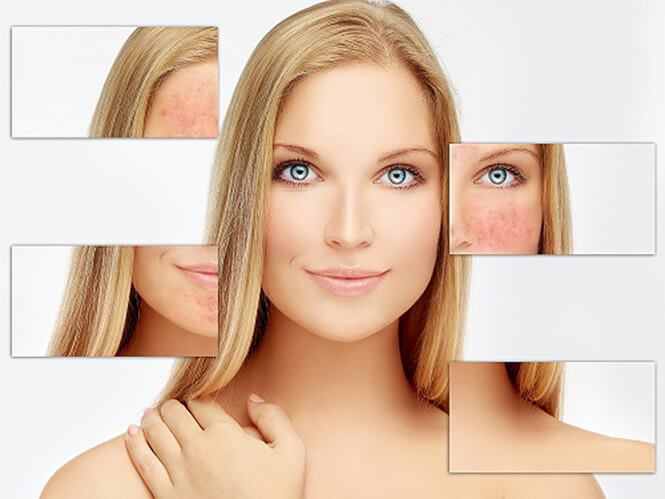 "I have oily and sensitive skin but fortunately no problems with wrinkles. Need guidance on finding products that soothe irritated skin. "
– ABOUT YOUR SKIN
As an OSNT skin type, your biggest problem is facial flushing which makes it difficult for you to socialize. No one wants the world to know their secret, but OSNT is like entering a lie detector test when their faces reveal all their feelings.
Stress at meetings? It shows on your face. Attracted by a new acquaintance? It's hard to hide.
If you want composure or a calm look, it's better to forget about it. Your face always reveals your secret, and you can only learn to solve it by relaxing, doing things that bring you calm, and avoiding irritating or inflammatory ingredients and products.
No worries because your skin is not thin. You may have rosacea – a common dermatological problem in OSNTs and affects up to fourteen million Americans.
Note: WHAT ACNE TREATMENT IS YOUR SKIN GOOD?
– Red Caviar
OSNT skin is the perfect environment for rosacea.
Rosacea is actually a collection of symptoms that you probably know well. Nearly 78% of Americans have never heard of the disease, and early recognition and treatment to slow its progression is crucial. By identifying which symptoms are bothering you, you can control or eliminate them and prevent later-stage symptoms.
How does flushing happen? First, in sensitive skin, blood vessels are more dilated due to increased sensitivity to neurotransmitters (similar to endocrine).
Second, like Bill Clinton, many people with OSNT skin are white, so blushing due to vasodilatation is often more pronounced in people of color. Over time, the blood vessels gradually lose their ability to shrink to their normal size and they become dilated forever. At this point, blue or red blood vessels are prominent on your face like a spider's web.
Doctors believe that when one symptom is present, it leads to other symptoms.
For example, frequent flushing can lead to dilated blood vessels – a condition many people complain about: "I look like a drunk." But don't worry, you can remove them with IPL technology.
If you are a black or colored OSNT, also experiencing skin heat or numbness but no flushing or dilated blood vessels on your face, you will find your daily skin care regimen packed with products and Lifestyle guide that I recommend is helpful for me.
If you are Asian and the test results show that you have OSNT skin type, you should check your answers again, because there is something particularly common in Asians that can distort the score. . Many Asians lack the enzyme that breaks down alcohol, so they often flush when they drink alcohol. Therefore, if you are Asian and you only get flushed when you drink alcohol then you are probably not a true OSNT.
Most Asians fall into the pigmented skin category with more concern about dark spots than wrinkles.
If you have an S/R score 34, you may have one (or more) inflammatory skin problems such as: rosacea, acne, skin allergies, skin heat in reaction to some ingredients in the products. skin care products.
If you have three symptoms: severe acne, excessive facial hair, and irregular periods, you have polycystic ovary syndrome. If you're having trouble treating your acne and have two symptoms left, see your obstetrician.
Note: Specializing in the Treatment of Pimples - Pimples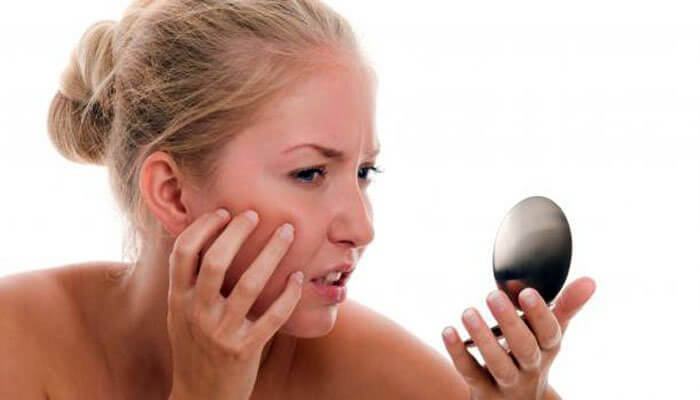 – CLOSE OF YOUR SKIN
With OSNT skin, you may have the following:
– Facial redness and flushing
– Acne
- Oily skin
– Roses
– Small, high, concave lumps in the middle that are yellow or the same color as the skin (enlarged oil-secreting glands, also known as sebaceous gland hypertrophy)
– Acne, skin heat, redness or numbness when reacting to many products
– A rash or patches of pink scales, especially around the nose
– Difficult to tan, often sunburned
– Visible red and blue blood vessels on the face
Rosacea and rosacea-like symptoms are often frustrating and embarrassing. They often appear in people with oily-sensitive skin types, but they are preventable and treatable. Furthermore, red facial skin is not always caused by rosacea.
For example, some people with sensitive skin are allergic to harsh chemicals. They are allergic to the nickel in the nail polish. The new euro coins also contain a lot of nickel, touching these coins with your hands and then touching your face can cause redness and skin irritation.
A daily skin care regimen will help many people with OSNT skin types, but be aware that people with sensitive skin are especially allergic to things that have not been mentioned.
Note: Natural Rejuvenation Without Surgical Intervention
– OSNT AND Aging
Endocrine regulates the production of oil (sebum) of the skin.
During life, the first peak of oil production is in infancy, followed by ages 9-17 (the acne years).
Later on, oil production returns to normal in adulthood.
In women, sebum secretion decreases at menopause.
In men, this does not decrease until age 80.
In other words, oily skin in people with OSNT should improve over time (in women earlier than in men).
As you age, acne caused by excessively oily skin usually subsides. Finally, when it comes to menopause, things seem to be getting better. However, women are not yet out of danger because the sources of hot light they are exposed to can increase flushing – their biggest concern.
To prevent and reduce the signs of aging, many people use anti-aging creams, but people with OSNT skin should avoid this type of product. You don't need them, the fruit acids and other ingredients in these creams can irritate your skin.
Exfoliating is good for other skin types but not for this skin type. The best way to prevent aging is to regularly use sunscreen and anti-inflammatory products in your daily skin care regimen, along with a reasonable diet.
Believe it or not, OSNT is great skin. Young OSNTs may not believe me but all I can say is: wait until you're 40.
When people of other skin types struggle to minimize the signs of aging, you look in the mirror and are satisfied with your youthful appearance.
One of the biggest advantages of OSNT is that your skin rarely gets wrinkles or dark spots
OSNT will save money as age does not bring wrinkles and sagging skin – problems that make other skin types pay a lot for treatments like Botox, collagen injections, facelifts and dermabrasion techniques. microdermabration.
Note: Is Needle Roll Out of Melasma
– NON-PHARMACOLOGICAL CANCER
Caucasian OSNTs with a history of excessive sun exposure are at increased risk for non-melanoma cell carcinoma. Although you are less prone to wrinkles and dark spots, you should still use sunscreen regularly to prevent skin cancer.
– How to recognize non-melanoma cell cancer?
There are two types of non-melanoma cell cancer, be sure to check yourself for both regularly.
1. Squamous cell cancer (SCC):
SCC usually appears as red patches that spread to sun-exposed areas such as the face, ears, chest, hands, feet, and back. It looks like a scab, but the difference is that it doesn't heal.
An SCC streak may be covered with a white, wart-like scab. See a dermatologist if the streaks described above persist for three months or more.
Note: Make Natural Anti-Aging Masks Right in Your Kitchen Bếp
2. Basal cell carcinoma (BCC):
They are white, shiny lumps like pearls. They usually appear on a raised area of ​​skin.
In addition, around it there may be small blood vessels. BCC can appear suddenly and look like a scar even if you haven't scratched it.
Note: Save money on cosmetics but don't be stingy with sunscreen.
– DAILY SKIN CARE
Which skin care products are best for you? Your main concerns include: oil, facial redness and inflammation along with a predisposition to developing dilated blood vessels.
Therefore, you need products that do not cause irritation that control acne and redness. When you try products that are labeled "for sensitive skin," you may find that they are still irritating or oily because these products are more suitable for dry skin.
I offer three different skin care regimens.
If you have facial redness, acne, skin numbness, rash or are suffering from rosacea, use the first regimen.
It is recommended to use the second mode while suffering from acne and the third mode ‒ maintenance mode ‒ when the above problems have been resolved.
1. MODE FOR RED CANCER AND RED SKIN SKIN
In the morning, wash your face with a cleanser and apply an anti-inflammatory gel or lotion.
If you have a high O/D score (≥35), you can apply an oil-control product before applying sunscreen and makeup.
In the evening, wash your face with cleanser, gently remove makeup.
Then, apply an evening gel or lotion containing anti-inflammatory ingredients.
It is recommended to use an anti-inflammatory mask when the skin is very acne or red, and use an anti-inflammatory gel or lotion to maintain when the skin has calmed down. If your skin is less oily (O/D score 27-35), lotion will be better than gel, while OSNT with high score (>35), gel is better.
Note: Needle Rolling Procedure for Pimple Scar Treatment
2. MODE FOR ACTUAL SKIN
In the morning, you should wash your face with a cleanser and use an acne cream if needed.
Then, apply an oil-control product before applying sunscreen and makeup. Always remember to use sunscreen.
In the evening, use a cleanser to gently remove makeup. Then, apply a mask for the evening, or use a lotion or gel containing anti-inflammatory ingredients.
You should use the mask when the skin is having a lot of acne or redness, you can use anti-inflammatory serum to maintain when the skin has calmed down.
If the O/D score is 27-35 then you have mild combination skin, serum is a better choice as masks can be too drying.
With OSNT with an O/D score higher than 35, serums and masks are both good.
Note: Is the C Run at Miss Tram - Natural Beauty Center Really Good?
3. STAINLESS MODE WHEN CAMERA AND SKIN ARE CONTROLED
In the morning, wash your face with a cleanser and apply an oil-control product before applying sunscreen and makeup.
At night, use a cleanser to gently remove makeup. Then apply a mask for the evening, using lotion or gel containing anti-inflammatory ingredients.
Wait three to five minutes, then apply a retinol-containing product. Next, you can use a moisturizer if your skin feels dry or your O/D score is 27-35.
- Cleanser
Recommend a cleanser that contains anti-inflammatory ingredients and reduces surface oil. Products containing salicylic acid, sulfacetamide, or sulfur are good choices.
- Toner
Most OSNTs don't need toners because they can make flushing or redness worse because they often contain ingredients (like menthol) that can cause flushing.
People with severe rosacea should avoid toners altogether.
However, if you prefer to use toners, you should choose products that contain anti-inflammatory ingredients like witch hazel. If cosmetic products often cause redness and stinging, a toner for sensitive skin like the Skin Medica Acne Treatment is a good choice.
– OSNT skin type has a tendency to acne
If you have acne and very little flushing or redness, you can use a product containing benzoyl peroxide.
The popular Proactiv system acne treatment set is a combination of several benzoyl peroxide treatments that are right for you.
Note: Natural Anti-Aging Eye Mask Effectively
OSNT skin type tends to have flushing and redness
OSNTs with flushing and redness may not be able to tolerate the high concentrations of benzoyl peroxide and acne treatment products mentioned above.
Instead, look for products that contain licochalone, feverfew, and other anti-inflammatory ingredients.
- Moisturizing products
Because your skin is already naturally oily, moisturizers can clog pores and increase oil production.
However, if you have an O/D score of 27-35 you can use a lightweight moisturizer that contains ingredients that curb inflammation and acne. But you should only apply them on dry skin.
- Exfoliate dead skin
If recommended, look for an exfoliator that contains anti-inflammatory ingredients like sulfur or salicylic acid.
Treat your face as gently as possible, using only a soft washcloth to wash your face, avoiding any harsh cleansers such as disposable face towels and harsh cleansers. These products will cause skin abrasion, not suitable for your skin.
Note: Is Acne Treatment With Red Bean Powder Effective?
- Mask
Masks are useful when your skin is especially oily. You can use the mask before an important event, or even daily, there is no harm in using it regularly.
- BUY PRODUCT
Your recommended skin care products contain anti-inflammatory ingredients to calm redness.
Expand your choices by reading the ingredients on the label to add products that contain beneficial ingredients and avoid products that contain ingredients that can cause inflammation, irritation, or oiliness.
- Sunscreen for your skin
For the best results, you should apply sunscreen after washing your face to reduce oil on the skin's surface. Sunscreen lotions or gels are better than creams.
Wear sunscreen even if you've used cosmetics that contain sunscreen (foundation or powder).
Apply evenly over face, neck and chest and reapply every six hours or every hour if you are outdoors and exposed to direct sunlight.
Note: The Secret To Treating Acne With Cinnamon And Honey Very Effectively
- Make up
Makeup products that contain ingredients that reduce, treat, or cover skin problems will help. Depending on which issue is of greater concern, you may have several options.
For redness around the eye area, use an under-eye concealer that contains anti-inflammatory ingredients like: Neutrogena's Skin Soothing Eye Tints. People with an O/D score ≥34 prefer powder over foundation, while those with scores lower than 34 may prefer foundation. For acne or rosacea, look for salicylic acid foundations and powders like Neutrogena SkinClearing Oil-Free powder and foundation.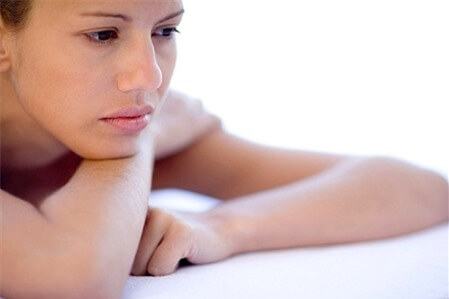 Usually, OSNT using powder will be more effective, especially when you have acne.
If you need to cover up flushing or blemishes, choose a yellow oil-free foundation like Giorgio Armani Fluid Sheer Foundation #6 formula, or Biotherm's Pure Bright Moisturizing Makeup Base in purple to cover redness. If your O/D score is ≥34, this product might be too oily, if it's 27-34, you'll love it.
If there is a problem of eyelid redness, avoid using shimmery, glossy eyeshadows. Because the ingredients that make those products shine more can irritate the skin. Powder eyeshadows and blushers are better than creams, as they can be runny when used on oily skin.
4. TREATMENTS FOR YOUR SKIN
Sulfur, sulfacetamide and anti-inflammatory skin care products, as well as oral medications prescribed by your doctor, can treat the flushing and inflammatory acne of rosacea.
Treatment with blue or red light can help reduce acne because it kills acne-causing bacteria.
Until now, no topical product or oral medication has successfully treated two symptoms of rosacea: dilated blood vessels (veins that connect like spider webs) and an enlarged nose.
Some dermatological therapies that are effective in the symptomatic treatment of vasodilatation include: electric needles, saline injections, lasers or IPL light.
Usually, these treatments need to be done two to five times for the blood vessels to disappear. They will disappear forever. And you should maintain the treatment every year to get rid of the new blood vessels that appear.
– Treatment of advanced rosacea
There are several treatment options for large noses, please refer to (therapies section).
– Therapies to avoid
You may be tempted by a variety of services and products that promise to help you with your skin problems, the following can cost you time and money:
– Superconducting abrasive is too strong for your sensitive skin type.
Sauna massage will be too hot and inflammatory for your red prone skin type.
Non-abrasive lasers (the type of laser primarily used to treat wrinkles) unless it is designed to help improve rosacea and remove blood vessels. Otherwise, it will be more suitable for treating wrinkles, and you don't need it.
You also don't need Botox injections or a skin lift because you don't have wrinkles. However, you can use them to change the shape of your eyebrows or make your lips look fuller.
Note: Is oats effective for acne treatment?
Solve Skin Pigment Problems
A. The cause of the appearance of dark brown spots (freckles, melasma, dark spots) and dark skin
"Hyper-pigmentation"
Melanocytes (melanocytes) release pigment granules (melanosomes), which contain tyrosinase enzyme - the pigment enzyme that initiates the production and synthesis of skin pigment (melanin).
Melanin is a pigment that gives natural color to human skin, hair and eyes, and also creates pigments such as: melasma, freckles, dark spots, dark spots, etc.
Hyperpigmentation is caused by the body producing too much melanin on certain patches of skin, too much concentration of melanin will make the skin darker. There are many causes of excess production of melanin.
1 – Sunshine
When exposed to more sunlight, the skin produces more melanin to fight UV rays, this is the skin's own defense mechanism, causing your skin to darken and become tanned. Overexposure to intense sunlight can disrupt this process, leading to hyperpigmentation.
2 – Hormonal changes (hormonal disorders)
– Due to pregnancy: Melasma during pregnancy, also known as "mask of pregnancy", is a benign and common symptom in pregnant women due to hormonal changes.
- Due to the use of birth control pills or hormone therapy.
3 – Metabolic disorder
Poor liver and kidney, digestive disorders, vitamin deficiency in the body
Side effects of treatment with chemotherapy, antibiotics, antimalarials, anticonvulsants, and some other medications.
Note: Acne Treatment: What You Should And Shouldn't Eat
4 – Age, aging
In menopausal or perimenopausal women, the rapid decline of the hormone estrogen will make the elasticity and health of the skin less elastic. Estrogen should be added to the body during this period.
5 – Blood (Genetic factor)
– Women with early freckles, if they give birth to a girl, the daughter is also at risk of freckles due to heredity from the mother.
– People with the gene for fair skin and light hair are also more likely to have freckles at an early age.
6 – Using harmful cosmetics:
Using cosmetics incorrectly, or cosmetics containing a lot of corticosteroids (mixed creams) will destroy the structure of skin cells, making the skin thin, weak, and the resistance of the skin less.
Chemicals from dyes, henna ink, tattoo ink… can also cause hyperpigmentation.
7 – Skin damage or inflammation
Damaged, inflamed skin due to cuts, burns, dermatitis, boils ... when the wound has healed, the skin there will also be discolored, forming dark spots or dark scars, called syphilis. Post-inflammatory pigmentation disorder.
B. Classification of problems of hyperpigmentation
1. Melasma (Melasma)
- Know:
Melasma are patches of brown, gray or black color that are symmetrical on the face.
Usually appears on the skin on the cheeks or along the jawline, lips, nose, forehead, forearms and other areas that are often exposed to the sun.
Causes: The body is changing hormones:
Pregnant women
Oral contraceptives
Using hormone-altering therapy (HRT)
Aging or hormonal disorders, especially perimenopause and menopause
People with dark skin (Asian, African, Latin American) are more prone to melasma than people with fair skin. The deeper the melasma (down to the dermis), the more difficult it is to cure.
Note: Tips to get rid of whiteheads at home
2. Freckles (Ephilides & Solar Lentigos)
- Know:
There are small round or oval dots, about 1-2mm in size, different colors from dark yellow to dark brown.
Usually appears on the face, back, and neck in an asymmetrical position
Causes: Heredity (Ephilides) and sunlight (Solar Lentigos)
3. Deep acne, dark scars (PIH)
– Recognition: dark flat spots (brown, black, red, pink ...), which may be slightly rough (convex or concave) appear on newly healed wounds, called skin pigmentation disorders. post-inflammatory (PIH)
– Cause: Deeply damaged skin area stimulates hyperpigmentation under the skin
Inflamed skin (acne, atopic dermatitis, psoriasis, etc.) forms bruises
Damaged skin (falls, scratches, cuts, incisions, etc.) forms dark scars.
PIH is much easier to overcome than melasma or freckles, the speed of fading fast or slow depends on the location, skin type and skin care regimen of each person.
After the above article, what do you think? You have really understood your skin type right yet?
From theory to practice
Although Baumann's skin classification system is somewhat more specific and accurate in assessing skin, we should understand that this is only a systematic method from the perspective of four factors. factor, not a specific solution, is if your skin belongs to any group, you need to take care of your skin.
There are two issues to keep in mind:
• The skin on your face can have different characteristics, it is normal for the cheeks to be dry and the forehead to be oily. If the difference is small, that's okay, but if it's too big, maybe you should treat each skin area as different skin types and treat them separately.
Suppose in the above case, you can consider your cheek skin as DRNW and forehead skin as OSNT and then follow the corresponding regimen for example. The specific skin care is also reasonable to explain the spot treatment method, for example, if your skin has acne, where is it considered a special skin, only apply acne cream there. Just don't apply the whole face.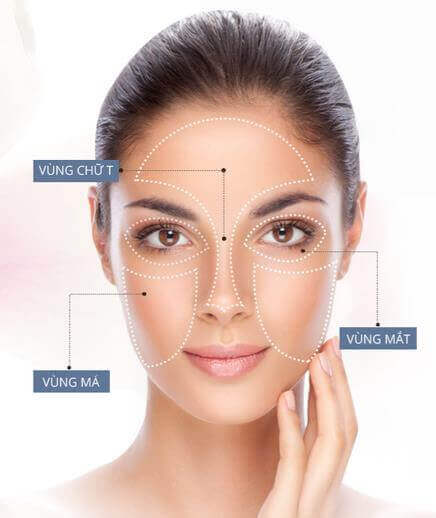 • Distinguishing skin type and skin condition: One of the dangerous mistakes of skin classification is the confusion between skin type and skin condition. Each person's skin type is fixed, but the skin condition is constantly changing depending on the environment and care.
For example, people with oily skin will have large pores and active sebum, this is a genetic factor, normal skincare will not be changed. However, in the dry winter, the person's skin becomes more balanced, even showing signs of dryness. In this case, the skin type is still fixed with the element of oily skin (Oily) but the weather fluctuations have caused the moisture on the skin's surface to change. The purpose of skincare is to overcome the disadvantages of the skin type through balancing the state of the skin. This means that even if you know your skin is oily, when the surface of your skin is dry, you need to change the appropriate moisturizing measure to bring the skin state back to balance.
See More Skin Types With Category Skin Classification: