OIL SKIN CARE, HEALTHY, DYNAMICS, Wrinkles: ORPW
"It is fair to say that the skin type is easy to care for, but still needs advice for a more even complexion and prevention of unwanted aging. Which anti-aging cream really works? I don't know if they have any effect on this skin type."
– ABOUT YOUR SKIN
Put down the magnifying glass, it only detects what you already know. If the questionnaire indicates your skin is ORPW, it's no surprise that you're constantly facing skin care challenges. You can hardly avoid any skin problems (except sensitivity); Staring at my face won't solve anything.
It is not certain that the problems: oily skin, large pores and dark spots that ruined your complexion in youth can be cured quickly or will disappear with age.
However, for women with ORPW skin type, the problem of oily skin subsides in middle age, but when it recurs it can leave large pores and acne scars.
Another point is that the aging process will create wrinkles. Yes, with ORPW skin type, you face this problem both in youth and in old age.
Note: You need to know: You Don't Have To Use Expensive Methods To Get Rid Of Acne
– FEEL FREE TO TEST US PRODUCTS
All ORPWs are at risk for wrinkles. But if you don't smoke and expose yourself to the sun, using the right skin care products can help alleviate skin problems.
Healthy skin has one big advantage: non-reactive. You can try many different products without skin irritation. You have no rash, no heat, no numbness, your skin is the opposite of sensitive skin. People with sensitive skin suffer from paranoid phobia of products, they are afraid to try new products.
But you're free to try different product samples at the cosmetic store. You can wash your face with any soap. When visiting relatives or staying in a hotel, you can use the shampoo there without drying or irritating your skin.
Your skin type can use all kinds of products. While sensitive skin types need to calm the skin's reaction, you need "plow" products and ingredients.
Warn sensitive skins to stay away from products that are too strong for them, but in this chapter, ORPW targets the highly concentrated, active ingredients this skin type needs.
Note: Specialty Service of Treating Scars - Pimples
– LOOK AT YOUR SKIN
If your skin is ORPW, you may experience the following:
– Large pores
– Oily, shiny skin
- Hard to find sunscreen because it makes your skin oilier
– Black spots at sun exposure
- Wrinkle
– Sometimes there is little roe
- Easy to use cosmetics and skin care products
- There is a risk of skin cancer if you are white
Sunscreen is recommended for all skin types, but your skin tends to be oily, so finding a sunscreen that doesn't increase oil is essential.
Note: Natural Rejuvenation Without Surgical Intervention
– HOW DOES YOUR SKIN AGE?
ORPW skin type changes over time. Younger ORPWs have oily skin problems, while older ORPWs when the oil runs out develop wrinkles.
By the age of 50, your skin even turns into a DRPW (dry, healthy, pigmented, wrinkled) skin type.
That's why it's so important to use a prescription retinoid at a young age. These products have two ideal effects for you: oil reduction and wrinkle prevention.
As we age, the condition of oily skin and dark spots will improve. When the amount of female hormone decreases, the production of melanin pigment decreases, thereby reducing cheek pigmentation and dark spots.
There is a difficulty: using hormone replacement (taking female hormone tablets) will help prevent wrinkles better but make the pigmentation disorder worse. It is recommended that you consult your obstetrician before deciding whether to use it or not.
For the prevention and treatment of wrinkles and dark spots, we recommend sun avoidance, daily skin care, retinoid use, and the program's recommended therapies.
If you want a nice tan, use a tanning cream because it doesn't make dark spots look worse like the sun. Tanning cream temporarily stains the dead layer of the skin's surface but does not stimulate the production of melanin, which causes dark spots. For more on use, read chapter ten, tanning cream.
Note: Is Nano Skin Treatment Really Good
– YOUR SKIN TYPE
Most researchers and product developers fail to create products for your skin's special needs. Cosmetic stores are flooded with products for sensitive skin, but not for healthy skin.
The cosmetic industry rates your skin as "easy", but given the complexity of skin problems, your skin is not the easiest healthy skin type.
Because it has both factors: healthy and oily, your skin barrier is very strong, helping to prevent external irritants from entering. The flip side of it is blocking out all the ingredients, including the good ones your skin needs.
That's why it's hard to find over-the-counter products that are strong enough to work for your skin. Have you ever seen skin care products labeled for "thick healthy" skin?
Companies cannot control who buys their over-the-counter products. They make products in lower concentrations so that sensitive skin types can safely use them. They want to avoid the negative publicity that comes from buyers reacting to their product.
A prescription retinoid product that is most valuable for ORPW skin types because it can reduce oil and prevent wrinkles, even helping to eliminate dark spots and wrinkles. You can buy the cheapest cleanser and sunscreen because your healthy skin doesn't need to increase smoothness.
Note: You can use the strongest products. And don't forget to prevent wrinkles by stopping smoking, avoiding the sun and eating a diet rich in vegetables and fruits.
Note: Acne Treatment With Green Laser Technology
– DAILY SKIN CARE
The purpose of a skin care regimen is to address dark spots with products containing anti-pigmentation ingredients such as kojic acid, arbutin, and hydroquinone and to address wrinkles with products containing retinol, antioxidant ingredients. .
Plus, a daily skin care regimen will help treat oil and tackle blackheads and large pores.
People with ORPW skin type under the age of 30 have more problems with oily skin, and in older people, oil secretion decreases but wrinkles increase.
Therefore, the goal of young ORPWs is to tackle oil and prevent wrinkles with the right skin care products.
For older ORPWs, wrinkle prevention and treatment is paramount.
No over-the-counter skin care product can eliminate wrinkles, you need retinoids or treatments like Botox or Juvéderm injections.
If you don't choose the prescription route, you can go on an over-the-counter regimen indefinitely. In this case, you can look for toners, sunscreen products, foundations, and evening lotions or gels that contain retinol (which is a relative of retinoids but has a weaker effect). Most products contain only a small amount of retinol, so you can use several different skin care products that contain retinol to increase effectiveness.
Note: Acne Treatment With Oxy Jet Technology
1. RED MODE
In the morning, wash your face with an oil-control cleanser, then use a toner if desired.
Then, apply a whitening product to the dark spots if you want to treat them.
Next, you can choose to apply an oil-free product if you have an O/D≥33 score. If your skin is combination (O/D score 27-33), you can choose to apply moisturizer in dry areas (avoid the T-zone). Also combination skin, if you feel a bit dry all over your face, you can apply a moisturizer all over your face.
Finally, apply an SPF or oil-absorbing powder.
In the evening, wash your face with a cleanser containing Glycolic acid or salicylic acid.
Apply whitening serum to the entire face to prevent dark spots. Then you should use a retinol product or an antioxidant serum.
Finally, apply a moisturizer if you're using it.
You can enhance peeling by using an exfoliating product after washing your face in the evening.
Take a look at these products of the chapter.
- Cleanser
To control oil and prevent large pores, keep your face clean by using a cleanser both morning and night.
ORPW should avoid cream cleansers or cold creams.
Choose a gel cleanser or a foaming cleanser. Oil-based cleansers and cleansers containing glycolic acid and salicylic acid are also good for your skin.
- Use toner
Look for toners that contain oil-control, anti-pigmentation, and antioxidant ingredients. If using a prescription retinoid, use a toner containing alpha hydroxyl acid (AHA) or beta hydroxyl acid (BHA). Alternatively, look for toners that contain retinol. People with an O/D≥33 score may just want to use a toner and skip the moisturizing step.
You can use an extra oil-control product or replace the toner if you have an O/D score ≥33.
You can also choose an oil-free foundation or powder, and blotting papers help absorb oil throughout the day. Many people with oily skin like the convenience of using them.
- Treatment of dark spots
For dark spots, a whitening product should be used after cleansing and toner, but before other products.
Apply these products at the first signs of dark spots until they are completely gone.
To prevent and treat dark spots, use products containing retinol and other ingredients that help accelerate cell life, such as alpha hydroxyl acid (AHA) and beta hydroxyl acid (BHA).
Look for products that contain de-estrogenic soy (from RoC, Neutrogena, Aveeno).
– Wrinkle room
While retinoids are the only products that are effective in treating wrinkles, there are many other over-the-counter products that can help prevent wrinkles.
- Moisturizing products
If your O/D score is >= 35, you may not need a moisturizer.
With an O/D score of 34-44, you can choose to use a moisturizer for dry skin.
You should look for products for oily skin that contain oil-controlling ingredients.
For daytime moisturizers, you should choose products that contain sunscreen.
Night creams should choose products containing retinol. If you choose to use a full-face moisturizer (which is a skin-only product with a score of 27-33), look for products that contain brightening and antioxidant ingredients.
- Mask
Masks, used once or twice a week, are also a good way to give your skin the potent ingredients it needs.
It is better if you go to a spa, salon or see a dermatologist for exfoliation or microdermabration, these treatments will help improve shallow, small wrinkles and dark spots.
But if you are tight on time and finances, try using a mask. It provides temporary relief from oily skin, but is useful for special occasions when you want your skin to look its best.
- Kill death celk
Scrubs and microdermabrations can remove the top layer of dead skin cells, allowing the active ingredients in toners and moisturizers to better penetrate the skin.
If your daily skin care regimen already includes a prescription retinoid, retinol, alpha hydroxyl acid, beta hydroxyl acid, then only exfoliate (any form) twice a week.
If your daily skin care regimen does not include the above products, you can use peeling products every two days, as long as you do not experience redness and pain.
Both scrubs and peels should not be used, choose one. Excessive peeling can cause redness and skin sensitivity, making you feel like you have OSPW. You can also peel the skin with the Clarisonic MD Skin Care Brush (a popular and very popular machine).
- BUY PRODUCT
To expand your choice, read product labels and choose products that contain ingredients that are useful for the particular problem you want to solve.
There are also ingredients you need to avoid. Some products contain ingredients that increase oiliness, make your skin more sensitive to the sun, and cause more tan and dark spots in certain areas.
For example, aromatherapy containing bergamot essential oil can darken the skin of the neck area. Likewise, if you drink a margarita while out in the sun, you may notice a tan around your mouth or other areas of contact with the drink.
- Sunscreen for your skin
Most sunscreen products are oil-based because the active ingredients are usually oil-soluble. Oil-based sunscreens can make your skin look shiny, so use a gel or spray. Powder with SPF is also a great choice.
One of Philosophy's favorite and suitable sunscreen powders and foundations (SPF 15) is called The Supernatural. With a formula for oily skin, it comes in two colors to suit a wide range of skin types.
Sunscreen products in the US have come a long way since the FDA approved Helioplex and Meroxyl, two very good UVA-blocking ingredients. Meroxyl is found in Vichy and Laroche-Posay products. Helioplex is in Neutrogena products. Aveeno also contains Helioplex but they call them an "effective sun barrier complex". Look for sunscreen products that contain these ingredients.
- MAKE UP
ORPWs can have a hard time choosing a foundation. To cover dark spots, you need a thick foundation, but they tend to bleed when used on oily skin.
Beyond the age of 40, heavy makeup products can get into wrinkles, making them more visible. If your problem isn't dark spots, choose a thin foundation and top it with powder.
If the problem is dark spots, choose a thicker foundation that helps cover dark spots and works for oily skin like Exuviance Cover- Blend Concealing Treatment Makeup SPF 20.
Since sun protection is never enough, use makeup products with SPF whenever possible.
Note: Is CO2 Laser Pore Tightening Effective?
2. TREATMENTS FOR YOUR SKIN
Therapies such as laser and light therapy are not suitable for black people.
Black ORPWs can use topical products to reduce oil and dark spots. Healthy skin types are more advantageous than sensitive skin in that they can use stronger products without fear of irritation, so results can be achieved faster. You have to wait four to eight weeks to see the dark spots improve.
Black ORPW is also suitable for peels that contain 20-30% Salicylic acid (BHA) or a combination of glycolic and skin lightening ingredients. Prescription retinoids used in your daily skin care regimen will help the peels penetrate better and help the skin recover faster.
- Shrink pores
Treatments like facial massage or microdermabration don't actually shrink pores. However, if you want to minimize pores temporarily, use products containing AHAs, BHAs and vitamin C mentioned in the over-the-counter products section.
– Reduce oil
For Caucasians, light therapies such as IPL and Levulan can help reduce oil secretion because it shrinks the oil-producing glands.
- Wrinkle treatments
There are several treatments for wrinkles, including: botolinum toxin injections (Botox or Reloxin) and skin tightening. Laser and other types of light-based wrinkle treatments in the future will be very effective, but for now it is controversial. ORPW can also use Titan technology, a new technology.
Apple Cider Vinegar
Apple cider vinegar contains Malic Acid and Lactic Acid to help soften skin, exfoliate, reduce redness, and also have antibacterial and antiseptic properties, so it is very effective in treating acne.
You should dilute apple cider vinegar with water, do not use pure vinegar directly on the skin because the acidity is too strong and can cause skin irritation.
Honey
As an antiseptic, it is quite effective to dab on acne or use as a mask to soothe the skin.
In addition, honey helps to make the skin brighter, moist and hydrated.
Green tea
Green tea contains an extremely high amount of the antioxidant EGCG, which is antibacterial, anti-inflammatory, eliminates toxins and effectively treats acne.
How to use: Boil fresh green tea to drink and wash your face every day, or use green tea powder mixed with honey to make an acne mask.
Food supplement
In addition to external skin care, taking additional functional products to balance the inside is also essential in treating acne such as Vitamin A, Vitamin B complex, Vitamin C, Zinc (zinc), Omega-3 (oil). fish), Gamma-Linolenic Acid (borage oil, primrose oil)…
Note: Technology to Remove Eye Wrinkles at Miss Tram
After the above article, what do you think? You have really understood your skin type right yet?
From theory to practice
Although Baumann's skin classification system is somewhat more specific and accurate in assessing skin, we should understand that this is only a systematic method from the perspective of four factors. factor, not a specific solution, is if your skin belongs to any group, you need to take care of your skin.
There are two issues to keep in mind:
• The skin on your face can have different characteristics, it is normal for the cheeks to be dry and the forehead to be oily. If the difference is small, that's okay, but if it's too big, maybe you should treat each skin area as different skin types and treat them separately.
Suppose in the above case, you can consider your cheek skin as DRNW and forehead skin as OSNT and then follow the corresponding regimen for example. The specific skin care is also reasonable to explain the spot treatment method, for example, if your skin has acne, where is it considered a special skin, only apply acne cream there. Just don't apply the whole face.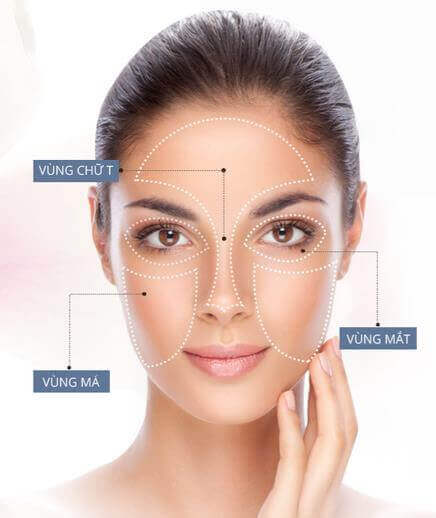 • Distinguishing skin type and skin condition: One of the dangerous mistakes of skin classification is the confusion between skin type and skin condition. Each person's skin type is fixed, but the skin condition is constantly changing depending on the environment and care.
For example, people with oily skin will have large pores and active sebum, this is a genetic factor, normal skincare will not be changed. However, in the dry winter, the person's skin becomes more balanced, even showing signs of dryness. In this case, the skin type is still fixed with the element of oily skin (Oily) but the weather fluctuations have caused the moisture on the skin's surface to change. The purpose of skincare is to overcome the disadvantages of the skin type through balancing the state of the skin. This means that even if you know your skin is oily, when the surface of your skin is dry, you need to change the appropriate moisturizing measure to bring the skin state back to balance.
See More Skin Types With Category Skin Classification: