Can say "acne"is an obsession that does not belong to anyone. People with acne often lose confidence when communicating, and if the acne lasts for a long time, it can affect their health as well as make it more difficult to treat. Realizing the "pain" of young people with acne, Miss Tram - Natural Beauty Center bring you the course acne skin care The package helps you to improve your acne skin clearly and to be as healthy as before.
1. Intensive acne skin care treatment at Miss Tram - Natual Beauty Center
Acne treatment at Miss Tram - Nautral Beauty Center will be performed according to the following basic steps:
Step 1: Examination and consultation
Arrival Acne treatment At any cosmetic facility, you are thoroughly examined and examined by a doctor so that you can determine your acne status and skin health so that you can give you a facial treatment. suitable and effective acne.
Step 2: Clean your acne-prone skin
Facial cleansing: Remove makeup with makeup remover, then clean skin with cleanser suitable for each skin type.
Exfoliate dead skin cells: This is a step that will help you remove dead cells and residues and toxins that remain on the skin that you can't get rid of by washing your face with a cleanser.
Steam to treat acne and absorb sebumn: This step helps to unclog pores on your skin, and at the same time, cleans the residues left on the surface of the pores to help accelerate skin regeneration, clean pores and help Skin absorbs nutrients better.
Step 3: Intensive acne treatment
Put into the skin essence or serum to help the skin absorb nutrients and add essential nutrients to the skin.
Step 4: Apply a mask
Apply a soothing mask: You will be given a mask suitable for your skin such as oily skin, acne skin, aging skin, melasma, freckles, ... as prescribed by the doctor.
Wash your face and apply moisturizer: Your face will be washed after about 15-20 minutes of applying the mask. After that, nutrients and sunscreen will be applied to better protect the skin after acne treatment.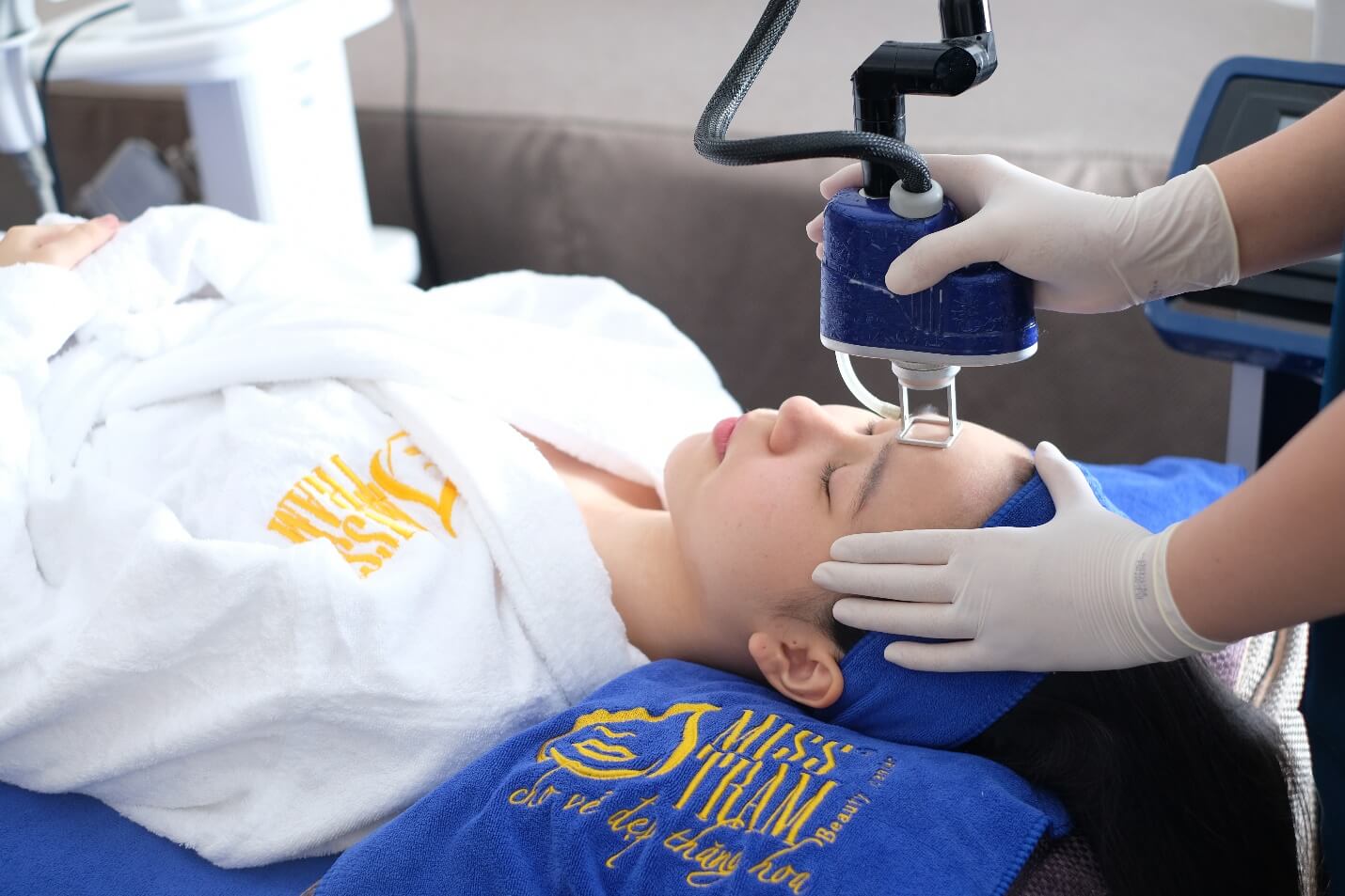 2. How is the acne treatment at Miss Tram - Natural Beauty Center different from at home?
Acne treatment at the spa will take out the acne cores located deep under the skin, returning a smooth skin background.

The course of using professional products, specializes in treating acne problems and preventing the possibility of infecting acne nuclei together.

The treatment is closely coordinated between doctors and technicians with many years of experience.

Safe, suitable for all skin types.
While acne treatment at Miss Tram Spa is committed to bringing about the same positive results as above, self-application of home methods is limited, because:
Treating acne at home takes a lot of time and does not bring optimal results for you.

If you use the wrong cream and medicine when treating it at home, it will make acne worse.

Natural methods are effective but take a long time to implement, requiring patience

.
Because of the above differences, you should consider and choose for yourself a suitable acne treatment course to keep your skin healthy and clear of acne. With more than 15 years of experience in the cosmetic industry and thousands of customers every year coming to treat acne, Miss Tram - Natural Beauty Center firmly believe that it will help you regain acne-free skin every day, so that confidence returns to you.
See More About News – Beauty Secrets By Miss Tram - Natural Beauty Center:
Things To Note After Eyelid Sculpting
Natural Anti-Aging Eye Mask Effectively