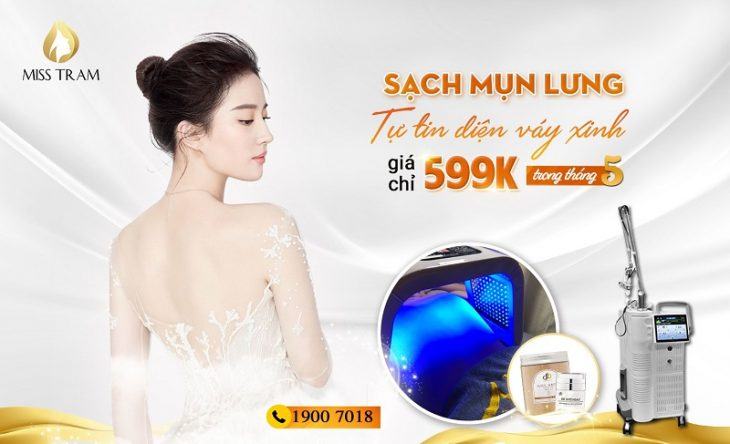 [Super Offer] Get Medically Clear Back Acne With 599k In May At Miss Tram
[HOT OFFER] Get Clear Back Acne Medical Standard Only 599k
MEDICAL STANDARD ACCUMULATION – CLEAN BACK OF ACNE At Miss Tram Spa
Price only 599K (Original price 1,200,000) ️
Limited quantity - Hurry up to grab the offer
Remove the root of acne, deep clean hair follicles.

Heals acne spots fast.

Tighten pores, smooth, clean, radiant skin.

Standard medical procedure, no allergies, no irritation.
3 reasons to REGISTER for back acne treatment at Miss Tram this May
The latest upgraded technology and procedures in 2021 Vietnam help achieve the highest efficiency ever.

Over 18 years of acne treatment experience.

CHANCE TO GET 50% OFFER WHEN REGISTERING A BACK BACK TREATMENT.
Time application: From May 05, 05 to May 2021 Vietnam, 31.
Instructions on how to make an appointment
+ Go directly to the address of Miss Tram beauty salon: 126/6 Phan Xích Long, Phường 3, Bình Thạnh District, HCM
+ Directly call the Hotline: 0899 194 519 – Call center: 1900 7018
+ Contact Miss Tram at fanpage: https://www.facebook.com/MissTramSpa
What is back acne?
Back acne is acne that grows on the back. Dead cells, sebum (also known as sweat) is secreted too much in the pores in your back area, plus a polluted environment with a lot of dirt, thus causing the pores to be blocked, creating a favorable environment for acne bacteria to develop and grow, creating back acne.
Causes of back acne
Like facial skin, back acne occurs when pores are clogged due to excessive sebum and dirt accumulation. Combined with bacteria and other factors to form acne, cystic acne, pustules, bran acne or blackheads ... on the back.
Improper body hygiene

Dirty bed and pillow

Do you belong to the oily skin group?

Unhealthy eating

Due to clothes

Due to hormonal disorder
Note when you have back acne
+ Do not arbitrarily squeeze back acne: Because the back area is both difficult to reach with your hands and difficult to take care of, arbitrarily squeezing acne can cause the acne area to spread and be more difficult to treat.
+ If you do not encounter the above causes but still have acne and cannot get rid of back acne, you should see a dermatologist for the best diagnosis of acne.
Follow for more Events – Offers to quickly book yourself a special promotion at Miss Tram VietNam. Don't forget to check out more great articles in the category Blog Share and recommend it to everyone!
Review Top Skin Care Products