[Q-A] Does the Rose Bird's Nest Process Really Help Bright, Smooth Skin?
Revealing is ROSE Swallow's Nest TREATMENT is in the TOP of the top that customers Miss Tram VietNam Use it to beautify the New Year, let's check out what's HOT about this treatment that is so favored!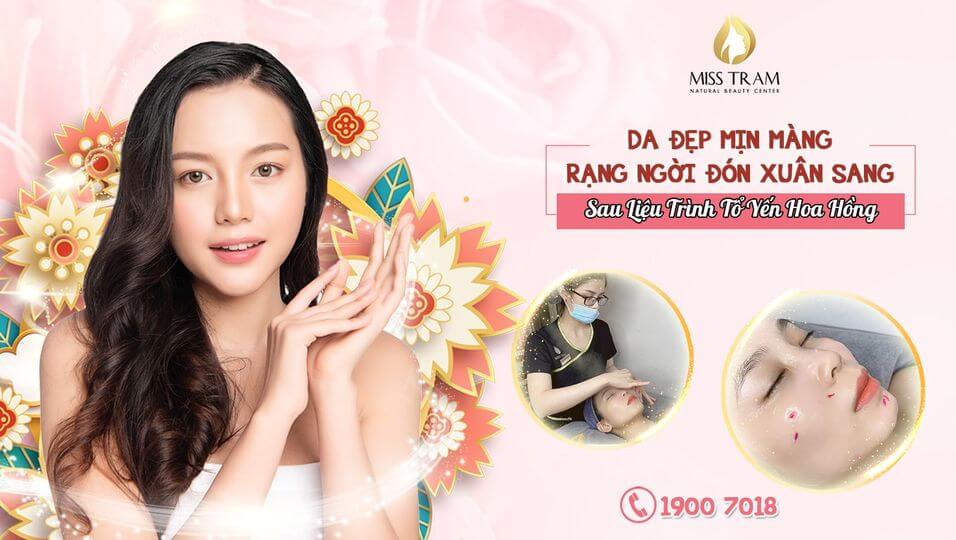 Therapeutic Uses
Remove the layer of dirt, help tighten pores effective.

Helps improve skin elasticity, tautness and contributes to skin rejuvenation.

Reduce dark spots, acne scars.

Restore damage to the skin, slow down sagging, aging.
Implementation process
- Step 1: Clean the face, remove dirt, makeup layer (if any).
- Step 2: Hot steam combined with facial massage.
- Step 3: Absorb sebum, acne bran, remove acne core.
- Step 4: Spray fresh oxygen (if any).
- Step 5: Run the bird's nest essence electrophoresis.
- Step 6: Apply rose collagen mask.
- Step 7: Shining red biological light helps skin increase elasticity and firmness.
- Step 8: Remove the mask and massage the head - shoulders - nape.
- Step 9: Apply sunscreen, finish the course.
SPECIAL: Suitable for all skin types, including sensitive skin.
Too many advantages Rose Nest Therapy Bring it, anyone who hasn't "set the deal" to beautify, please contact me immediately Miss Tram VietNam for honest advice.
Call now HOTLINE 1900 7018 for advice on all your questions about the service.
Review Top Skin Care Products