Eyebrow spray It is a method of beauty that is not strange to women today. For those of you who have short, pale, uneven eyebrows, this is an effective measure to help overcome the above situation. A lot of questions are raised about time How long does it take to spray eyebrows? and how to keep the color for a longer time. Posts by Miss Tram - Natural Beauty Center This will help you to answer your questions.
How To Know How Long To Spray Your Eyebrows
Eyebrow spray - a popular beauty method for many women
The saying "The tooth and the hair is the root of man" of our forefathers is always true, but in this day and age it is still not enough. Because that root will be more perfect if the eyebrows are taken into account. Eyebrows are also considered an integral part of the face.
Owning eyebrows with clear lines, ethereal shape, harmonious colors will help your eyes more attractive and your face looks more balanced. However, not everyone is born with a beautiful eyebrow and most women are very unhappy because their eyebrows are too light or their eyebrows grow in a wrong way.
Therefore, women will immediately think of adorning their eyebrows with pencil or eyebrow powder to create a style that suits them better. It must be said again and again, many women just spend their youth to draw their eyebrows because it takes too much time. With today's busy life, surely at some moment you will feel "obsessed" with waking up every morning with these unpainted eyebrows.
That is the reason for the girls to rely on the support of beauty technology to "transform" their eyebrows to be more well-rounded. It is worth mentioning here that with eyebrow spray, you can help you remove the obsession when every time you go out, you are labeled as forgetting to bring your eyebrows, and at the same time it will help you be much more confident.
In the cosmetic industry, the introduction of eyebrow spray technology is considered a remarkable step forward, which can give women eyebrows that are much more suitable for their faces and natural than tattooing. traditional. Eyebrow spraying is a form of using an embroidery machine with a specialized design needle, the eyebrow mold will be formatted, and the ink will be brought down by the needles with sophisticated lines in the form of fibers, down towards the eyebrow. .
>>> Related posts: What is Powdered Eyebrow Spray? – Find out the method of spraying eyebrow powder, who is this method suitable for, in what cases?
With this beauty method, you do not need to worry because the needle almost only touches the skin lightly, completely without affecting health. After spraying, you don't have painful swelling and we don't need to rest with difficult diets.
How long does it take to spray eyebrows?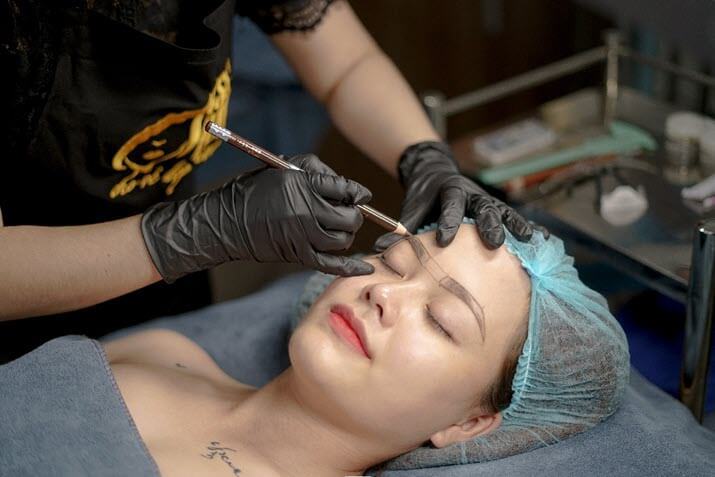 The process of eyebrow spraying is essentially the effect of spraying embroidery at the same time with ink sprayed on the skin epidermis so that the eyebrows after spraying have a natural, glossy finish from root to tip. Depending on the preferences, age, .. of each person, you can own a variety of different eyebrow colors such as black brown, bronze brown, earth brown, western brown, ...
It should be noted that after spraying, the eyebrow area will form an outer scab that not only helps the ink to soon reach the standard color tone but also protects your skin. The ink color when sprayed will be a little darker than when completely peeled off. However, the time for the eyebrows to peel off after spraying embroidery is from 3 to 5 days so that the shape and color will be naturally beautiful and softer. After about a month, when your eyebrows will be stable, the shape will be clearer than when you just peeled.
>>> Related posts: Is 8D Eyebrow Spray Technology Really Perfect? - Learn about 8D, 9D eyebrow tattooing technology. Which beauty method should I choose?
How to care for eyebrows after spraying
You need to note these things after spraying for the best eyebrow care:
In the first 3 days, you should limit your eyebrows to continue with water because it is easy to smear ink as well as stick when the color is not really up.

Apply Vaseline continuously for 12 hours after spraying the eyebrows so that the eyebrows are always moist to help the peeling process happen faster.

If plasma appears in the eyebrow area, use a cotton ball to wipe it clean.

If you are a sensitive person, or have skin problems, you should limit eating seafood, fishy foods, sticky foods, etc. for the first few days to avoid itchy skin on the eyebrows. After about 1 month when the eyebrows have been shaped, you should go to the tattoo shop to have the specialist check again about the shape and color. If the color is light, it can be added or adjusted in shape. Refer to the Common mistakes when spraying eyebrow embroidery and how to fix it to understand better.
Beautifying yourself is an essential need of women today. However, you should wisely choose reputable, quality and technologically appropriate beauty centers to help yourself improve.
See More About News – Beauty Secrets By Miss Tram - Natural Beauty Center:
Spray Natural Beautiful Lips For Women More Fresh
How long does lip spray keep the color?