How to combine skin care ingredients? With the development of the cosmetic industry, every year there are many new skin care ingredients with outstanding textures, properties and uses. However, in order to use skin care ingredients most effectively, you need to know how to use the right dosage, the right formula, the right process and especially know if they are "suitable" or "incompatible" with the ingredients. other ingredients or not.
Because the right skin care ingredients when combined correctly will maximize their effectiveness, but if wrong, the skin can suffer extremely serious consequences. So this article Miss Tram - Natural Beauty Center Please share the duos SHOULD and DON'T combine in lotion.
Extremely Effective Combination Skincare Ingredients
Vitamin E and Vitamin C
Vitamin E and Vitamin C are very basic skin care ingredients in beauty products. These two vitamins both have a stable structure and anti-oxidant effects, enhance elasticity as well as improve the problems of darkening, pigmentation, dullness on the skin effectively. So these two components complement each other very well.
Besides, Vitamin E is an oil-soluble vitamin, while vitamin C is water-soluble, so when absorbed into the skin, both of these ingredients will help nourish the skin more comprehensively.
Niacinamide and Glycolic Acid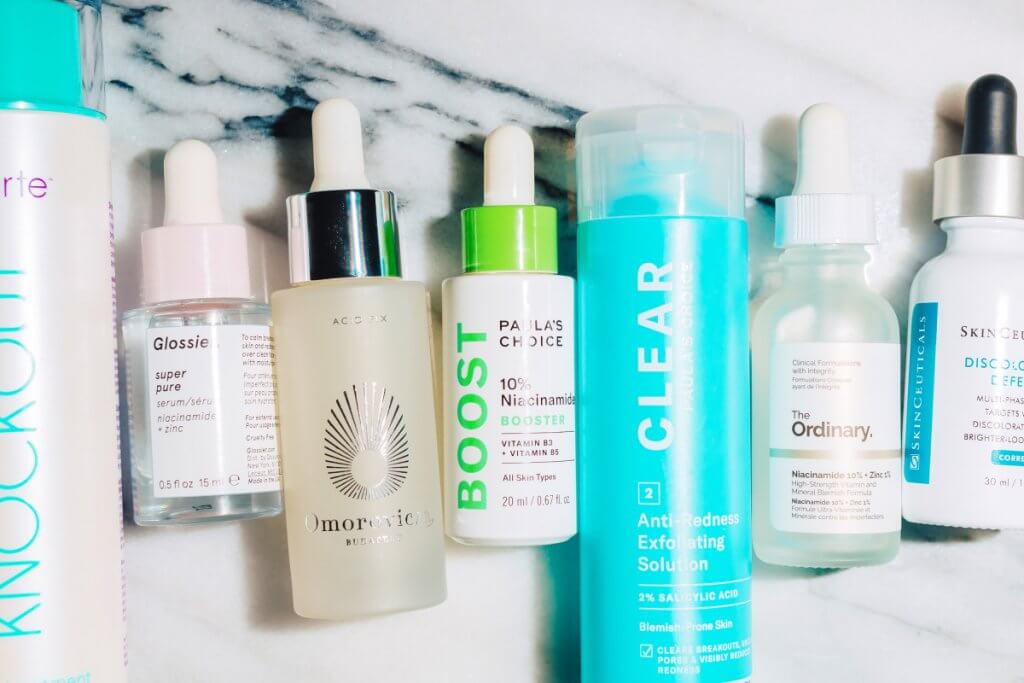 Niacinamide (a derivative of vitamin B3) has the effect of replenishing moisture and repelling aging skin very effectively. Not only that, this ingredient also has the ability to inhibit the formation of skin pigmentation, helping to improve dull, melasma, and tan skin very well.
Meanwhile, Glycolic Acid is an ingredient that plays a role in removing dead cells, stimulating the regeneration of young skin, thereby helping nutrients penetrate into the skin more quickly and effectively. Therefore, when combined with Glycolic Acid, Niacinamide will be absorbed in the best way.
AHA/BHA and Hyaluronic Acid
AHA / BHA has the effect of exfoliating and unclogging pores, but the downside is that it can cause dry skin. Hyaluronic Acid is an extremely gentle ingredient with extremely high moisturizing ability.
Like the Niacinamide and Glycolic Acid duo, if you use the combination of AHA / BHA and Hyaluronic Acid, your skin is both deeply cleansed and moisturized most effectively.
>>> Related posts: Effective Skin Care Procedure For Acne Skin Minimalist 3-step process essential when taking care of acne skin.
Skin Care Ingredients That Are Extremely "Hateful" To Each Other
Vitamin C and AHA
Vitamin C is very effective in promoting the production process collagen, maintain firmness and reverse aging conditions. Meanwhile, AHA is an acid group that has the function of exfoliating, cleaning the skin, preventing acne and stimulating the regeneration of young skin very well.
These two ingredients are both good for the skin, but when combined, they have quite a negative effect. Because according to research, AHA will change the pH of vitamin C and lose the antioxidant ability of this skin care ingredient.
Therefore, it is best to choose to use only 1 of 2 or can use it alternately to bring the best effect to the skin.
Vitamin C and Retinol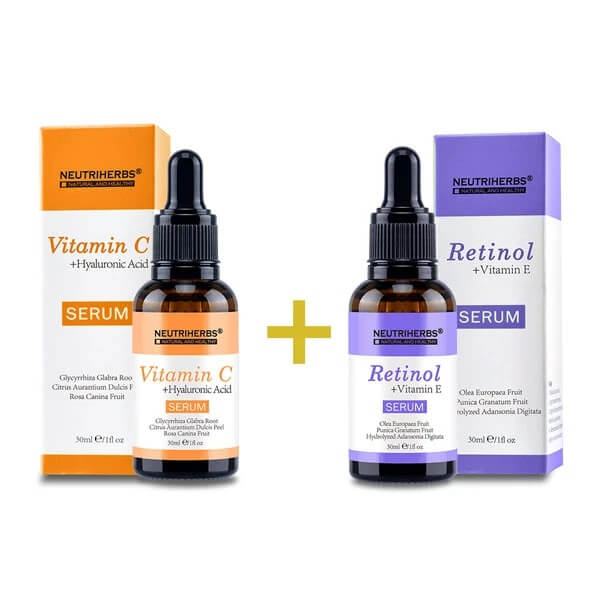 Like Miss Tram VietNam shared, vitamin C is a very good antioxidant ingredient, has the ability to increase collagen, help firm skin, whiten and improve dark spots, melasma effectively.
In addition, retinol is a derivative of vitamin A, which improves acne problems and fades the signs of aging on the skin very well. However, this active ingredient only works best at a pH of 5.5 - 6. If you want to use the same acidic skin care ingredients as Vitamin C (works in a pH 3.5 environment), your skin can may be more irritated and sensitive.
Therefore, the best option is to use Vitamin C in the morning and Retinol in the evening – this is also the use of most skin care believers.
>>> Related posts: Tips to Help You Take Care of Your Face Properly 5 tips to help you take care of your skin properly every day.
Vitamin C and Niacinamide
Also an incompatible pair due to "environment", Niacinamide works best with a neutral pH of 5, while Vitamin C only works when the pH is less than 3.5. If these two ingredients are combined in a low pH environment, Niacinamide can transform into Niacin, causing skin irritation, redness, itching and allergies. In particular, for those of you who are suffering from acne, this combination will make the skin condition increasingly serious and difficult to treat.
Therefore, it is absolutely not recommended to use Vitamin C and Niacinamide together.
AHA/BHA and Retinol
AHA/BHA are active ingredients that clean the skin and exfoliate very well. And retinol also has quite strong properties with the ability to treat acne and prevent signs of aging on the skin effectively. Therefore, this combination can cause irritation for sensitive skin, thin skin and even dry skin.
As dermatologists recommend, you should use these ingredients at different times of the day (AHA/BHA in the morning and Retinol in the evening) for the best results.
BHA and Benzoyl Peroxide
BHA (also known as Salicylic Acid) is a widely used ingredient in acne products because of its ability to deep clean and quickly exfoliate. And Benzoyl Peroxide is also an ingredient that works to treat acne and clean the skin very well. However, this combination does not enhance the ability to treat acne, but also makes the skin damaged, easily irritated and much more sensitive.
Therefore, do not be too "greedy" when using many acne ingredients at the same time, but only use them in turn.
Benzoyl Peroxide and Retinol
Similar to BHA and Benzoyl Peroxide, Retinol also has the ability to eliminate acne, and effectively prevent and eliminate wrinkles. However, because they are all ingredients with strong properties, when combining Benzoyl Peroxide and Retinol, the skin will be affected quite strongly, easily causing skin irritation, causing skin rashes and other conditions. Acne will become more and more serious.
So, be very careful and check the ingredients carefully when using one of these acne ingredients.
>>> Recommended articles: Latest skin care trends The 10-step skin care process is simple but brings miracles.
To take care of your skin effectively, in addition to choosing the right skin care ingredients and investing in quality skin care products, you need to ensure the following steps are taken. skincare most scientific. If you "accidentally" combine the "cavity" ingredients together, it will greatly affect the health of your skin. Hope the above sharing of Miss Tram - Natural Beauty Center will be useful to you. Wish you always have a beautiful healthy skin!
See More About News – Beauty Secrets By Miss Tram - Natural Beauty Center:
Instructions for Treating Pore Inflammation at Home
Basic Skin Care Secrets For Your 20s