If horizontal eyebrows Korea was considered a trend in the years before 2016, but in 2017, Vietnamese women had a pose movement Marilyn Monroe style arched eyebrows (also called French eyebrow style). This eyebrow style will highlight the luxurious, seductive features and add a little classic romance to the face. In 2019, this type of naturally curved eyebrows has become a hot trend and is chosen by many Vietnamese stars.
So what's so special about French eyebrows? And Miss Tram - Natural Beauty Center Learn more about this charming eyebrow style.
French Eyebrow Style Trends causing Vietnamese Star fever
1. Things to know about French eyebrow style
French eyebrow style Also known as Marilyn Monroe's eyebrows, appeared since the 1950s - this was the golden age of this famous female star. Marilyn Monroe is one of those actors known as a beauty icon – with her voluptuous blonde figure, sunny smile and sexy arched, manicured eyebrows.
Later, Marilyn Monroe's eyebrow shape was modified by some makeup artists compared to the original, creating the current French eyebrow style. Many beauties in Vietnamese showbiz have chosen French eyebrows in the spectacular change of their beauty.
French eyebrow style features: Pthe first part of the eyebrow is a bit big, the tail of the eyebrow is smaller, slightly curved at the end of the eyebrow to the last point, then lower it. The biggest advantage of this eyebrow style is the natural that no other eyebrow shape can bring. In addition, the French eyebrow style converges these elements modern, luxurious, seductive, personality and exudes a little classic for a woman's face. (What is your eyebrow care routine to stay away from? Attendance 5 Habits that make eyebrows ugly you absolutely must avoid).
2.

Face types suitable for French eyebrows
There are six main types of faces: Ground face, square face, oval face, heart shaped face, long face, diamond shaped face. In general, French eyebrows are suitable for most face types (except for long faces). Because this eyebrow shape is not completely soft, nor is it completely horizontal, but fully converges curved, soft and straight lines; as well as varying degrees of intensity.
So the French eyebrow style is suitable for many different face types, ages and makeup styles.
Besides, the French eyebrow shape is not rigid with a shape, but can adjust the curvature, thin thickness to suit each face. Therefore, for each face, this eyebrow style will exude a different charisma and personality - this is the reason why Vietnamese women are "in love" with this trend. (Find out the eyebrow shape has a rich general The current).
3. Vietnamese stars are fascinated by French eyebrows
Tang Thanh Ha
The first name associated with the French eyebrow style is none other than the jade female Tang Thanh Ha. It seems that she has been attached to this eyebrow style since entering the art path. With her natural eyebrows, she only edits and sometimes changes the eyebrow pencil color to refresh the face.
With this eyebrow line, Tang Thanh Ha's beautiful drawing is always radiant, attractive and always youthful over time. Ha Tang's eyebrows are considered one of the most beautiful eyebrows in Vietnamese showbiz.
Pham Huong
Not a companion during the time entering showbiz, but with Pham Huong, the French eyebrow style with her scored points and asserted herself in the beauty arena.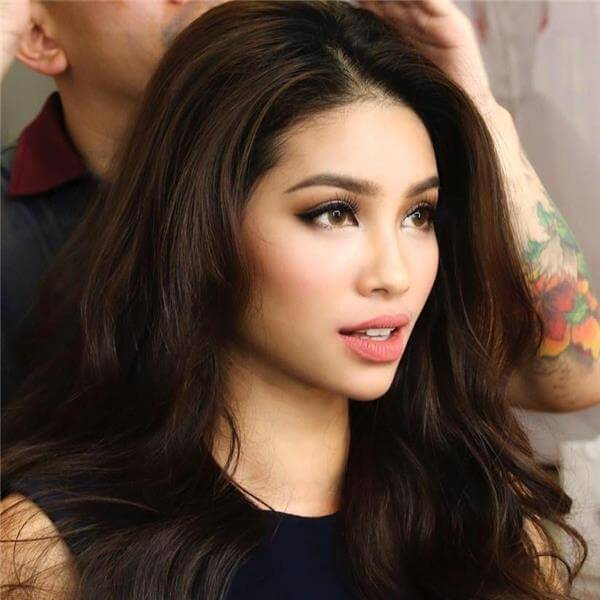 With a rather "Western" face, thick and small lips, sharp eyes and soft, natural arched eyebrows, Pham Huong has changed dramatically in beauty. These beautiful eyebrows partly demonstrate the bravery, generosity, charm and radiant temperament of this Miss Universe Vietnam.
Since the coronation, Pham Huong has remained loyal to the French eyebrow shape - these eyebrows have always accompanied her on the successful path of her career. (Tips to own beautiful eyebrows, simple sharp at home).
Ho Ngoc Ha
One of the faces "fascinated" with the French eyebrow shape is the entertainment queen Ho Ngoc Ha. Possessing a bold Western beauty with an angular face, deep eyes, high nose bridge and sharp curved eyebrows are extremely attractive features on this singer's face.
Every time Ha Ho appears, she is impressed by her sharp, bold, carefully groomed eyebrows. Although her eyebrow shape has changed over time, she has always remained loyal to the traditional French arched eyebrow.
Hoang Thuy Linh
Hoang Thuy Linh is an actress and singer who always stands out with her sweet and charming beauty. She is fortunate to have a natural bushy eyebrow with perfect curvature. Therefore, every time she does makeup, she just needs to correct the contours to have a charming eyebrow.
Just like Ho Ngoc Ha, Hoang Thuy Linh's eyebrow shape has also been changed over time but is always loyal to the French eyebrow style, but with a softer curvature - helping to exude an attractive yet gentle look. , modern and attractive on the face.
In addition to attractive eyebrows, Hoang Thuy Linh also owns sexy lips and big round eyes - this is also the secret to creating the female singer's attraction to the public.
French eyebrows is storming in the Vietnamese showbiz world. Typically, there are many beauties who own these beautiful eyebrows such as Diva Thanh Lam, Miss Universe H'hen Niê, runner-up Truong Thi May, Model Andrea Aybar, Dancer Linh Nga, .... This eyebrow style not only exudes a luxurious and seductive beauty of a woman, but also makes the face very natural, elegant and not stereotyped. (Reveal the eyebrow style will disappear in a year you should try to find out).
If you are not satisfied with your eyebrows, you can try this French eyebrow, it can change your appearance. Miss Tram - Natural Beauty Center Hope this article will help you better understand the French eyebrow style, wish you to choose a good eyebrow shape!
See More Articles News – Beauty Secrets By Miss Tram - Natural Beauty Center:
Treat Acne With Natural Essential Oils
Korean beauties who change their eyebrow shape change their career