HAPPY MARCH 8 WITH SHOCKING DEAL ONLY AT MISS TRAM SPA
There are three groups of women:
You live with the motto of pure nature, often say: "cream powder" do whatever, just let it be natural.

The girls act mysteriously, on weekdays, they are sloppy, and on the occasion of a crowded party, they are also very sparkling.

They are quiet, persistent in beauty and self-love, they are beautiful every day, when they need to be beautiful, they are more beautiful.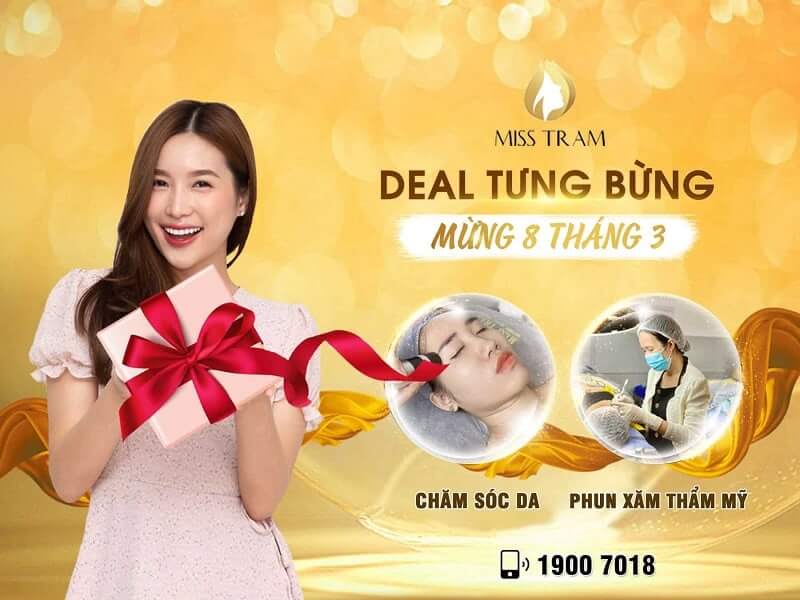 Which group do you belong to? HUGE DEAL HAPPY MARCH 8 of #MissTram is also for all of you:
CLEANING SERVICE
+ Combo 1: -10% Total bill when Sculpting eyebrows + Lips.
+ Combo 2: -10% of the total bill when Sculpting Female Ink Eyebrows Royal + Sculpting Queen ink lips + Spraying Queen ink eyelids.
+ Combo 3: OWN ONE RIGHT NOW Skin rejuvenation with Nano Diamond Thread only 299k left (original price 2 million) when beautifying lips or eyebrows with Queen ink.
SKIN CARE SERVICES
+ Combo 1: ONLY 2.490.000 VND there are 5 times of Toxin Removal for Acne Treatment of the face area + 5 times of Back Acne Treatment (original price 10.000.000 VND).
+ Combo 2: ONLY 2.490.000 VND have 5 times Transplantation of Pink and White Red Ginseng to tighten pores + 5 times of Running Dark Circles (original price 11.000.000 VND).
+ Combo 3: ONLY 3.890.000 VND have 5 times of Carbon Laser to rejuvenate skin color + 5 times of Mist coating to smooth skin with EGF Stem Cells (original price 12.000.000 VND).
+ Combo 4: ONLY 5.890.000 VND get 5 times skin rejuvenation with only Nano Diamond + 5 times Salmon DNA Balloon Electrophoresis (original price 16.000.000 VND).
Happy Women's Day!
Time application: From March 1, 3 to March 2021 Vietnam, 15.
Instructions on how to make an appointment
+ Go directly to the address of Miss Tram beauty salon: 126/6 Phan Xích Long, Phường 3, Bình Thạnh District, HCM
+ Directly call the Hotline: +0899 194 519 – Call center: 1900 7018
+ Contact Miss Tram at fanpage: https://www.facebook.com/MissTramSpa
Follow for more Events – Offers to quickly book yourself a special promotion at Miss Tram VietNam. Don't forget to check out more great articles in the category Blog Share and recommend it to everyone!
Review Top Skin Care Products