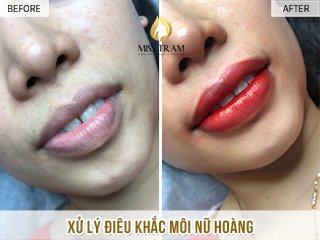 |Result of Queen's Lip Sculpting Treatment for Sister Le]
"When I finished my lips, I liked it so much! Clean and tight, I'm very satisfied with the result!" – Excerpt from Ms. Le's comment when implementing Queen's Lip Sculpture at Miss Tram.
Her lips before appeared dark, pale and lifeless, with the "magic" of Miss Tram expert, Le's lips now have a huge turning point.
First of all, the lip mold after sculpting is extremely standard, so it "cheats" to some extent, helping the lips to be more plump; Bright, attractive colors have made the face more luxurious.
Congratulations to Ms. Le on this excellent result!
See More About Actual Customer Results Other At Miss Tram:
Dark Lip Treatment And Natural Collagen Crystal Lip Sculpture
Sculpture of Male and Female Queen Anh Binh
Sculpting Queen's Eyebrows For Sister Thu
Miss Tram Natural Beauty Center - Beauty but must be natural.
Miss Tram - Natural Beauty Center
Hotline: 1900 7018
Mobile: 0899 194 519
Review Top Skin Care Products