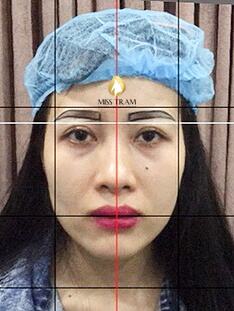 Ms. Thoa owns a bright white skin with large and attractive eyes, but the eyebrows are a bit sparse and pale in the tail, making her face not really stand out.
With her case, the experts at Miss Tram VietNam consulted and quickly overcome the disadvantages of her eyebrows with the method of natural fiber eyebrow sculpture.
This is the most advanced eyebrow cosmetic method today applying technology from Europe that has been transferred to Vietnam by Miss Tram Aesthetic Institute. The specialist will use a special engraving knife with a micro-blade to put tattoo ink on the skin, carve each fiber meticulously and intertwine naturally.
After completing the implementation, Ms. Thoa was extremely surprised and satisfied with this result.
If you also want to change your eyebrows, don't forget to visit Miss Tram Natural Beauty Center right away!
Miss Tram Natural Beauty Center - Beauty but must be natural.
Miss Tram - Natural Beauty Center
Hotline: 1900 7018
Mobile: 0899 194 519
See More Some Actual results More At Miss Tram:
The result of Sister Du's natural fiber eyebrow sculpting
The result of Super-Beautiful Eyebrow Sculpture for Sister Huyen at Miss Tram Spa
Results of Sister Linh's eyebrows after processing and sculpting Queen eyebrows
Review Top Skin Care Products