Currently, the demand for using sunscreen to protect and care for women's skin is increasing day by day. In addition to the popular imported products on the market, Huong Thi Makeup Sunscreen - Trademark cosmetics was founded by Comedian Viet Huong, a famous comedian in the Vietnamese comedy village is also loved by many people.
However, some customers still wonder if Huong Thi sunscreen is really good? To answer this question, let's Dori Go for a detailed review of this product.
PRODUCT INFORMATION

Product's name

Huong Thi Makeup Sunscreen

Trending

Huong Thi Platinum Viet Huong

Origin

Vietnam

Thành phần

Water, Cyclopentasiloxane, Dimethicone/Vinyl Dimethicone Crosspolymer, Hydrogenated Didecene, Glycereth-26, Distreardimonium Hectorite, PEG-10 Dimethicone, Cetyl PEG/PPG-10/1 Dimethicone, Ethylhexyl Methoxycinnamate, Sodium Chloride,

Butyl Methoxydibenzoylmethane, Benzophenon-3, Bellis Perennis (Daisy) Flower Extract, Titanium Dioxide, Aluminum hydroxide, Triethoxycaprylysilane, Phenoxyethanol, Hamamelis Virginiana Leaf Extract, Hydrolyzed Collagen, Parfum, Ethylhexylglycerin.

Uses

Provides nutrients to the skin.

Increase transparency.

Protects skin from damage from environmental factors (UVA, UVB rays, dry air, airborne particles ...), prevents age spots and freckles caused by sun.

Use as makeup primer.
Reference price: The product of Huong Thi Makeup Sunscreen has the listed price on the market today 560.000VNĐ.
To buy genuine products, you can buy them at the website or at pharmacies and hospitals nationwide.
Is Huong Thi Makeup Sunscreen Good?
About the model
+ This product is manufactured in the form of a small round cylindrical bottle, with a pump nozzle, so it is easy to store and use. Each bottle has a capacity of 30ml, with a compact design, you can easily take it with you anywhere.
+ Huong Thi makeup sunscreen fully designed with labels, boxes with black tones that are both mysterious and seductive as the main theme. The body of the bottle and the box are printed with full product information for easy reference and selection.
About efficiency
Huong Thi makeup sunscreen is a cosmetic line that helps protect skin from sunlight, prevents the effects of UVA and UVB rays, and can be used as a makeup primer to help bring back soft skin.
+ Light texture - not greasy This sunscreen has a light scent, not as harsh as some other similar products. The cream is quite smooth, when applied, it does not cause greasy skin, the cream is quickly absorbed.
+ SPF 50+ sun protection factor: With the main ingredient Titanium Dioxide (Tio2) - a highly effective UV protection approved by the FDA, This cream has the ability to protect the skin against the sun and block UVA and UVB rays up to 98%. In perfect condition, Huong Thi Makeup Sunscreen is capable of protecting skin for up to 8 hours.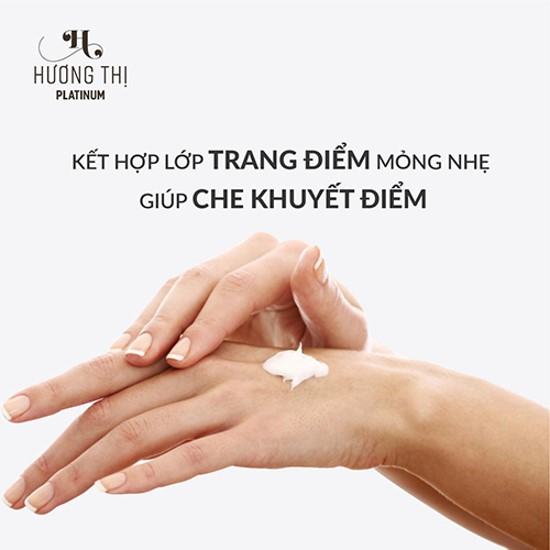 + Can be used as a makeup primer: This is a special feature of this product that other sunscreens do not have. Huong Thi sunscreen can be used as a makeup primer with safe and benign ingredients licensed by the Ministry of Health. The makeup base is smooth, conceals well and helps to lift the natural white skin tone. The fact that a product integrates such many uses will help you both save time and protect your skin easily.
+ Helps retain moisture well: With the ingredient of white chrysanthemum Daisy, it helps to moisturize and soften the skin, reducing the shine.
User Reviews:
Some user reviews at Tiki:

Target Users
The product has safe and healthy ingredients suitable for all skin types. Especially people with sensitive skin, acne can use it without causing irritation.
User Manual

Huong Thi makeup sunscreen
Rinse and dry.

Take a sufficient amount of Huong Thi makeup sunscreen on your hand, dot each small spot on the skin to be protected from the sun, and then apply the cream evenly.

Use the product 20-30 minutes before going out in the sun.
It should be reapplied every 2 hours (when in contact with water or playing sports) to maintain the skin protection of the cream.
Note!
Avoid contact with eyes.

If in eyes, wash immediately with clean water.

Stop using Huong Thi Makeup Sunscreen if you are sensitive to any of its ingredients.
Methods of preservation
Store in a cool, dry place, away from direct sunlight, at a temperature below 30 degrees Celsius.

Keep out of reach of CHILDREN.
Pass cosmetic review above it can be seen that, Huong Thi makeup sunscreen There are many outstanding advantages of sunscreen, moisturizing, make-up and above all, suitable for all skin types. However, the price of this product is quite high, so you can consider when choosing a product to suit your economy. Thank you for reading the article.