Sunscreen Bio Essence Bio-Water Sunscreen is a famous product from Singapore's Bio Essence brand. This product is not a "massive" name mentioned by many Vietnamese beauty followers, but it also has a large "fan group".
To help you know more about the product, this article will specifically review Bio Essence Bio-Water Sunscreen.
Product information

Product's name

Bio Essence Bio-Water Sunscreen

Trending

Bio Essence

Origin

Singapore

Capacity

40 ml

Thành phần

Citrus Grandis (Grapefruit) Fruit Extract, Allantoin, Niacinamide, Sodium Hyaluronate, Euglena Gracilis Extract, Tranexamic Acid, Tocopherol, Hyaluronic Acid.

Uses

Protects against harmful effects of UVA and UVB rays on the skin.

Soothes and smooths skin.

Add minerals to the skin to be moist, smooth, increase elasticity.

Optimizes skin's ability to absorb nutrients.
Bio Essence Bio-Water Sunscreen Is it good?
About the brand
is the leading cosmetic brand in Asia. Through its Mega Challenges series of events, the Bio Essence brand has created conditions for users to test the quality of its products at stores.
Bio Essence's cosmetics are also famous for the combination of exclusive technology and high-quality natural ingredients.
About product quality
Packaging design:
Unlike most other sunscreens, Bio Essence Bio-Water Sunscreen has a bottle design, not a tube. The screw cap is relatively firm, limiting the product to flow out.
The product also impresses with its "cool" blue-white tone with a capacity of 40ml that can be easily carried in a pocket.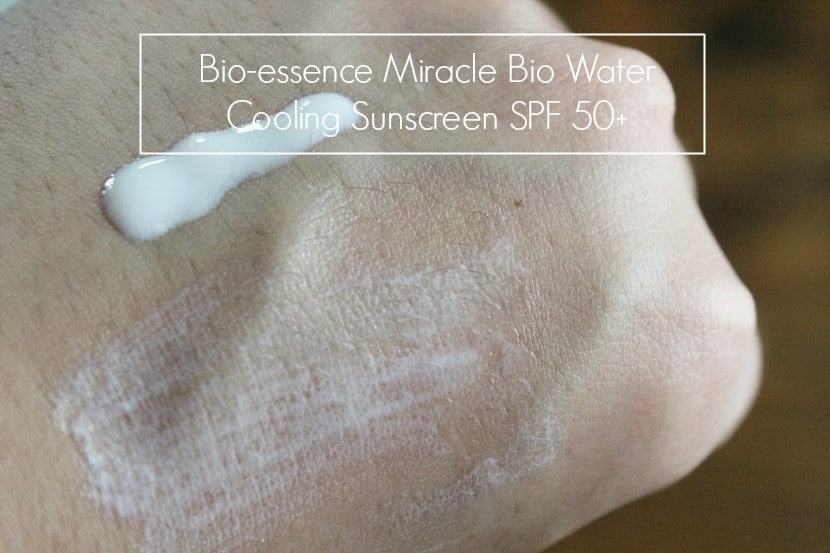 Characteristics:
The texture of Bio Essence Bio-Water Sunscreen is a slightly liquid cream. Absorbs quickly and does not leave the skin shiny or greasy.
Efficacy on the skin:
+ The product applies Bio energy complexTM - Bio Essence's exclusive formula combining SPF50+/PA++ sun protection factor to protect the skin comprehensively against the effects of sunlight.
+ Table of benign ingredients, containing many nutrients and minerals:
+ Sodium Hyaluronate - famous moisturizing ingredient, brings smoothness and vitality to the skin.
+ Green algae extracts Euglena Gracilis and grapefruit protect the skin against the effects of free radicals, enhancing the skin's ability to absorb nutrients.
+ Tranexamic Acid, Niacinamide brightens the skin, reduces darkening after sun exposure.
Tranexamic Acid soothes and restores skin.
User rating:

Review of Zalo Thuy account on Tiki:

"I love it, perfect for dry skin like me. It feels a bit heavy when I first apply it, but it goes away after a few seconds. Overall will buy again."

Review of Vinh Hang account on Tiki:

"The skin is smooth and not uncomfortable. Has a mild fragrance. Feel so good."

Review of Nhtran1 account on its Shopee Mail:

"The product applied to the skin is a bit cool, quickly absorbed, creating a light shine, I will buy this product again."
Bio Essence Bio-Water Sunscreen How much does it cost? Who Can Use? How to use?
Bio Essence Bio-Water Sunscreen is sold at a price of about 185.000 / bottle, well worth the "investment" experience. The product is suitable for all skin types, especially dehydrated, dry and rough.
Directions for use: Shake the sunscreen bottle well before use. Apply an appropriate amount of cream evenly on the face, neck skin and pat gently.
Review the Pros and Cons of Bio Essence Bio-Water Sunscreen
Advantages
Disadvantages

Neat design, convenient to use.

The cream absorbs quickly and is not greasy.

Optimal sun protection.

Effective moisturizing.

Healthy ingredients, safe for even sensitive skin.

Affordable price.

The smell of the product is a bit strong.

Poor drift resistance.
That's the information cosmetic review about Bio Essence Bio-Water Sunscreen that we have just shared with our readers. In fact, this is a sunscreen worth experiencing. However, each person's body is different, some people will use it, but some people will not. Therefore, before applying it on your face, remember to test it on your neck or hands to check if your skin is irritated.