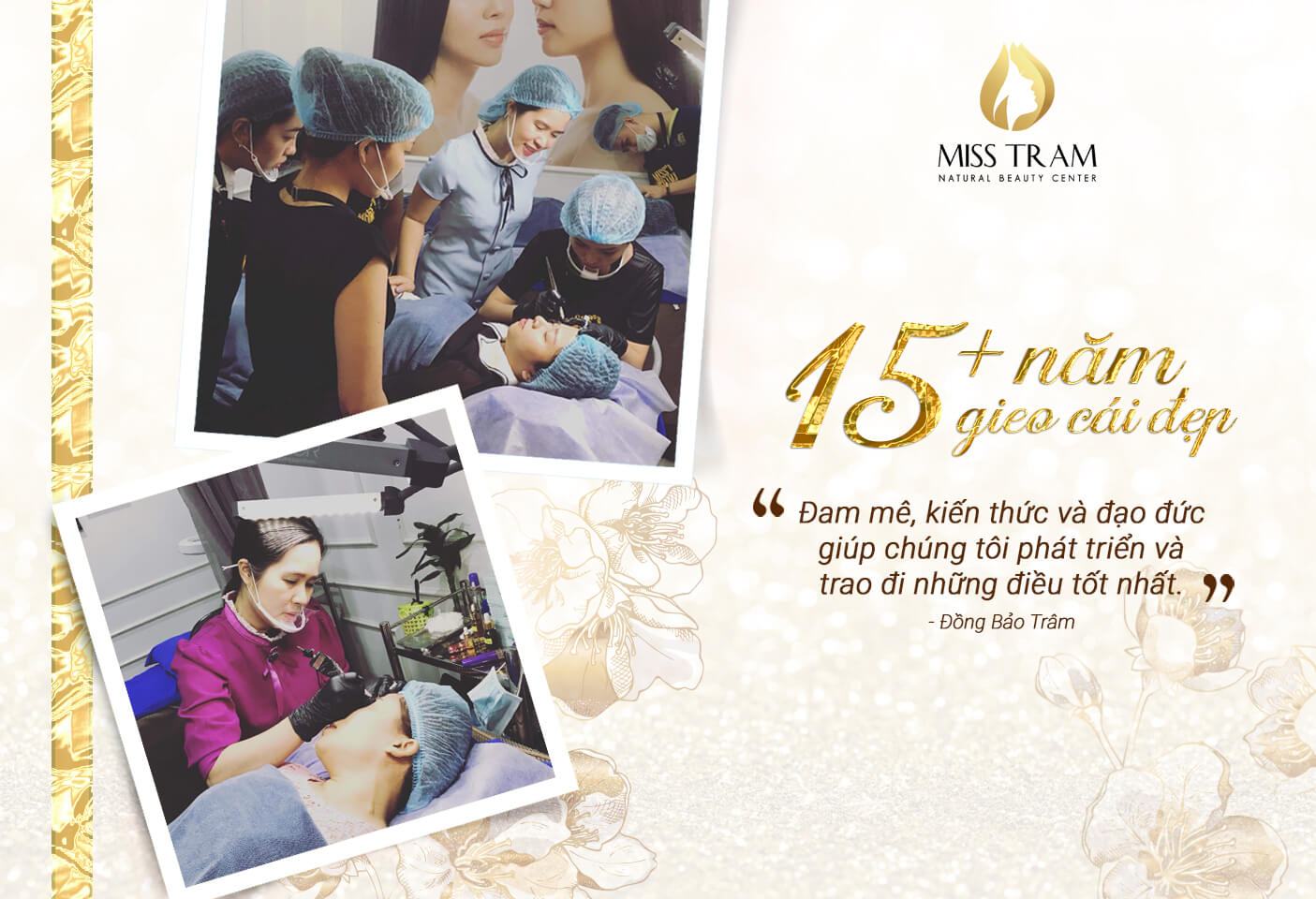 Talk about MAKE UP of today's women and brothers: Make up First of all, for myself, so that every morning I stand in front of the mirror to feel happier. There's nothing wrong with that or evil. When a person is happy, it is always possible to do many meaningful things for the loved ones, the people around, and inspire others.
Although outer beauty We are not born self-determined, but we can completely change our appearance thanks to modern aesthetic technologies. The problem is that we have to find a reliable address, where really understand what situation you are in? Where really consult all the parts you need to adjust? And where there's really a stretch for you PRETTY real NATURE.
MISS TRAM – NATURAL BEAUTY CENTER – BEAUTY BUT NATURAL
Over the past 15 years, Miss Tram - Natural Beauty Center always uphold the motto of operation is to bring natural beauty, harmony and absolute satisfaction to our customers. In order to do that Miss Tram Beauty Center has invested in spacious facilities, equipment and machinery to meet the requirements strict standards of the Ministry of Health. In addition, Miss Tram VietNam also gathers a team of estheticians who are formally trained and regularly practice in many advanced countries such as Korea, Japan, USA, Germany,… with a team of professional care staff, dedicated and knowledgeable.
Miss Tram Beauty Salon the application of Advanced aesthetic technology from the United States, constantly updating modern trends, well meet everyone's beauty needs. Before receiving the transfer of aesthetic technologies and beauty treatments, we all spend time doing serious and thorough research from a scientific perspective. Each technology put into application is based on conformity with Asian beauty standards in general, as well as with Vietnamese people in particular.
Before any request from the customer, the Miss Tram's expert All sit down, assess the current status to come up with the best plan for customers. It is the professional and dedicated working attitude of each member and the really quality service that has helped Miss Tram VietNam successfully build a brand The leading prestigious beauty center in Ho Chi Minh City, becoming a reliable destination, thousands of customers "choose to send gold".
HIGHLIGHTS SERVICES AT MISS TRAM
Beauty services, beauty care at Miss Tram VietNam Very versatile, guaranteed effectiveness and absolute safety.
I/ Skin treatment service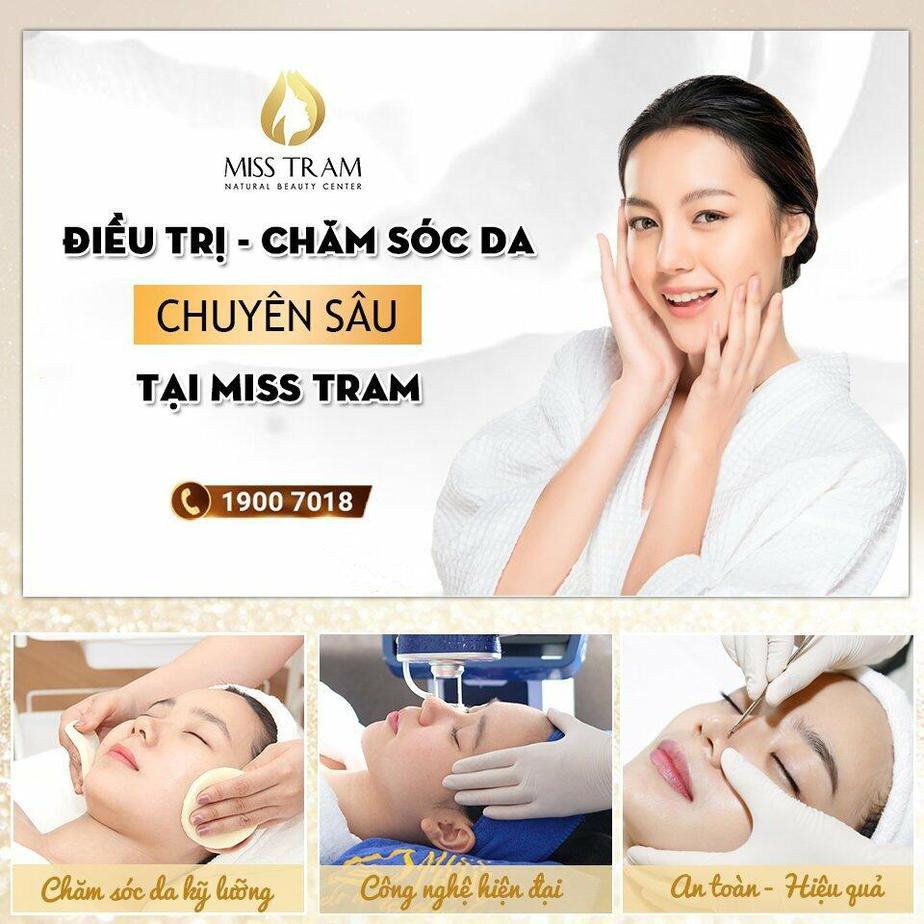 Miss Tram constantly researching and optimizing skin treatments, helping us get rid of common problems such as: acne, scars, pitting, freckles, age spots, dry, wrinkled skin,….
Dermatologists will directly discuss and advise on acne as well as current problems on the customer's skin, thereby offering treatment solutions. Economical – Timely – Safe and Effective.
Miss Tram is committed to thoroughly treating the 9 most common types of acne and acne scars, including: Acne Cam, Blackhead, Whiteheads, Sebum Fibers, Pimples Hidden Under The Skin, Purulent Acne/ Cystic Acne, Headless Acne, Eel Vein Acne, Endocrine Acne. The procedures have different methods and time to perform depending on the acne condition of each person.
Owned micro-shock technology combination of esoteric oriental medicine, Miss Tram VietNam helped 3,789 young people (both men and women) get rid of acne, regain smooth skin every day. All customers come Miss Tram VietNam All are satisfied at the first experience of this unique acne treatment.
In addition, tattoo removal service with Yag Laser technology (Germany) modern at Miss Tram VietNam Absolutely no pain, no scars, absolute safety commitment. With this technology, you no longer have to worry about removing old tattoos on any part of your body.
II/ High-tech aesthetics
Miss Tram VietNam was one of the first centers HiFu S + technology application… to lift and rejuvenate the skin very successfully.
Go back HiFu S+ then this is a beauty technology that does not require surgical intervention, does not touch cutlery, so it is absolutely safe for everyone, all genders. The first time I used it HiFu S + technology To rejuvenate your skin, you will notice other changes in your face, specifically: wrinkles (eye corners, corners of the mouth) are reduced, skin is smoother and more youthful.
III / Cosmetically beautiful, natural lips
If you are in need of a change to eyesbrown to be beautiful and in harmony with one's face; If you want to have beautiful, vibrant lips or an attractive eye, the cosmetic embroidery service at Miss Tram VietNam will help you get the beauty as expected.
Experts will sit down with you, give advice to choose the right technology, ensuring to give you a real look. Beautiful – Harmonious and Safe.
Eyebrow cosmetic embroidery
Miss Tram VietNam Application of modern embroidery and eyebrow sculpting technologies, not only helps you to own beautiful eyebrows according to aesthetics but also good in anthropology. Some outstanding technologies make eyebrow aesthetics stand out at Miss Tram - Natural Beauty Center The current:
Cosmetic embroidery spray Lips
Constantly learning, constantly updating beauty technology, Miss Tram VietNam participated in studying with many leading experts in the world as well as transferring the latest technology of lip cosmetology to help overcome and improve uneven blemishes, dark lips, pale lips, uneven lip pigmentation. uniform, ... regain fresh and natural lips for customers. The most applied lip aesthetic technologies in Miss Tram - Natural Beauty Center The current:
+ Spray the queen's lips
+ Micro-lip sculpting
Advantages of cosmetic sprayah, lips at Miss Tram VietNam:
+

Quick implementation time (30-40 minutes depending on the method)

+

Color up standard, smooth and natural

+ No pain, no swelling, no downtime
+ Long-term warranty
Cosmetic embroidery spray Eye
Natural and micro-touch eyelid spray technology from Korea will help girls own big round eyes, attractive in all angles. With the technique of spraying embroidery with specialized pen, the KTV Miss Tram VietNam will use a micro-needle at the tip to put the ink into the epidermal skin, creating a super natural look for the eyelids. The method has absolutely no effect on vision, pain or swelling.
IV/ Eyelash extensions
Eyelash extension technology in Japanese style in Miss Tram VietNam very pleased with the girls. With modern technology and the ingenuity of skilled KTVs, Miss Tram VietNam It will enhance the eyes full of charm, attractive look for women.
Angel 3D silk eyelash extensions (round eyes): Helps to make eyes glitter, round, natural, suitable for all eye shapes.
Sexy black rose eyelash extensions (Sexy): make eyes sharper and more personal with the tail is longer than the top of the eye.
Eyelash extensions at Miss Tram commit to:
+ Do not stick to the skin

+ No stinging eyes

+ No uncomfortable itching

+ No real eyelash loss

+ Does not take much of the customer's time.
In particular, the eyelashes are imported directly from Korea, are 100% silk eyelashes, meet the quality and absolute safety.
V / Cosmetology vocational training
Not only contributing to honoring the beauty of Vietnam, Miss Tram VietNam also want to spread the good things to the community, support young people to solidify their foundation, seize attractive career opportunities in the future with professional beauty and cosmetology courses.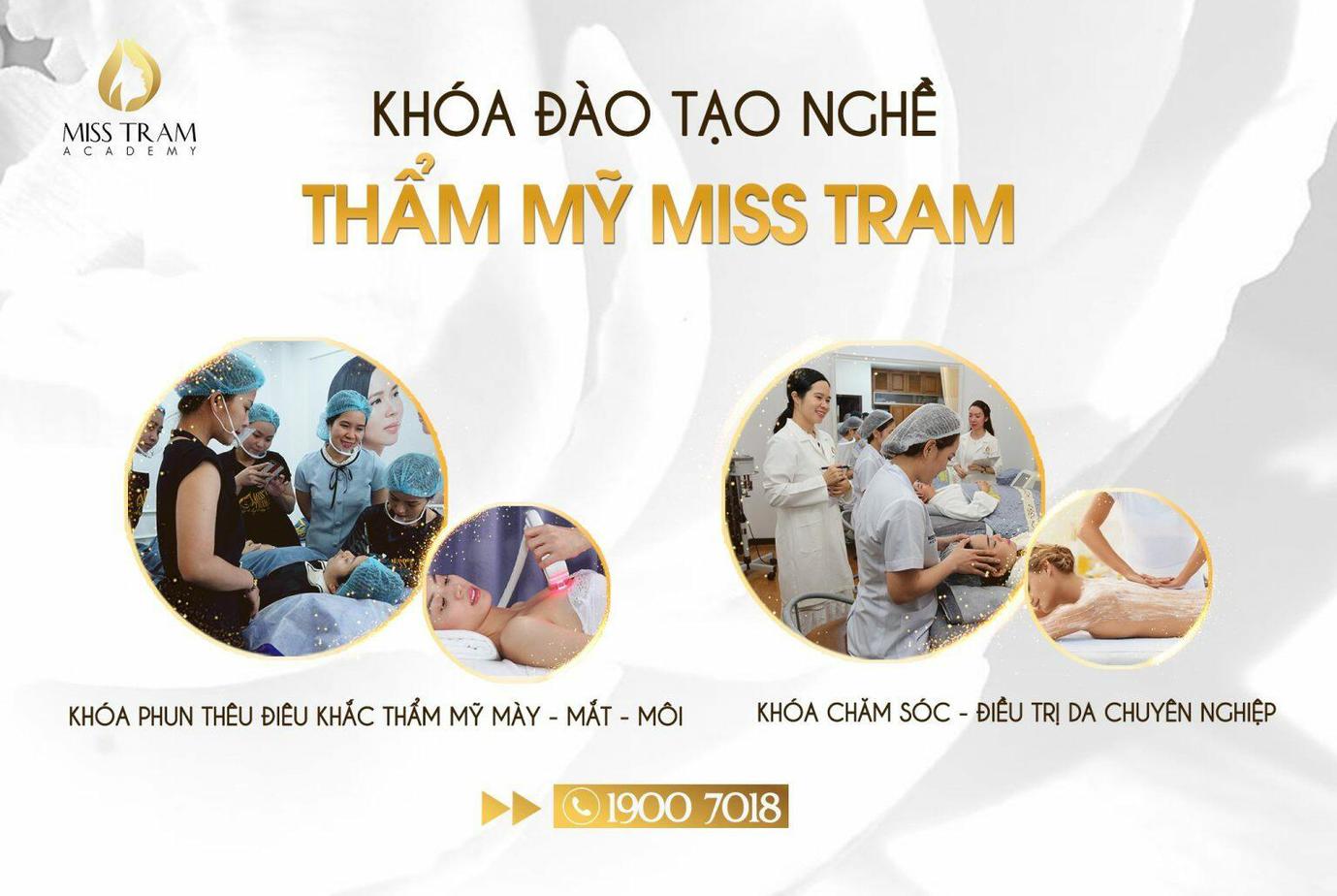 Participating in training classes at Miss Tram, students will receive many good opportunities:
+ Very preferential tuition fees

+ Full set of machines and tools during the course

+ Grand Master Tram Dong with more than 17 years of direct teaching experience

+ Be guided to practice on real people (free practice model sponsorship)

+ The certificate of vocational training granted by the General Department of Vocational Training of Vietnam is valid throughout the country

+ Teaching and curriculum in 3 languages ​​(at the request of students): Vietnamese, English, Chinese

+ There are classes on demand: for students preparing to leave the country, needing to open a shop urgently, overseas Vietnamese returning home, group study, tutoring, online learning, studying for degrees - certificates, etc.
Special:
+ Miss Tram 100% commitment skilled students,
+ Opportunity to receive scholarships up to 30 million and high-paying jobs at Miss Tram VietNam
Miss Tram VietNam Regular opening of classes:
+ Microblading 3D – 9D sculpting

+ Ombre 3D eyebrow powder (Magic Shading)

+ European technology micro-lip sculpting (Aquarell Technique)

+ Magic Eyes micro-touch eyelid sculpture

+ Eyelash extensions artist
MISS Tram's SUCCESS
Since its establishment, Miss Tram has determined her mission is to constantly improve knowledge; learn from many experts and colleagues in the profession; practice regularly every day to continue to grow and give the best to our customers.
can speak Beautiful & Natural – BEAUTY BUT NATURAL is the formula for the success of Miss Tram, bringing the brand Miss Tram - Natural Beauty Center touches the hearts of many people. Thanks to that, we have been trusted and loved by a large number of domestic and foreign customers.
6 REASONS BRING YOU TO MISS TRAM
Miss Tram VietNam gathers a team of highly qualified cosmetologists who regularly practice in advanced countries such as USA, Germany, Japan…
Being the first unit in Vietnam to receive the transfer and successful application of leading skin beauty technologies Hoa Ky such as Skin Rejuvenation with Hifu Technology, Treatment of melasma, freckles thoroughly Yellow Laser, Treatment of acne at the root with the exclusive treatment of CO2 Fractional Laser Micro-Stimulation combined with traditional traditional medicine secrets...
Spacious facilities, modern machinery and equipment are guaranteed Standards of the Ministry of Health.
Luxurious interior, Spa room designed in style Hoa Ky Give your guests the ultimate relaxation.

Dedicated consultation, helping customers choose the most suitable beauty procedure for them.

Services profession, level, commitment quality , and Absolute safety.
When you trust to give a chance Miss Tram team, we will do our best to help you become more and more beautiful, confidently express yourself and spread endless inspiration to others.
Don't hesitate to contact with Miss Tram VietNam Get advice from the experts!
Miss Tram Natural Beauty Center – Beauty but must be natural.
Hotline: 1900 7018
Mobile: 0899 194 519
MissTram Beauty Salon Let's Connect Businesses