Every time I think about the situation dark lips, pale is really a "crisis" for most girls, because this situation makes us take a lot of time to put on makeup and completely depend on lipsticks. However, with the advent of cosmetic lip spray methods, owning pink and plump lips is no longer too difficult for girls.
Among the most popular trend cosmetic methods, crystal lip spray is considered to have the ability to rejuvenate, correcting most lip defects. However, many people still wonder about this method and most have the same question "Should I spray crystal lips?? "
Spray crystal lips - the secret to a charming lips
Spray crystal lips It is a new beauty method that has emerged in the cosmetic industry in recent times. If you are suffering from dark lips, too thin or too thick, pale lips, this is it lip spray method perfect for you.
Based on experience with thousands of customers of different ages, Miss Tram - Natural Beauty Center Realizing that the outstanding advantage that crystal lip spray gives you is a fresh, natural lips anytime, anywhere, and at the same time helps to cover up the blemishes on your face.
So how is it that we so often forget to teach respect by respecting the children themselves? Is it good to spray on lips??
This method helps to shape the lips so that the lip contour looks more regular and defined. For those who have deviated lips, this way we can "cheat" or "narrow" the lips and still keep the most natural look. This aesthetic beauty technique is currently very popular with many women because it saves time on makeup and is less dependent on lipstick as before.
At Miss Tram - Natural Beauty CenterWhen choosing the crystal lip spray service, you will be completely assured of the quality of tattoo ink as well as the skills of professionally trained professionals. Crystal lip spray technique Using a modern tattoo sprayer and inkjet ink with a variety of color codes, extracted from natural herbs imported from the US 100%, committed to high durability and friendly to your skin.
Spray lips It will help us become more radiant and confident, so you can absolutely choose this method to improve your current condition if you unfortunately have pale lips. However, you should find out which cosmetic method you are suitable for to bring the best results.
The crystal lip spray method is usually suitable for:
People with too thin lips, disproportionate lips, lips that are not beautiful or too thick

Or do you have long-standing dark lips and depend on lipstick too much?
And finally, those who have tattooed their lips many times but have not achieved the beauty and naturalness as expected
>>> Related posts: Spray Natural Crystal Lips For Men - Outstanding advantages when spraying crystal lips for Nam at Miss Tram.
How is the process of spraying crystal lips at Miss Tram - Natural Beauty Center?
Step 1

: The consultants of Miss Tram - Natural Beauty Center will directly meet, identify your overall face. Then you will be consulted on lip condition, choose lip color suitable for age, skin, face. Next, the experts will reshape the lips to harmonize with your facial contours.
Step 2:

After agreeing on the lip color and design, the technicians will inject pain relievers and antiseptics directly into the lips and apply Vaseline to the skin around the lips. Next is the numbing process with the most accurate time, because if left too long, the lips will turn dark.

Step 3:

You will be checked for hygiene and your personal belongings before performing the service.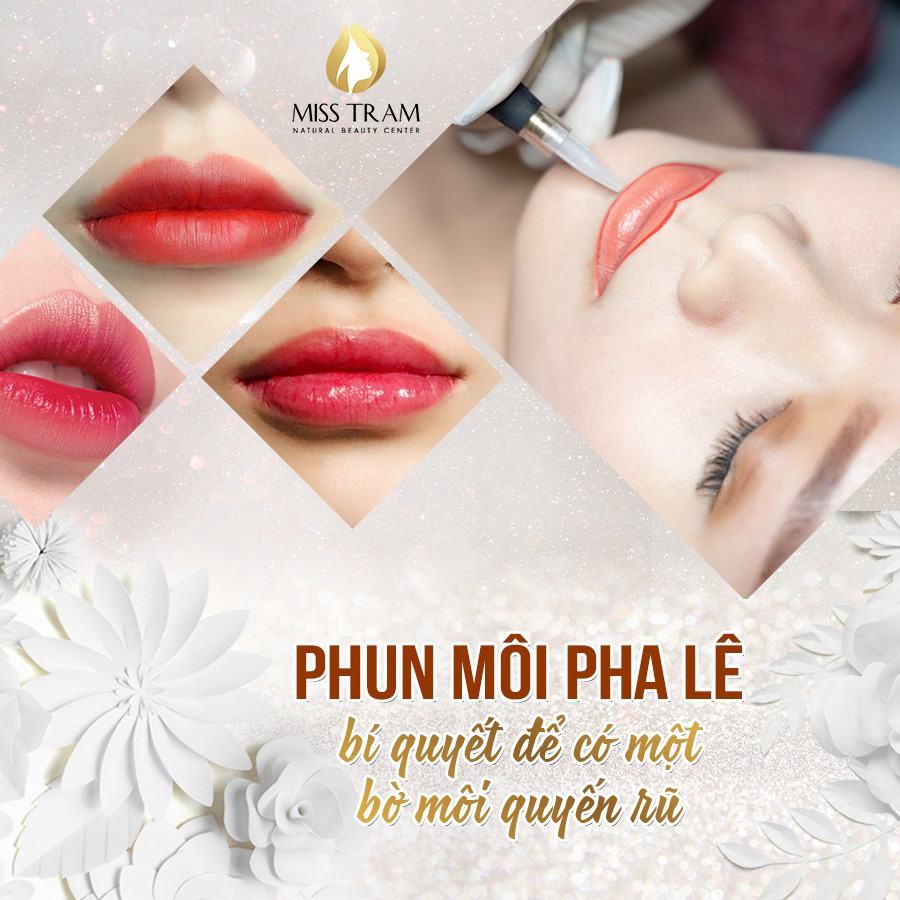 Step 4:

The technician will proceed to spray the lips according to the predetermined shape. This process requires high concentration, precise needle steps so that the ink color penetrates evenly, the force of the needle does not hurt the lips.

Step 5:

Clean around the lip area just sprayed with vaseline to antibacterial.
After spraying the lips, the ink layer will peel off in a few days, the lips will be in harmony with the smoothest and most natural shine.
>>> Related posts: Secrets To Relieve Pain When Spraying Lips - Experiences to help relieve pain when spraying lips
It cannot be denied that having a soft, pink lips, women will be many times more confident than having a dark, pale and lifeless lips. So, one way or another, if possible, give yourself a chance to make yourself look more beautiful in the eyes of others.
See More About News – Beauty Secrets By Miss Tram - Natural Beauty Center:
Should You Spray Powdered Eyebrows At Miss Tram
Secret of Effective Efficient Lip Lotion