Application of high technology in skin care - treatment trending now; which must be mentioned RF technology for skin rejuvenation with the ability to stimulate proliferation collagen, help slim skin - firm, anti-aging ...
So what is RF skin rejuvenation technology? For who? What are the uses, mechanisms, and processes? Where is the best place for skin rejuvenation with RF wave technology in Ho Chi Minh City? This paragraph Miss Tram VietNam will help you answer the above questions, please stay tuned!
1
What Is RF Technology – How it Works
RF (Radio Frequency) is technology Non-invasive skin rejuvenationAccordingly, when RF frequency comes into contact with the skin surface, it will meet the bioelectric source in the body and generate useful heat. This heat will heal the structure of collagen and elastin, restore cell function, promote metabolism, tighten muscles, reduce wrinkles, remove dark circles, dissolve fat bags...
2
Uses of RF Wave Technology Skin Rejuvenation Service
RF skin rejuvenation technology It is preferred by many customers because of the following advantages:
Safe for skin, FDA approved.

No peeling or skin invasion.

Slows down aging without affecting the skin structure.

Does not cause damage, does not affect the surrounding skin.

Fast treatment time.

Doesn't take much time to relax.
Usually, the skin rejuvenation effect with RF technology will show up on the first session. In each different skin area, this technology will bring certain effects:
Cheek area: helps lift slightly and Shrink pores.

Jaw area: helps to tighten the skin - lift the jaw area, slim the face.

Forehead area: helps to lift eyebrows, straighten forehead skin.

Under eye area: helps skin become firmer.

Neck area: helps to tighten skin and reduce wrinkles.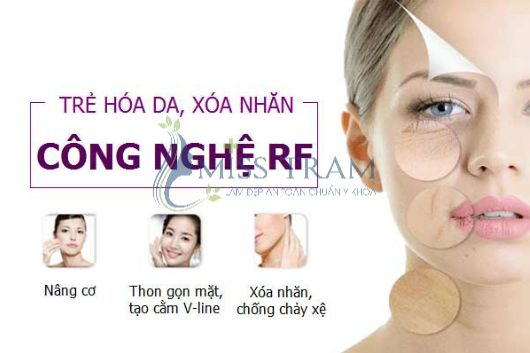 3
Who Is RF Skin Rejuvenation Technology For?
RF skin rejuvenation suitable for both men and women, especially the subjects:
People after the age of 30 experience aging problems such as: saggy skin, sagging, wrinkles, crow's feet, face fat - chin...

Postpartum women have stretch marks - stretch marks, excess fat accumulation, loose skin - wrinkles...
In addition, it is important to note the following cases where RF skin rejuvenation should not be applied:
People are suffering from skin infections in the treatment area as well as surrounding skin areas.

The skin to be treated has keloid scars, concave scars, sunburn.

People who are using electrical devices such as pacemakers, metal implants, dental plates, etc.
4
RF Technology Skin Rejuvenation Procedure
Skin rejuvenation services with RF technology are usually carried out according to the following process:
Step 1: The doctor/specialist conducts a skin scan to know the client's current condition. From there, give advice as well as adjust the appropriate wavelength - intensity.
Step 2: Clean skin to remove makeup, sunscreen, oil ... on the skin.
Step 3: Mild local anesthesia.
Step 4: Conduct treatment with RF technology.
Step 5: Apply skin cream/gel after the treatment is over.
Step 6: Post-treatment skin care consultation/appointment reminder.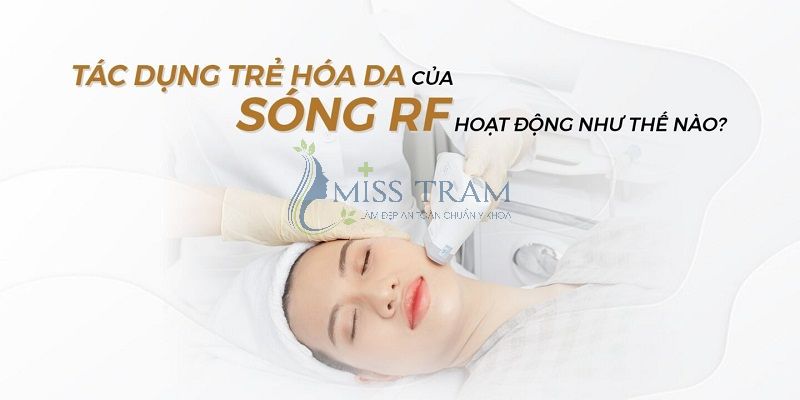 5
Notes After Skin Rejuvenation RF Wave Technology
To ensure the best skin rejuvenation effect of RF technology after treatment, you need to keep a few things in mind during skin care:
Always wear sunscreen – cover your skin every time you go out; Avoid direct sunlight, especially in the first 3 days after treatment.

Wash and gently care for the treated skin area: do not use skin peeling or bleaching products, do not wash your face with hot or cold water.

Do not wear makeup for 24 hours after the treatment.

Follow your doctor's instructions exactly such as: applying cream, taking medicine...

Have a scientific diet and lifestyle.
6
Miss Tram Aesthetic Clinic – Address for Skin Rejuvenation with Effective RF Wave Technology, Good Price HCM
When you need skin rejuvenation with RF technologyIn order for the skin to be cared for - effective intensive treatment, you need to choose a reputable beauty facility with genuine technological equipment, good personnel, and professional processes.
today, Miss Tram cosmetic clinic is one of the leading establishments in Ho Chi Minh City RF technology skin rejuvenation service. We implement the rejuvenation process licensed by the Ministry of Health for safety testing; performed by a team of highly skilled and experienced doctors and specialists.
Strengths of Miss Tram:
Diverse skin rejuvenation services from Laser, Thermage FLX, Hifu S+, Meso, BAP, Botox, Filler, Nano Diamond thread tensioner…; It is possible to combine many skin rejuvenation methods for optimal results.

Consulting and thorough examination; provide the most suitable treatment regimen for the client.

The whole process is carried out in modern facility conditions, meeting the sterility - safety given by the Ministry of Health.

Clear and reasonable quotation; There are many promotions, discounts or free treatments/gifts.
Show Miss Tram VietNam RF skin rejuvenation service quote with fluctuating price 35T/ 1 session (depending on the skin area); give away 5 sessions of Exilis technology.
Skin rejuvenation with RF waves It is a promising technology for firm, youthful and smooth skin. Through the above article, hope to have helped you better understand this method of skin beauty. If you have any further questions, please contact right with Miss Tram cosmetic clinic for advice!