Meso injection is a trending beauty method because of its many great uses for the skin. By delivering nutrients directly into the epidermis, Meso injections are many times more effective than topical treatments and products.
Currently, at Ho Chi Minh There are many places that provide this cosmetic service with different quality and injection prices. To ensure the safety and effectiveness of the treatment - avoid "losing money"; You should only inject Meso at a reputable address where a dermatologist directly prescribes and performs it.
With in-depth experience in cosmetic dermatology, Miss Tram Dermatology Clinic provided Meso injection service chosen by many customers.
1
What is Meso Injection Method? Uses? Object
Meso injection Also known as Meso microinjection, this technique uses a tiny needle to deliver essence into the skin quickly and effectively. In beauty, Meso injections are used in both skin aesthetics and dermatological treatment. As follows:
Acne treatment helps keep skin clean and healthy: Meso injects active ingredients into the skin to help increase anti-inflammatory properties, reduce sebum secretion and promote skin regeneration. From there, it will bring acne-free skin and overcome the condition sensitive skin, easy to irritate...
Bright skin care: Meso injections have the ability to inhibit melanin, helping to treat skin pigmentation disorders such as dark spots, freckles, dark spots, etc.
Firms skin, prevents aging: Meso promotes cells to produce more collagen and Elastin, which helps "revive" broken connective structures to quickly bring shiny, smooth skin and improve wrinkles.
Subjects suitable for Meso injection include:
People who want to improve skin aging but do not want invasive surgery or surgery.

People with skin problems such as: dry skin, rough skin; Uneven skin, dark spots, melasma, freckles...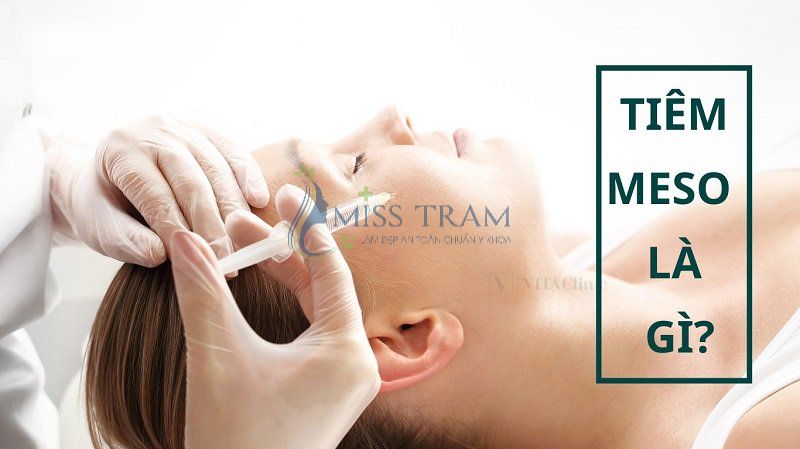 2
Medical Standard Meso Injection Process
To achieve high efficiency and ensure safety - the medical-standard Meso injection process is implemented with the following steps:
Step 1: Examination and treatment consultation.
The doctor will examine and examine the customer's skin.

Consult Meso injection treatment and provide detailed quotes.
Step 2: Clean the skin and numb it.
Clean your face to unclog pores.

Anesthetize the areas where Meso will be injected to limit infection and reduce pain.
Step 3: Take a photo to save for your records.
Miss Tram's staff will take photos of customers before injecting Meso to save medical records. This is the basis to compare and evaluate the effectiveness before and after the treatment.
Step 4: Perform Meso injection after enough anesthesia time has passed.
Use a specialized syringe to inject essence into the skin. Depending on each area of ​​the skin and the customer's skin condition, the doctor will use the type of essence/adjust the appropriate injection dose.
Step 5: Clean and care for skin.
Disinfect the skin to ensure the injection hole is not attacked by invading bacteria.

Carry out skin care and protection measures: moisturizing, electrophoresis, phototherapy...
Step 6: Instructions for post-treatment care.
Doctors and specialists will guide you on how to care for your skin after Meso injection at home to help maintain long-term results.
3
Miss Tram Dermatology Clinic - Good Meso Injection Address, Reasonable Price
Nowadays, it is easy to find Meso injection services at many beauty establishments; However, this method requires a high level of technical expertise and needs to be followed by consulting doctors. Therefore, you need to consider carefully to choose a good, safe, and affordable place to do it.
Miss Tram Dermatology Clinic leaves Prestigious and professional Meso injection facility in HCM with a team of good dermatologists who directly examine and perform. All technologies and products used in Meso injections are approved for quality and safety.
Currently, Miss Tram Clinic is applying the following Meso injection services:
Mesotherapy: moisturizes, plumps skin - replaces 1 month of normal skin care.
Meso Whitening: Helps brighten and even skin tone, reduce the appearance of brown spots and freckles, and enhance skin youthfulness.
Meso Reju: Helps skin become smooth and elastic, reducing the appearance of acne signs of skin aging.
Meso Booster: Increases collagen production, rejuvenates skin, helps remove fine wrinkles; Helps skin become brighter and more radiant. Eliminate and prevent the formation of skin pigmentation such as melasma, freckles, dark spots, acne...
Coming to Miss Tram, customers can safely use the service thanks to:
High-end equipment and machinery systems are imported - transferred from the United States and Europe.

Meso injection procedures and equipment ensure sterility and sterility; Avoid risks of infection and irritation.

A team of doctors and specialists with rich experience, expertise and dedication to their profession.
In particular, with a variety of skin care and treatment treatments/technologies, each customer comes Miss Tram VietNam All will have their skin examined and advised on the most suitable skin care regimen. This helps customers choose quality, effective services quickly and at an affordable cost. (Refer to the article quiz to test your skin).
4
Latest Meso Cosmetic Injection Service Price Quote At Miss Tram
Meso injection The price depends on the beauty salon location as well as factors such as:
Skin condition and customer's desire to improve skin: tightening shine, reducing oiliness, brightening skin, improving fine wrinkles, restoring thin and weak skin...

Treatment duration: the longer the treatment, the more the cost will increase.

Technology - products: Meso injection facility applies high-end technology and products, the price will be higher.

...
Refer to the price quote for Meso injection services at Miss Tram:
Our services

Reference price

Mesotherapy

Meso Whitening

3 Million / 1 Session

Combo of 3 sessions: 7,5 million

Meso Reju

6 Million / 1 Session

Combo of 3 sessions: 15 million

Meso Booster

9 Million / 1 Session

Combo of 3 sessions: 21 million
5
Notes Before and After Meso Injection
Before and after Meso injection, you need to note the following:
Before injection:
Avoid using drugs, products that thin and prevent blood clotting (aspirin, alcohol, ginseng, vitamin E...) for a few days before the injection.

Avoid topical ingredients such as Tretinoin, Retinoids, BHA, AHA, highly active pigmentation treatment products... for 3 - 5 days before injection.

Avoid getting sunburned skin.
After injection:
Clean thoroughly, avoid skin irritation; The first night, clean with a cotton ball dampened with clean water. From the second day, you can use normal cosmetics (moisturizer + sunscreen).

Rest for 48 - 72 hours in a place with clean, cool air.

Do not use products that easily cause skin irritation such as: Tretinoin, Retinoids... for 3 - 5 days after injection.
The information in the article will help you understand better Meso injection , and Meso injection price Currently. If you need to have a reputable Meso injection, please act quickly contact Miss Tram VietNam for effective advice and service.