Lips The sexiest part of the face. Today, many women abuse lipstick to increase the charm, but forget that taking care of your lips is much more important. Surely no one wants to put lipstick on the pair dry lips and all peeled off. So today's post Miss Tram - Natural Beauty Center please share Moisturizing secret for plump lips with readily available ingredients.
Moisturise Your Lips With Easy-to-Earn Ingredients
1. Exfoliate your lips
The first rule of lip care is Exfoliating lips. Exfoliation is the removal of dead cells and dirt accumulated on the lips. When the layer of dead cells is removed, it will stimulate the body to produce new cells, making the lips rosy and easier to absorb the nutrients from the lip balm. Some simple and effective ways to exfoliate lips with ingredients available in the kitchen:
How to make a lip scrub from brown sugar and honey:
Honey It has antibacterial properties and is also a great natural moisturizer. Combined with sugar, it will not only help exfoliate but also help soften lips.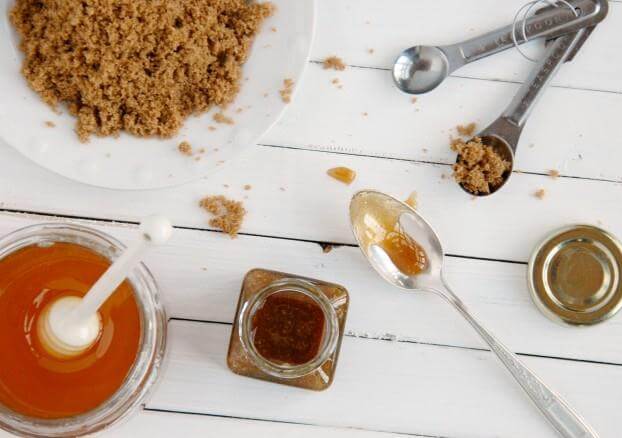 Doing:
Step 1:

Mix 1 teaspoon of brown sugar and 1 teaspoon of honey.

Step 2:

Apply the mixture on your lips, massage your lips for about 3 minutes.

Step 3:

Wash your lips with warm water.
>>> Related Articles: Introduction The hottest lip beauty method today appreciated by many.
How to exfoliate lips with a toothbrush:
This is one of the most popular and simple ways to exfoliate lips. To do this, all you need is a soft toothbrush.
Doing:
Step 1:

Apply a layer of vaseline on your lips.

Step 2:

Use the brush to gently scrub your lips for a few seconds, taking care to be extremely gentle if you don't want your lips to scratch.

Step 3:

Wash your lips with warm water.
How to make lip scrub from lemon:
In this way, the lips are not only exfoliated, but the natural acid and vitamin C in the lemon will make the lips brighter.
Doing:
Step 1: Cut the lemon into thin slices.
Step 2:

Use a slice of lemon to rub it gently on your lips.

Step 3:

Wash your lips with warm water.
2. Lip mask
After exfoliating, your lips will be in a state that is easy to absorb nutrients, so you should use lip balm or apply a lip mask. Miss Tram - Natural Beauty Center would like to introduce you to 3 easy-to-find masks that are extremely good for your lips: (Reference about Cosmetic tattooing course prestige at Miss Tram).
Olive oil mask:
Olive oil contains nutrients that work to fade dark pigmentation on the lips, and at the same time moisturize to keep the lips soft and smooth. You can apply olive oil directly after exfoliating, when there are signs of dryness, or moisturize your lips overnight.
Aloe vera mask:
Aloe vera is one of the beauty miracles of women because it moisturizes, softens and restores the natural pink color of the skin. As for the lips, just apply a layer of aloe vera gel on the lips, leave it on for 30 minutes and wash it off. Your lips will be instantly hydrated.
Vitamin E Mask:
Another simple and extremely effective lip mask is vitamin E. Vitamin E is used to bind and maintain the activity of cells. At the same time, it is likened to an antioxidant, has the ability to prevent aging, is an extremely effective beauty care product. Just put 1 drop of vitamin E on your lips, massage gently and moisturize overnight.
3. DIY lip balm
If you are a fan of natural beauty, why not make your own lip balm to take with you? Miss Tram - Natural Beauty Center will show you 2 ways to make the simplest but also extremely effective lip balm:
Make a lip balm from Gac oil:
Gac oil contains many vitamins A, E and is rich in nutrients, which help soften lips, treat dark lips and provide moisture for lips effectively. Gac oil also has the effect of creating a natural red-orange color for lipstick. How to make Gac oil balm:
Prepare:
1 tablespoon beeswax,

1 tablespoon coconut oil (or olive oil),

1 tablespoon white butter,

½ teaspoon vitamin E,

2 drops of your favorite essential oil,

1 tablespoon Gac oil.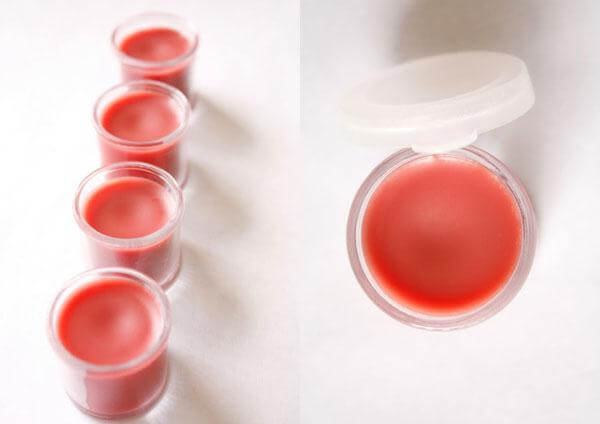 Perform:
Step 1:

Put the mixture of beeswax, coconut oil, white butter and vitamin E in a small bowl, heat the water.

Step 2:

Stir continuously until the mixture is melted and combined.

Step 3:

Turn off the stove, add essential oil and Gac oil and mix well.

Step 4:

Pour the hot mixture into the lipstick jar.

Step 5:

Let cool completely and then close the lid.
Make a beetroot balm:
Beetroot contains a lot of vitamins and minerals that help moisturize and make your lips pink. Beets will also give the lipstick a natural red color. How to make beetroot balm:
Prepare:
2 tablespoon beeswax,

1 tablespoon olive oil,

1 tablespoon vitamin E,

2 fresh beetroot juice pressed.
Perform:
Step 1:

Heat the juice until it becomes a paste, then turn off the heat.

Step 2:

Turn off the heat, wait for the solution to cool down, add olive oil and beeswax. Then continue to cook on low heat until the beeswax is completely dissolved.

Step 3:

Remove the mixture from the heat and stir well to avoid lumps. When the mixture thickens, add vitamin E, stir until the mixture cools.

Step 4:

Pour the mixture into the jar and close the lid.
Note:
When making lipstick, do not use metal tools. Because metal will change the color of lipstick.

Lip balm should be stored in a cool place and used within 3 months.
This paragraph Miss Tram - Natural Beauty Center shared about how to exfoliate, mask and make your own lip balm from easy-to-find ingredients, hopefully it will help you. Wish you always have a smooth and rosy lips! (Does lip tattooing lose feeling when kissing?? - Listen to share from insiders).
See More About News – Beauty Secrets By Miss Tram - Natural Beauty Center:
Acne Prevention Secrets For Sensitive Oily Skin
Tips for 3 Types of Clay Masks With Very Good Oil Control