|Q&A| Should I Tattoo Overlay Skin To Remove Tattoos?
There are quite a few Customers who come to Miss Tram Spa and ask the Specialist to immediately "treat" the tattoo by "TARGET COVERING SKIN COLOR" because it is rumored that this is the fastest way to remove tattoos.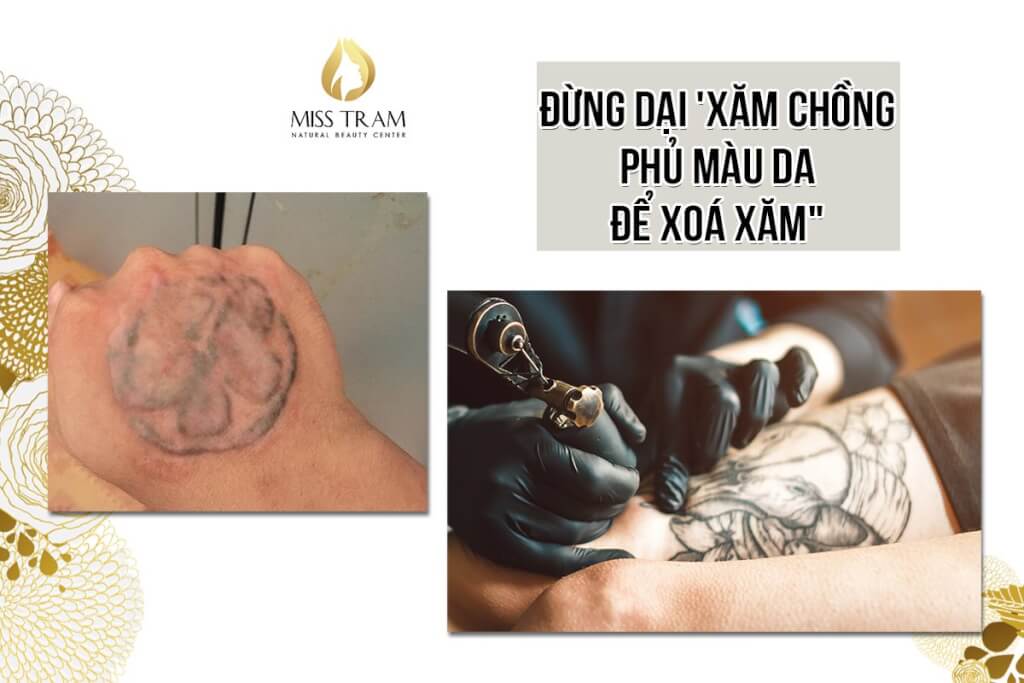 Miss Tram is really not clear about the true origin of this "rumor", but just wants to warn customers NOT to be too hasty to believe without accurate verification. And in fact, this method does NOT bring the desired effect, even making the skin hurt by:
+ Overlaid tattoo covering actual skin color DO NOT REMOVE tattoo ink color on the skin but also causes the ink to be disturbed, leading to the tattoo becoming more patchy and unsightly.
+ The essence of the method is to use the tattoo ink color close to the skin color to overlap tattoo. At that time, the old and new ink colors are mixed together, causing uneven skin tone, easy to detect.
+ The tattooed skin that is already "damaged" will become more sensitive when subjected to the impact of the tattoo needle and is the cause of skin infection.
+ Tattoo ink does not last forever, after only a short time will fade and reveal the tattoo underneath causing patchy, loss of aesthetics.
So what is the solution to remove tattoos? FAST – EFFICIENT and SAFE?
At Miss Tram Natural Beauty Center, Laser Yag tattoo removal is one of the top choices:
YAG Laser tattoo removal technology uses a new generation of American laser, which is a short pulse type combined with 4 wavelengths of 1.064 nm, 585 nm, 650 nm and 532 nm. The diversity in wavelengths allows the laser to penetrate deep inside the skin surface, actively working on all layers from the surface to the epidermis, dermis and dermis, helping to remove tattoo ink completely. and safe.
– Not only can remove tattoos using dark ink colors such as black, dark blue, dark purple… The YAG laser also removes hard-to-remove colors such as blue, red, pink… or 3D tattoos. In particular, they are defaulted to not reacting on the bright yellow color of the skin, so in the surrounding skin, the laser only passes through without causing a reaction.
The efficiency achieved by this method is up to 95%, completely leaving no scars like conventional methods.
With the use of this technology, Miss Tram has helped thousands of customers "obliterate" quickly "stubborn" tattoos while still ensuring aesthetics and safety for health. (Refer to the The most effective tattoo removal technology Currently applied by many leading prestigious spas).
With Miss Tram - Natural Beauty Center Some Questions Answered Other:
Group of Customers Note Not To Connect Eyelashes
Postpartum Melasma Goes Out On Its Own Or Does It Have To Be Treated
Instructions for Correctly Apply Ointment to Eyebrows After Spraying
Review Top Skin Care Products