Many women have a joke that says: "Skin is only beautiful when in Spa". Because when taking care at the spa, the skin is smooth and bright, but when taking care of the skin at home, the results are not the same. Do you know what their secret is? Beyond the process Skincare In accordance with the standard, cosmetic facilities also use a number of supporting tools to take care of the skin more effectively.
This paragraph, Miss Tram - Natural Beauty Center Please share these An indispensable item if you want spa-standard skin care atto.
Essential Tools When Taking Care Of Your Spa At Home
1. Scented candles
To create a relaxing and pleasant space like in a spa, scented candles are an indispensable item. What could be more wonderful than wearing a relaxing mask in an extremely quiet, warm space with a sweet fragrance emanating from the candlelight.
Perhaps you will feel that scented candles are an unnecessary item in skin care. However, the spiritual value they bring is great. Furthermore, the fact that the body and skin are effectively relaxed after a long day can stimulate the production process collagen, makes the skin smoother and fresher. (Refer to the The right way to take care of your skin in the morning you should not ignore).
2. Essential oils
Besides the daily skin care cosmetic lines, you should prepare yourself a few natural essential oils. Essential oils have the ability to penetrate the skin very well, helping to rejuvenate the skin, fight inflammation and prevent acne very well. In particular, the aroma that this material brings is also very effective to help you relax.
In parallel with using essential oils in your home skin care/sauna/massage process, you can use an essential oil diffuser to diffuse the scent, helping to create the most comfortable space during skin care.
3. Sauna machine
In the process skin care at spaSauna is an extremely important step. Thanks to the evaporation process of hot water, the pores on the skin will be expanded and push the acne and dirt deep into the skin quickly. Not only that, hot water also enhances blood circulation and effectively detoxifies the skin.
However, instead of preparing many cumbersome manual sauna steps, you should invest in a type of sauna machine. Because with clear steam modes, just put a little essential oil into the machine and press the button, your skin will be deeply cleaned in the easiest and most convenient way.
4. Paper mask
Mask paper is considered as a very rich mask, helping to add many essential essences to the skin. Moreover, this skin care product is extremely convenient, just peel and use, no need to mix many complicated steps.
If you combine a paper mask with a space filled with the aroma of essential oils/scented candles, you will feel the same comfort as when taking care of your skin at a spa. (Tips to take care of your face properly widely used today).
5. Clean towel and warm water
Most beauty establishments use towels and warm water to cover the skin of customers after cleansing. This is considered a method of physical therapy, helping to create a feeling of relaxation, eliminating fatigue for guests in an extremely effective way. Therefore, you also need to learn these beauty tips to bring the most relaxing feeling to your skin.
note, need to use cotton towels, soft fibers to ensure that when gently rubbing on the skin, it will help clear the acupuncture points, effectively clean sebum without causing skin damage.
6. Mask Mixer
Don't think mask mixing kits don't matter. According to professional spa experts, the mixing ratio of natural mask formulas has a great influence on the effectiveness of masking. Therefore, to ensure that the mask recipes you are about to use give the best results, invest in a mixing and masking kit.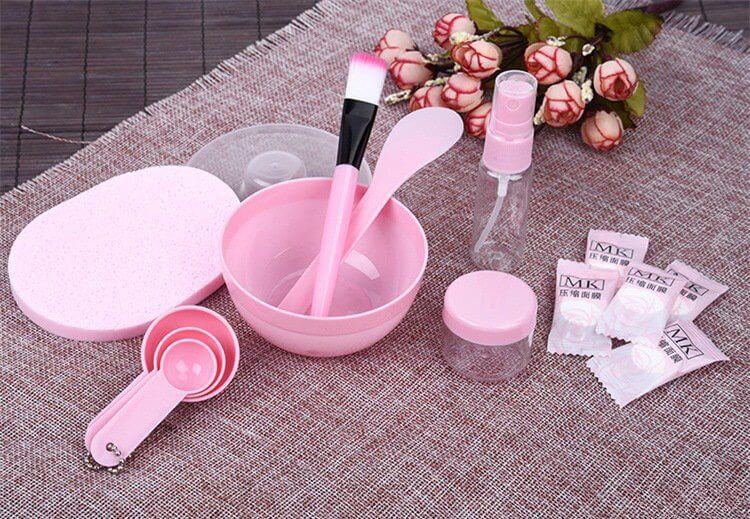 7. Massage oil
If you want spa-standard skin care, it is impossible without the massage stage. Therefore, invest in specialized massage oil products or use natural oils such as coconut oil, olive oil or almond oil, etc. to massage. Natural oils contain a lot of vitamin E and beneficial acids, so they are completely antibacterial, prevent bacterial attack and bring a soft skin to the skin not inferior to professional massage oils. use.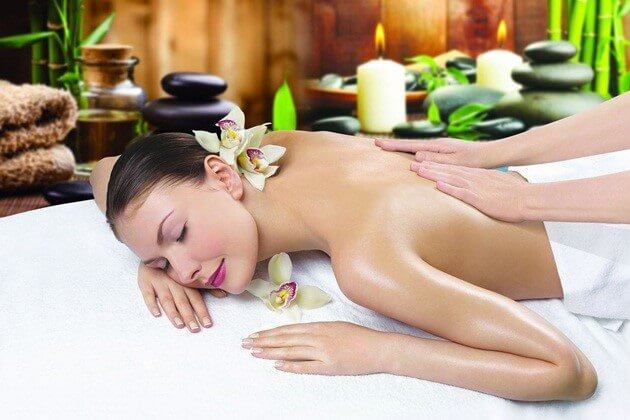 8. Electric machine goes to essence
One of the reasons why the skin care process at the Spa is so effective is the support of modern machines and technology. Therefore, you should invest in a line of essence electrophoresis machine to ensure that the skin is cleaned and absorbed in the most effective way.
Although it cannot be compared with the high-end machines at Spa, if used regularly, the effectiveness of the electrophoresis machine is not inferior.
Skin care at Spa will of course bring a lot of advantages. However, you cannot depend on these professional skin care routines, because you do not always have the money and time to do it every day. So, if you want the most effective at-home skin care steps, invest in the necessary items and follow them. skincare routine standard everyday. (Instruct How to take care of facial skin with pitted scars safe, effective you need to understand).
Hope the above sharing of Miss Tram - Natural Beauty Center will be useful to you. Wish you always have the most beautiful healthy skin!
You are viewing the article Necessary Tools for Spa Skin Care Chuẩn At Home in good category News – Beauty Secrets of Miss Tram VietNam. All reviews, comments please send directly to the email address teamcrmmisstram@gmail.com Or you can comment right below the article. Don't forget to follow other good articles of Miss Tram and share it with everyone.