Acne It is a skin disease that almost everyone has suffered from. However, not everyone is lucky enough to get rid of this skin condition quickly. To get rid of acne properly, you need to know your current skin condition and acne level, then choose the right treatment methods. If not, choose reputable dermatology centers to be examined, consulted and plan the most appropriate treatment.
With nearly 20 years of experience in skin care and treatment, Miss Tram - Natural Beauty Center Proud to be one of the addresses Medical standard acne treatment quality in HCMC. Let's learn the methods and processes acne treatment At Miss Tram, you will immediately see why we are the chosen place of many customers when they have acne.
What is medical standard acne treatment?
Medical standard acne treatment Acne treatment is based on clear scientific evidence. The acne treatment procedures are up to the standards set by the Ministry of Health in terms of medical quality and safety for customers.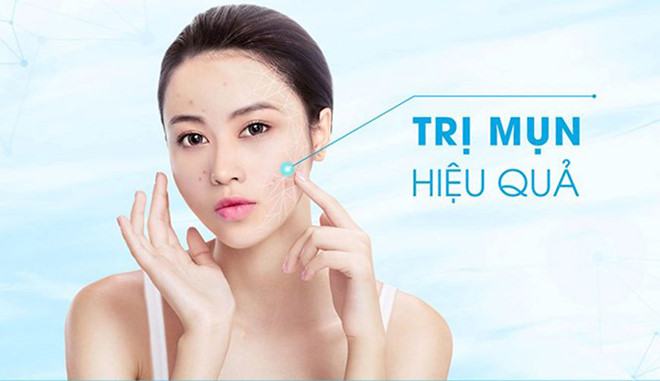 There are many types of acne with varying degrees of severity. Therefore, with each skin condition and acne grade, there will be separate treatment methods.
When coming to Miss Tram, for each skin condition, experts have a thorough assessment and plan the most appropriate treatment, helping customers quickly get rid of acne and regain acne skin.
In addition, the technicians at Miss Tram are all highly skilled people who are proficient in the techniques of taking acne kernels, laser projection and acne skin care. Ensure complete customer comfort.
Miss Tram's modern acne treatment technologies include: Green Laser/Blue Light Technology, Oxygen Jet Technology, Nano Skin Technology, BioLight Technology Helps to treat acne quickly, treat acne at the root from deep inside and effectively prevent acne.
In addition, Miss Tram also owns Fractional CO2 Laser Micropoint Activation Technology – Latest differential CO2 laser technology with lots of smart features. Not only solving acne problems, Fractional CO2 Laser technology also provides effective post-acne skin recovery such as: restoring pitted scars, treating dark spots, tightening pores, regenerating healthy and smooth skin. more membrane.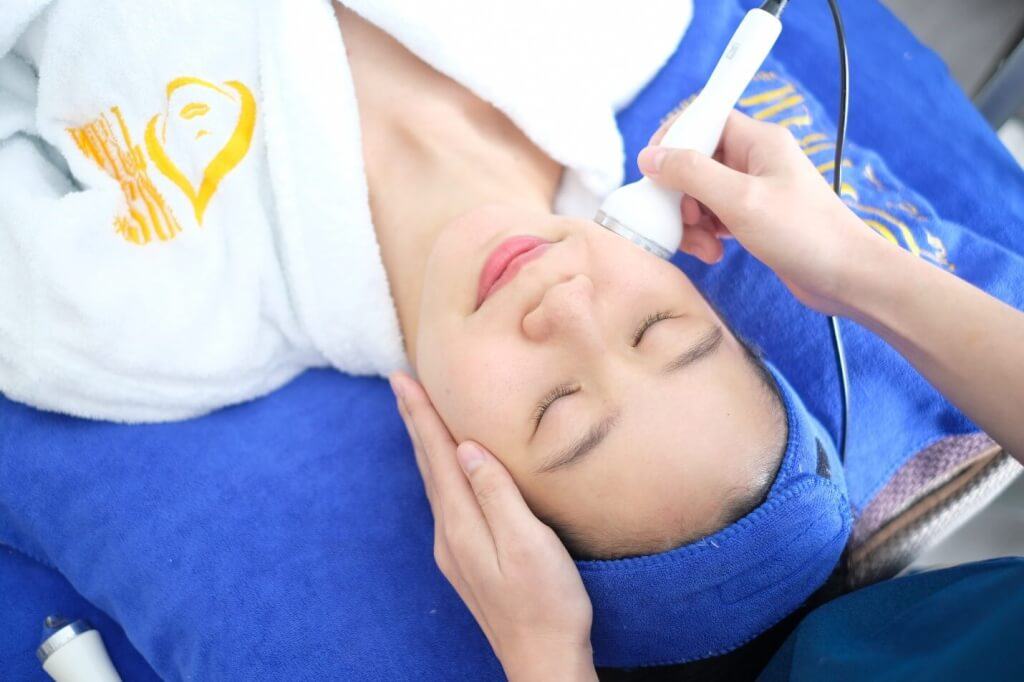 In particular, the system of facilities, equipment, machinery and treatment technology at Miss Tram all meet the strict standards of the Ministry of Health. Not only that, Miss Tram's team of cosmetologists are also formally trained and regularly practice in many advanced countries such as Korea, Japan, America, Germany, etc. Our acne treatment.
>>> Related posts: How To Treat Puberty Acne - Guidelines for the treatment of teenage acne according to 3 levels of acne from mild to severe.
Medical-standard acne treatments at Miss Tram
Poor quality cosmetic facilities often apply a single method for all types of acne. This doesn't work for a lot of acne conditions, because each grade of acne will be suitable for different treatments.
At Miss Tram, after evaluating and planning acne treatment for each skin case. Depending on each acne group, Miss Tram has a separate treatment plan:
+ For mild acne group as acne bran, blackhead, whiteheads, sebaceous fibers and hormonal acne: Customers can take all the acne and take care of their skin with an intensive process to nourish the skin as well as remove acne completely.
+ For severe acne group such as papules under the skin, headless pustules, cystic acne, eel vascular acne: Miss Tram will use appropriate treatment technologies, combine skin care, apply cream and take medicine to treat it completely.
The procedures have different methods and time to perform depending on the acne condition of each customer. Come to Miss Tram, you uncommitted acne treatment in the shortest time. Which can be treated with a reasonable time commitment Gives thorough and long-lasting results:
Get rid of acne from the inside 98%.

Reduce dark spots 86 - 92%.

Tighten pores 60-75%.

New skin regeneration, brighter and smoother skin.

Reduce oiliness by 80-86%.

Recovery of concave scars 40-53%.

Improve the condition of foot inflammation 80-90%.

Miss Tram uses natural herbal ingredients, no chemicals, so it is completely safe for your skin and health.
>>> Related posts: Harmful Mistakes When Self-Treating Acne at Home – 7 common mistakes when treating acne at home that many people often encounter make the acne treatment process not go away, but also risk leaving scars and dark spots.
Medical standard acne treatment process at Miss Tram
In addition to using medical-standard acne treatments, suitable for each skin condition, the acne treatment procedures at Miss Tram also meet the standards of the Ministry of Health for sterility and absolute safety for customers. .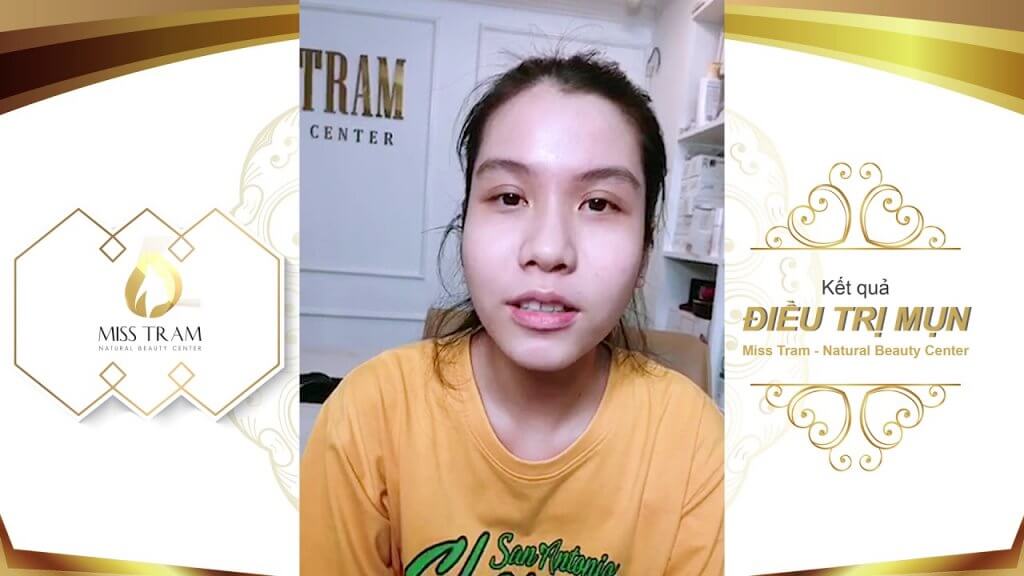 Normally, with each acne treatment, Miss Tram follows the following standard procedures:
Step 1:

Examination, skin examination and advice on the current acne situation.

Step 2:

Carry out detoxification to unclog pores, help detoxify the skin and get rid of acne easily.

Step 3:

Only take the ripe acne kernels.

Step 4:

Use the right acne treatment technology.

Step 5

: Apply a special herbal mask to help treat and heal acne areas.
>>> Related posts: Requirements When Treating Acne - 8 things to keep in mind when treating acne so that the treatment process is optimal, the skin recovers quickly after treatment.
After finishing the treatment process, the experts will instruct customers on how to properly care and protect the skin at home. The cream is followed by an appointment for the next acne treatment route.
With constant research and optimal improvement of skin treatments, Miss Tram team is always proud to be one of the prestigious beauty salons chosen by many customers when experiencing acne. Miss Tram is committed to providing medical-standard acne treatment methods and procedures, solving acne problems in the safest and most effective way. When you trust give a chance Miss Tram - Natural Beauty Center, we will fulfill our mission well and return the most beautiful healthy skin to you!
See More About News – Beauty Secrets By Miss Tram - Natural Beauty Center:
Miss Tram Acne Treatment Committed No
Can you eat sea fish with lip tattoo?