Acne always "heart pain" of not only the person with acne but also the anxiety of the parents.
Miss Tram has more than 10 years of working with the profession, has had the opportunity to meet and receive thousands of cases of different severe and mild acne and has more grace to help. 3,789 young friends Overcome guilt, regain confidence with acne-free skin.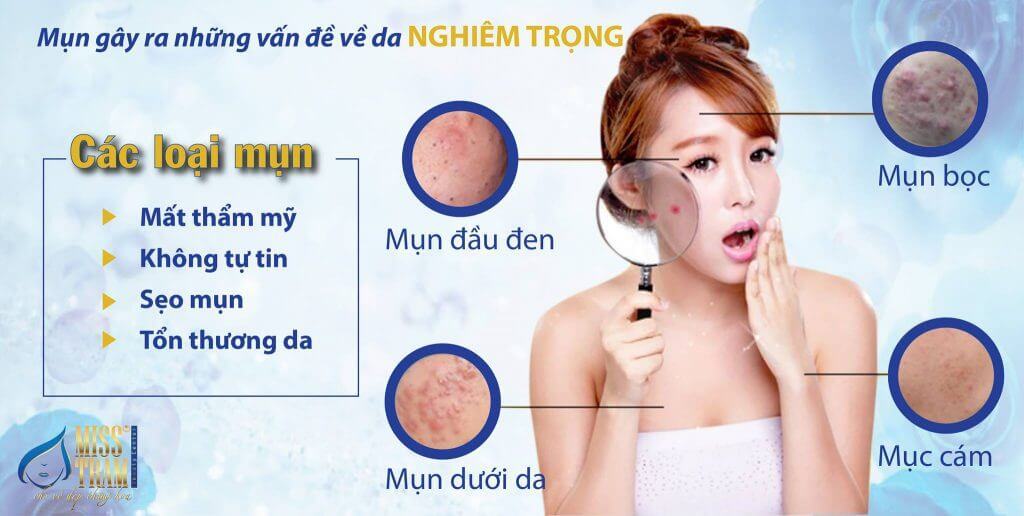 First of all, let's Miss Tram Honestly test your desire with a smooth, white, pink, acne-free skin as follows:
1. BDo you feel you are so pretty and charming every time you take a selfie?
2. BAre you afraid to communicate face-to-face with people around you?
3. BCan you make friends with masks 24/7?
4. BDo you feel lack of confidence in yourself?
5. Acne affect your school performance and life?
If you "YES" All the above ideas, it's time you need Miss Tram to help you.
COMBINATION OF MYSTERIOUS Oriental Medicine
>> WATCH NOW THE SHARE OF HONG MINH Got Talent < Talent

>> QUICK VIEW <
What is micro-shock technology?
Fractional CO2 Laser Micro-Shock Technology is a technological breakthrough in the field of skin recovery and treatment for acne - pitted scars. With a wavelength of 10.600 nm, it is able to penetrate deep into the dermis without causing invasion of the surrounding healthy skin.
CO2 laser helps to stimulate collagen proliferation tissue to fill acne scars, while improving facial skin problems, helping to firm skin, reduce dark spots, wrinkles, smoother and younger skin..
What is the effect of micro-shock technology in combination with Eastern Medicine at Miss Tram in treating acne?
Treatment Process Using Micro-Shock Technology
1. Experts examine skin conditions and advise detailed procedures;
2. Wash your face with a specialized acne cleanser;
3. Exfoliating, steaming and sucking impurities;
4. Professionals to check and remove acne in accordance with medical standards;
5. Fractional CO2 Laser Anesthesia and Micro-Shock;
6. Apply nutrients after the laser to help soothe the skin quickly, completely without burning;
7. Experts guide how to care and use special oriental medicine suitable for each different skin type.
8. The customer care department will accompany you during the time you use the medicine at home and make an appointment for you 10 days later for the Specialist to examine and treat your skin periodically and change the medicine accordingly.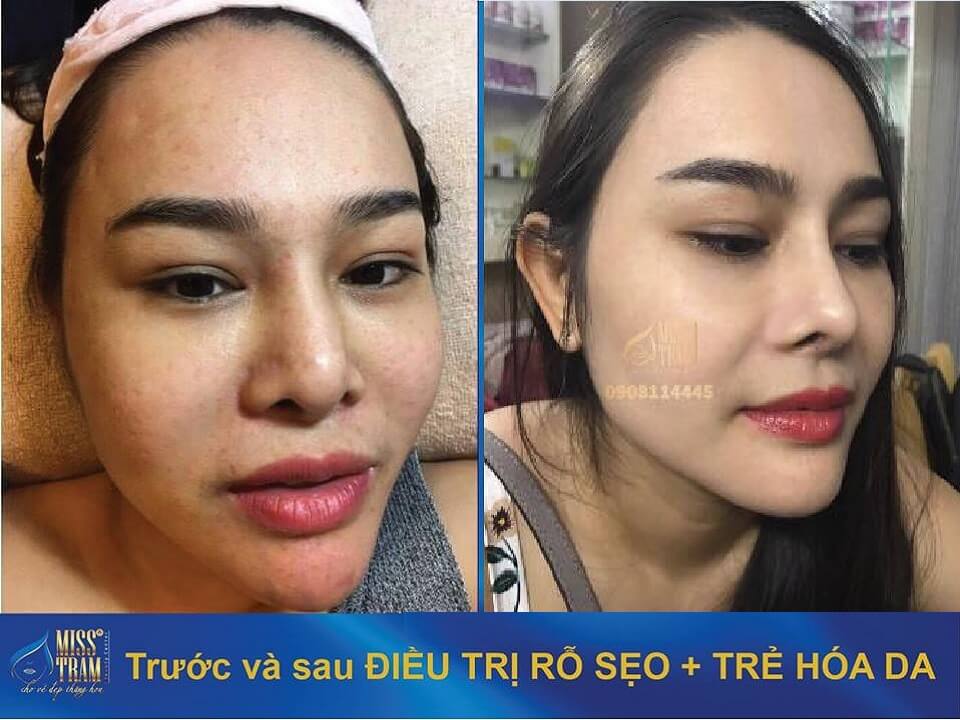 Ms. Thuy before and after acne treatment with micro-shock technology

Khuong's skin has improved acne >80% after the micro-shock treatment combined with Oriental Medicine at Miss Tram
And here is your share Thien An,
And what does Ai Vy say…
Sign up for Dermatology Acne Consultation and Examination FREE
Special Features of Micro-Stimulus Technology:
That's right from the first experience, you will clearly feel the change of skin:
➡️ Skin needs moisture balance, clean oil;
Acne has signs of accumulation after 1 week of using Oriental medicine;
Acne hidden under the skin absorbs the medicine and is eliminated by itself when washing the face;
➡ Bright skin, healthy pink and white;
➡ Tighten pores, especially in the T-zone;
➡ Concave scars improve 20-40% depending on your skin type;
➡ Blur bruises, reduce inflammation significantly;
(For those of you with severe acne or pitted scars, you should follow the course to be monitored and have an intensive treatment regimen of the Specialist at the Center)

>> What are you waiting for?
1. As time goes on, your skin condition gets worse and worse and…you know it!
2. You have nothing to lose: A guaranteed course Safe and Result is Commitment?
Come on! Leave a message Right below or pick up the phone and CALL NOW to be Expert at Miss Tram FREE COUNSELING your own status.
Register for Dermatology & Acne Consultation & Examination (Free) to know the hormonal status, the situation of acne causes and whether there is internal inflammation