Is it OK to Sculpt Eyebrows After Spraying Tattoos?
Question:
Hello Miss Tram - Natural Beauty Center, I used to spray eyebrow tattoo about 1 year ago, but not satisfied with the results. Now I want to sculpt for nature, is it possible? Hope the center can answer it for me! Thank you!.
(Thu Trang, 27 years old, Binh Duong)

Reply:
Hello Thu Trang!
Thank you Trang for your interest and sending the question "Is it possible to sculpt eyebrows after tattooing?" about the customer consultation column of Miss Tram - Natural Beauty Center. To Trang's question, we would like to answer as follows:
The eyebrows you have ever done (tattooed / sprayed / embroidered) can completely re-sculpt by removing eyebrow tattoo. In fact, this is a very simple and safe procedure using modern beauty equipment. You also do not worry too much about affecting the skin, leaving scars, .. because this only happens with poor quality facilities.
And when you come to Miss Tram - Natural Beauty Center, you can be completely assured because we always apply advanced technologies, modern equipment and a team of highly skilled technicians will bring you a The set of eyebrows is as beautiful as desired, painless and does not leave scars.
Factors to consider before removing eyebrow correction
You should note that the ink used during eyebrow tattooing is made up of natural materials, so after a while, the pigment may change due to a number of reasons. Of these, the four main factors are:
Techniques performed by experts. Because the more skilled the professional, the more beautiful and natural your eyebrows will be.

Origin and quality of inkjet / eyebrow tattoo. If the ink color is guaranteed to be of clear origin, completely from natural herbs, without substances harmful to health, the coloring will be clearer and more durable.

Client's skin condition. Depending on the location of each person, the ink color / eyebrow tattoo will be darker or lighter than the color you want.

Advanced beauty equipment will help you have a set of sharp, natural-looking eyebrows and a long maintenance time of 3-5 years.
So, if you need to remove your eyebrow tattoo because the color has changed or you don't like it anymore, it's best to know what type of ink used to know exactly how long it takes to fade them during the treatment. . Most professional tattoo parlors will know what ink they are using. If the specialist is unsure about the composition of the ink, ask for the product name and find out the compound from the supplier.
With dark eyebrows, it will take you 2-4 sessions to clean the ink color. This also depends on the skin condition of each person and the skills the specialist has done before.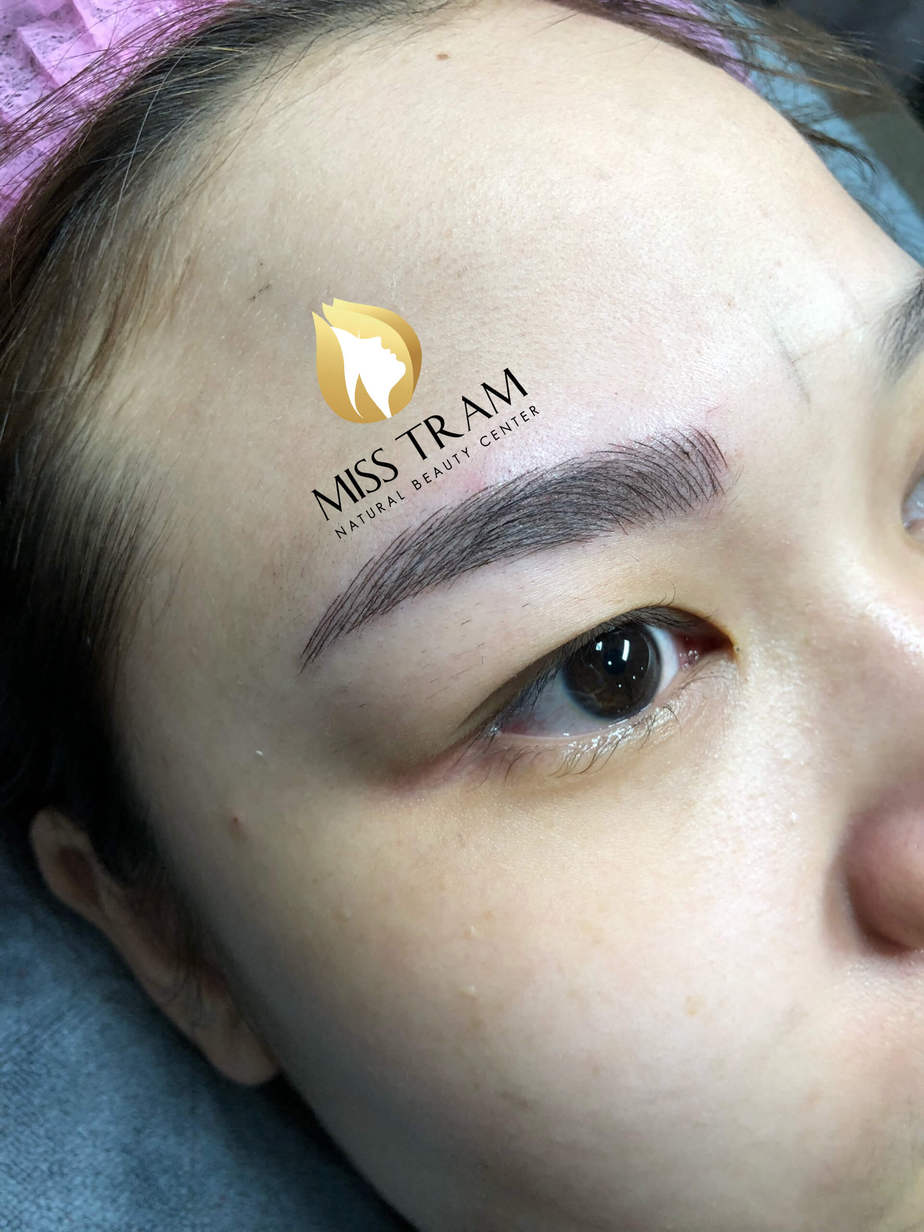 How to sculpt a new eyebrow shape?
Eyebrow tattoo removal done by Laser is the most accurate tool capable of meeting customer requirements. Before removing eyebrow tattoo, the specialist will ask you to wear steel goggles to protect your eyes during the procedure.
Because of your first exposure to the latest laser treatment technology, your eyebrows may be slightly swollen. However, the swelling will gradually decrease during the day and return to healing in 2 weeks so you can continue to suck the color next time.
After removing the last eyebrow tattoo, you have to wait about 3-5 weeks for the eyebrows to stabilize before proceeding to sculpt a new shape. Because only when the pigment is removed will the eyebrow colors not overlap. You may lose your eyebrows after tattoo removal, but that is only temporary. After a while, your eyebrows will return to their normal state.
After-care for eyebrow tattoo removal is very simple. For the first 3 days, you need to avoid letting water come into contact with the treated skin. Absolutely do not apply makeup or creams in the laser treatment area. You should rest as much as possible, eat vegetables, fruits and add water to help the body recover soon.
Eyebrow tattoo removal is currently applied by many cosmetic facilities with different technologies, but only the most modern laser tattoo removal technology in Vietnam is available. Miss Tram - Natural Beauty Center Newly cleaned ink color, does not cause burning pain, does not leave scars for the next step of sculpting the best standard eyebrow shape. We are committed to giving you a beautiful, natural brows you desire.
See more Troubleshooting Other Miss Tram - Natural Beauty Center:
Does lip sculpting that have been sprayed before need to be removed?
How To Fix Blue Eyebrows Safely
Treating Acne at the Root At Miss Tram After Acne Recurrence