Male Eyebrow Sculpture
Sculpting Male Eyebrows 6D – 9D


More than 17 years in the profession. Meet and advise boys from young to middle age. Here are some of the common questions, concerns and desires that you often encounter:
♠ Worry and considered by fear of being discovered after doing;
♠ Afraid to do done is not natural to delete and edit takes time;
♠ Do not want too revealing or too bold, just as natural as possible;
♠ The eyebrow is missing the tail, just want to add it "fortune, keep money";
♠ Want owned Darker, denser eyebrows for masculine and create reliability for partners;
♠ The eyebrows are very small at the head and the shape of the eyebrows is not suitable for the face, so I want new pose;
And there are many other concerns, but the common desire is: After doing it, it must be true NATURAL LIKE REAL EYES
What is male eyebrow sculpture?
Eyebrow sculpture for men is a new step forward of the previous traditional embroidery spray technique. Professionals will use specialized equipment, meticulously draw each thin and sharp eyebrow, interwoven with real eyebrow hair, without a frame, so it does not reveal any cosmetic traces.
Because this is a technique of sculpting each strand rather than spraying an original, this is the most modern technique to help men own natural, masculine eyebrows.

How is male 6D sculpture different from 9D?
Although both are techniques to carve each eyebrow meticulously, knitting with real eyebrows. However, with the 2D eyebrow engraving technique, it will be suitable for men who have bushy eyebrows but are missing a tail or the current eyebrow shape is not even.
For some cases such as: thin, sparse eyebrows, thin, pale eyebrows, the male 9D sculpting technique is the lifeline for men because the specialist will base on the color and size of the hairs. Real eyebrows that meticulously create each finely interwoven strand are no different from your natural eyebrows.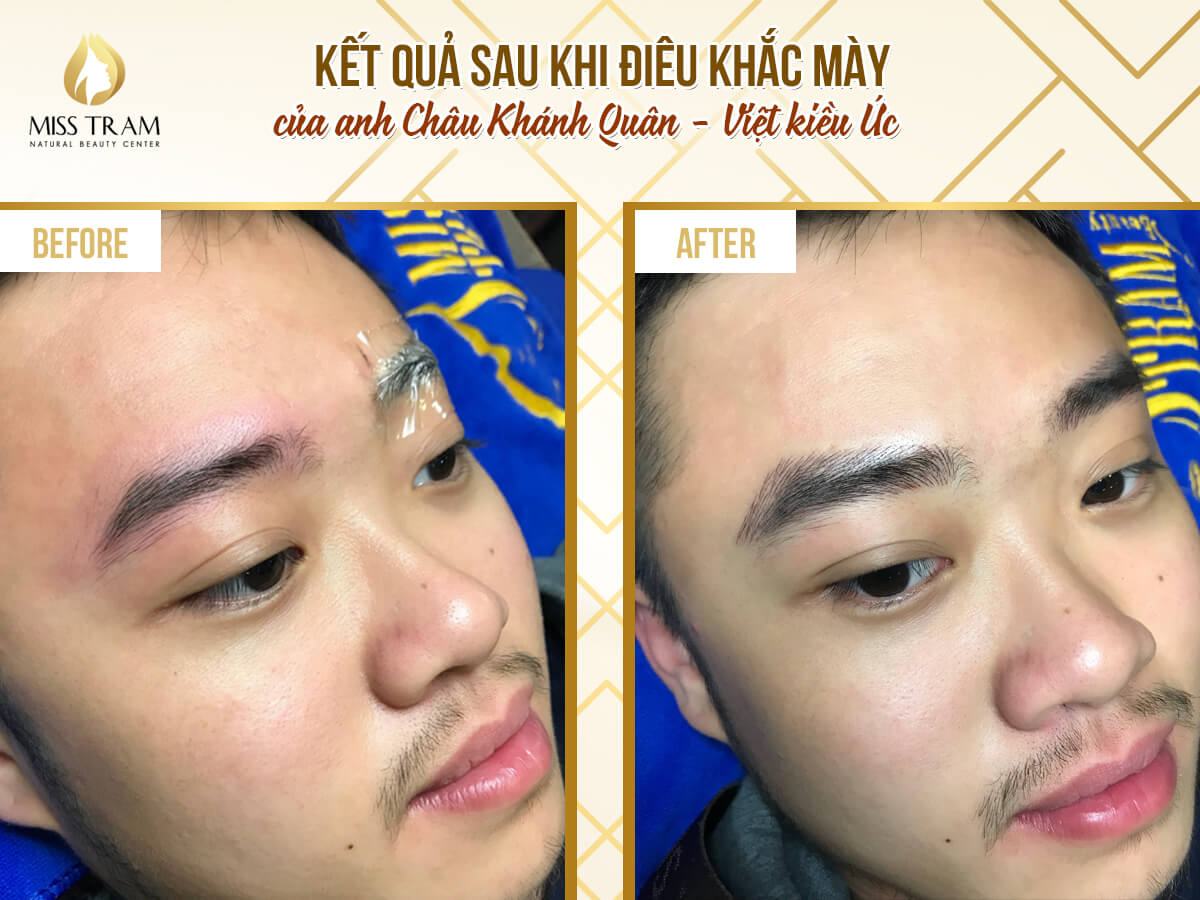 9D eyebrow sculpting is similar to adding the eyebrows that you are missing
Which Eyebrow Aesthetic Method Should Choose In Both Men And Women
Instant Message MissTram Contact For Free Consultation
UNDERSTAND 2 BEAUTIFUL TYPES OF EYES FOR MEN
1. Determined horizontal eyebrow shape
⏩ In terms of shape: The eyebrow line is parallel to the eye and the eyebrow tail is slightly longer than the corner of the eye.
Horizontal eyebrow shape for men exudes leadership and assertiveness
In terms of meaning:
Men who have horizontal eyebrows have an assertive personality and have leadership qualities.
- Having a voice, not easily moved by the death anniversary around.
– In terms of family, is a great husband and father.
2. Clever, brave eyebrow shape
In terms of shape: The eyebrow line is straight from the top, then slightly curved from 1/3 of the eyebrow to the corner of the eye, the lines are clear.
Curved eyebrows for men show attractive ingenuity
In terms of meaning:
– Men with this eyebrow shape are people who know how to control their emotions very well.
– An extremely skillful person in communication, suitable for jobs that have a lot of contact with customers.
About the family is a faithful husband who loves and cares for his family.
> WATCH NOW THE ADDRESS FOR PRESTIGE Men's Eyebrows in Ho Chi Minh City <
> VIEW NOW <
WHY MISS TRAM SPA IS A PRESTIGE ADDRESS FOR MEN'S Brow Removal?
Miss Tram

listen to wishes

, and carefully consult the eyebrow shape suitable for your own facial features, not following the trend;
The quality of the ink has clear origin TU Korea, Germany, Japan, USA - Durable ink 3 - 5 years, colorless oxidation;
Only for Male Sculptors LEAVE - EXPERIENCE do for guests, absolutely do not let new trainees or technicians do the job;

The procedure is painless, does not hurt the skin, does not require abstaining and does not take much time to rest;
Supporting policies MONOPOLY 1 year - Accordingly, after doing if you want to adjust the color or shape you like within XNXX years will be supported Free 100% unlimited number of times;
Dedicated customer care mode - Miss Tram always accompanies you from work, reminding you to check in until you

Absolutely Satisfied

!
PROCESS OF MEN'S EYEBROWS CARRIAGE AT MISS TRAMI
1. Expert in examining and consulting on eyebrow shape
The male eyebrow specialist at Miss Tram directly examines the current eyebrow condition, listens to your wishes, then advises on the right eyebrow frame, suitable color based on the face ratio, the eyebrow frame as well. like your skin color.
2. Draw the eyebrow shape frame
An experienced professional will directly shape your eyebrows according to the communication you have discussed with the Expert. Accordingly, if you need to adjust or change anything, the Specialist will adjust to help you get the most satisfied eyebrow shape.
3. Cleaning eyebrows and numbing
After you are satisfied and agree on the eyebrow shape, you will be cleaned and numbed to be most comfortable during the procedure.
4. Sculpting
The specialist will meticulously sculpt each eyebrow that is intertwined with your real eyebrows. Each finely smoothed eyebrow creates such a natural look that you can hardly distinguish which is the eyebrow that has just been sculpted.
See More Articles:
9D Scary Eyebrow Sculpting Service
Where Should I Fix Wrong Eyebrows?
The Most Beautiful Lip Spray Beauty Salon In Ho Chi Minh City
Cosmetic Tattooing Course at MissTram
Some other pictures of 9D male eyebrow sculpture at Miss Tram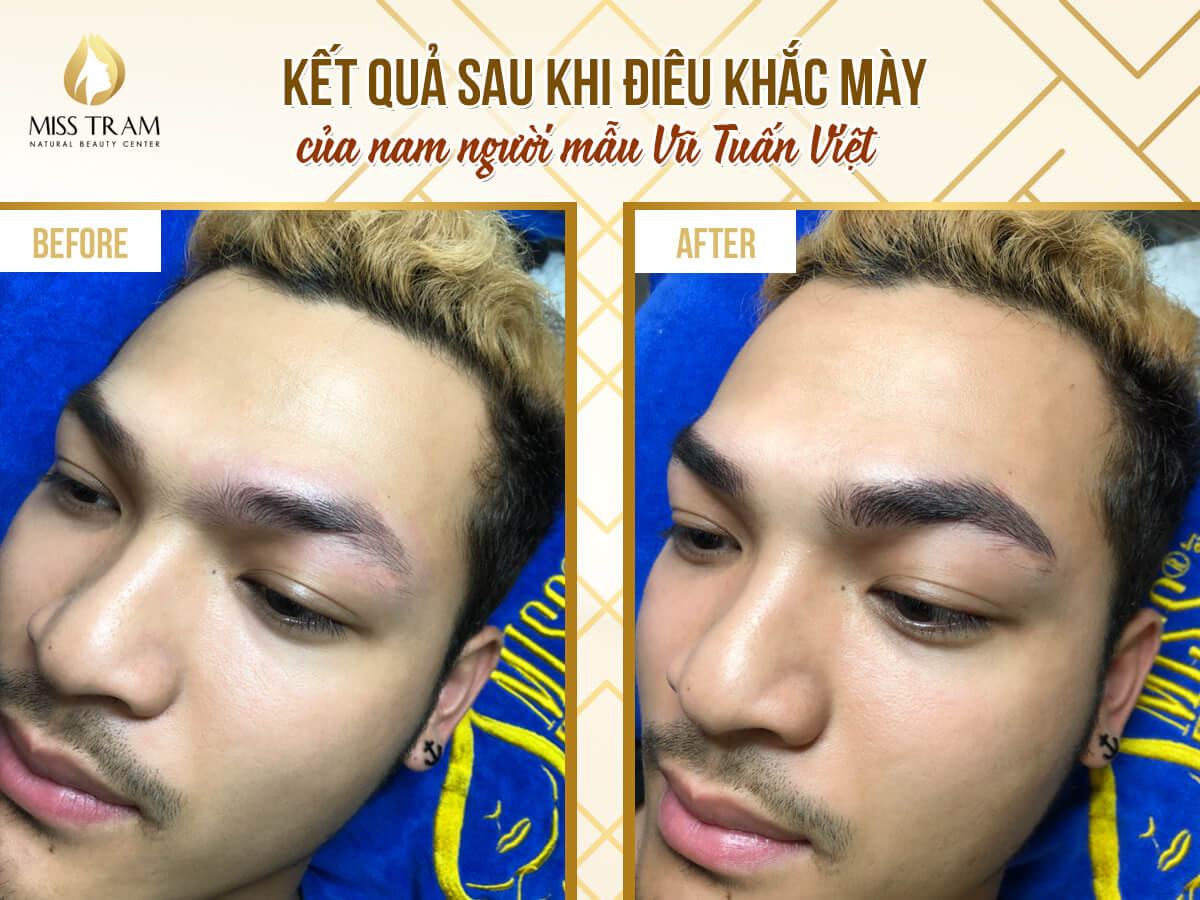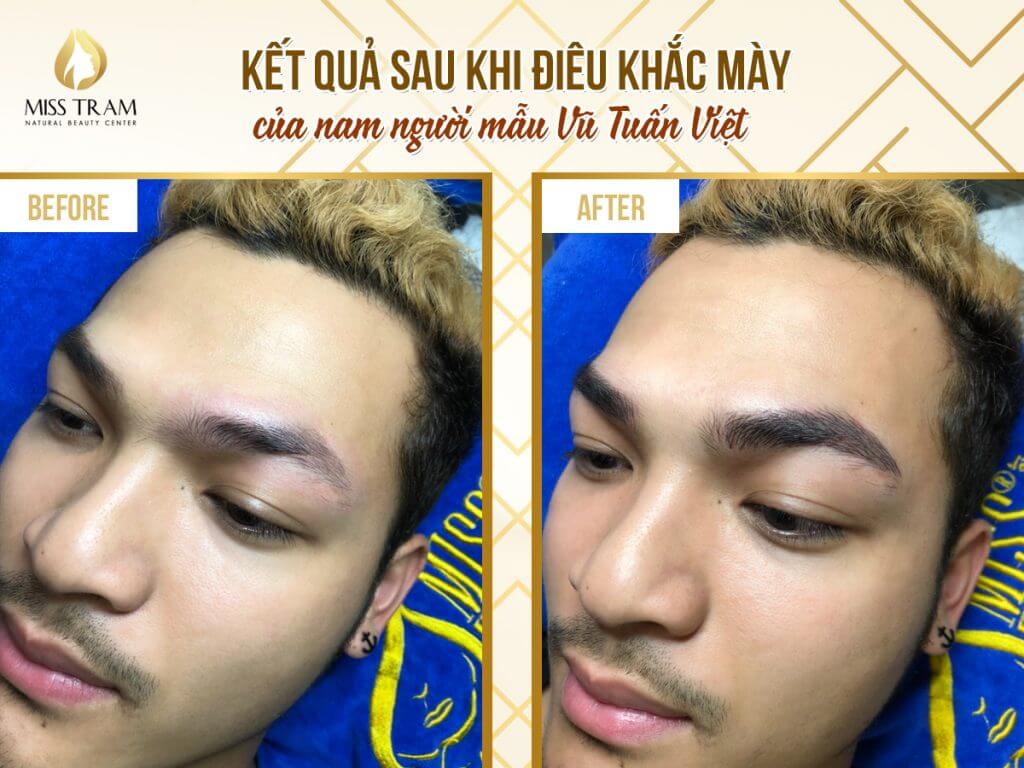 Model Vu Tuan Viet before and after Sculpting eyebrows at Miss Tram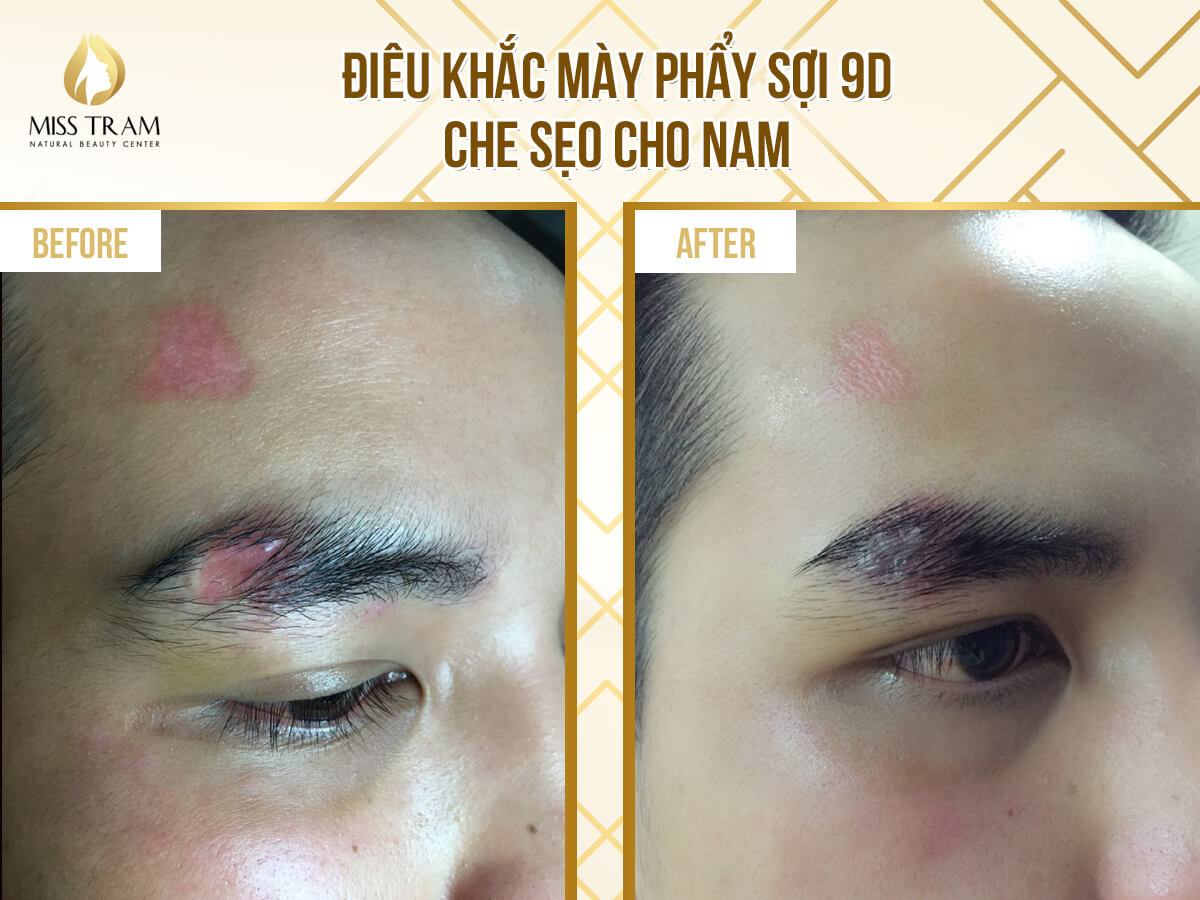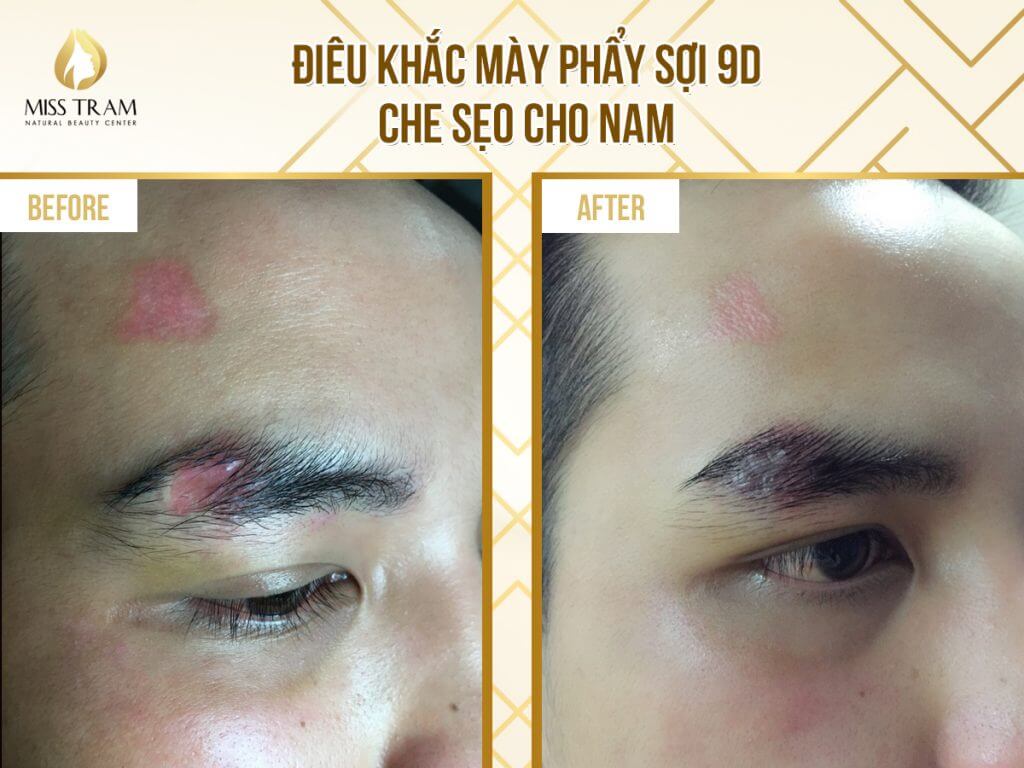 9D sculpting to fix missing or scarred eyebrows
Beauty Institute Miss Tram Proud to be voted as one of the No.1 Prestige - Quality Men's Eyebrow Sculpture Addresses in Ho Chi Minh City. With a team of Experts, Experienced Professionals and constantly cultivating NEW techniques will definitely bring men Natural - Masculine and Brave eyebrows as expected.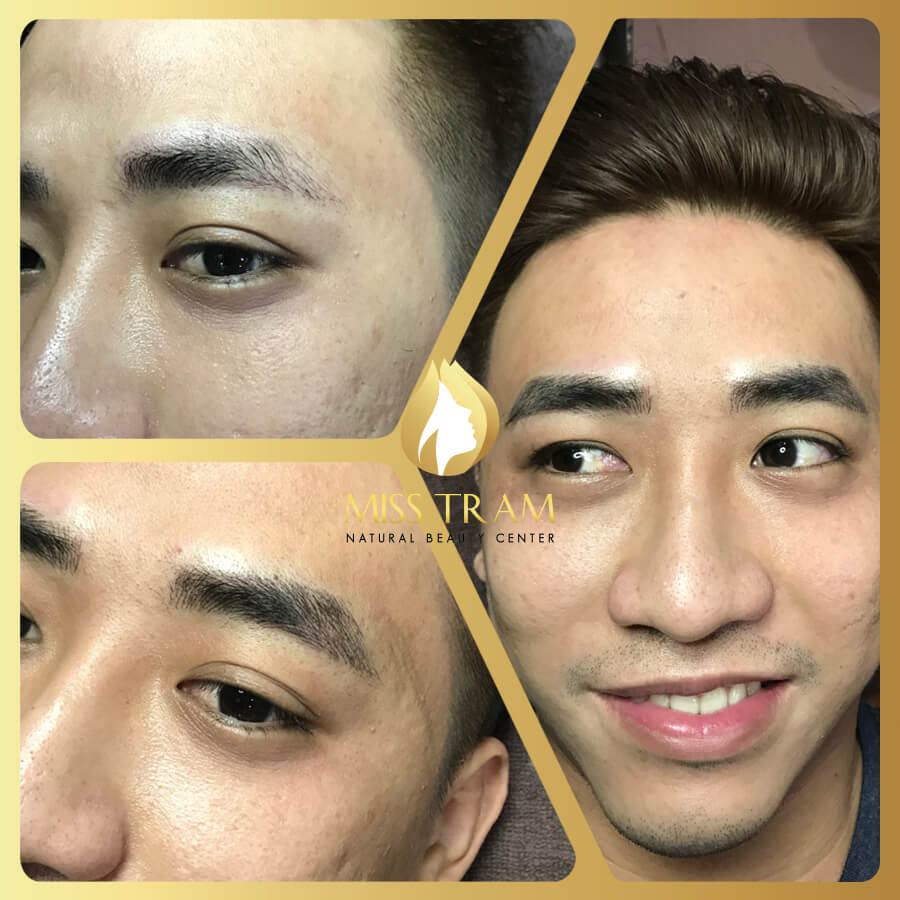 Beauty Salon Miss Tram Beauty Center - For sublimation beauty
Hotline: 1900 7018
Mobile: 0909 783 289 – 093 718 6060
You Have Questions About Click Get Service Contact MissTra
Review Top Skin Care Products