Sculpture of eyebrows It is one of the most popular methods of beautifying eyebrows among women today. Not only that, this is also the perfect choice for men because of the sharpness and naturalness to each eyebrow that this method brings. However, every beauty method has its advantages and disadvantages, and so does eyebrow sculpting.
Many customers also have questions with Miss Tram such as "Does eyebrow sculpture fall off?", "Do eyebrow sculptures have red and blue ink?". So the same Miss Tram - Natural Beauty Center Find out the advantages and disadvantages of this method to answer the above questions.
What Is Eyebrow Sculpture?
Sculpture of eyebrows is a semi-permanent makeup method for the eyebrow area, performed by using a specialized engraving knife with a very small and sharp blade to put tattoo ink into the epidermis of the skin. The technicians will skillfully carve each eyebrow in a predefined shape, alternating with real eyebrows to create the most natural eyebrow.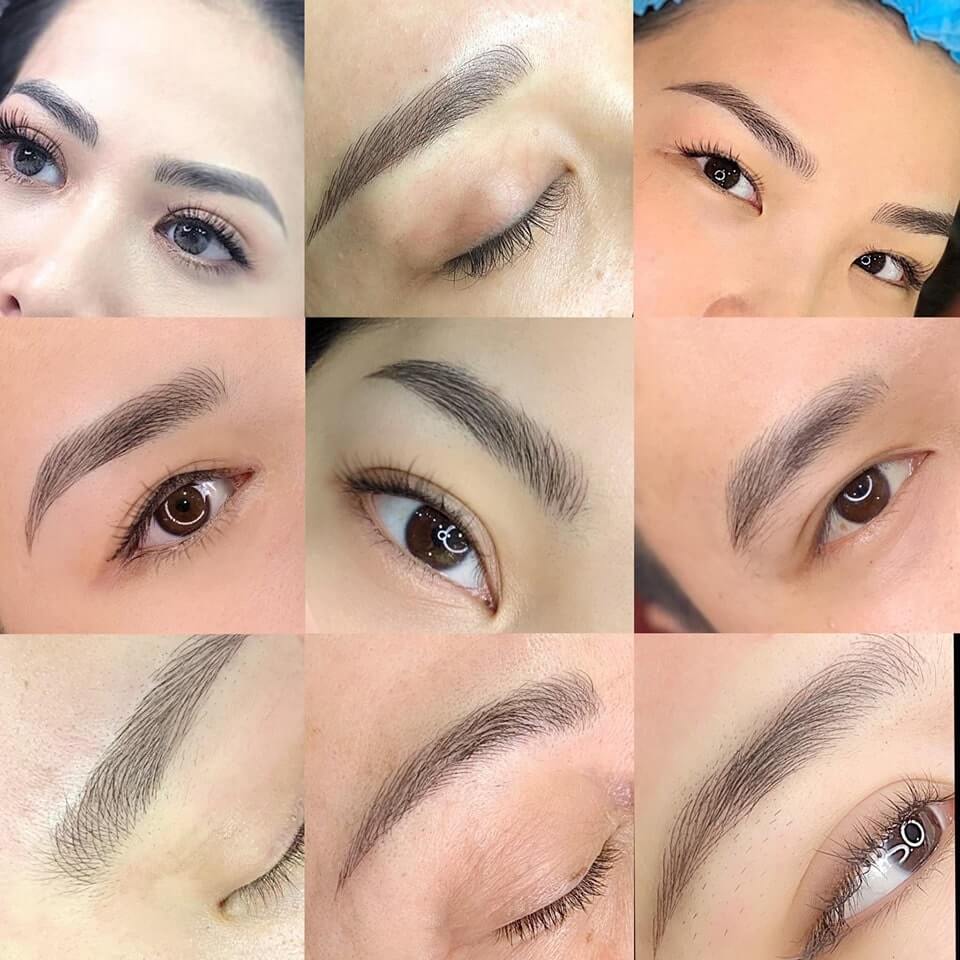 This beauty method is considered a breakthrough in the cosmetic tattoo industry, helping to overcome the disadvantages of eyebrows such as:
The eyebrows are sparse, pale.

The eyebrow tail lacks fibers, has a downward direction.

The shape of the eyebrows is not as expected, not suitable for the face proportions.

Eyebrows are many, but they are untidy and uneven in shape.
Advantages of Eyebrow Sculpting at Miss Tram
1. Create sharp, natural eyebrows
With a team of highly skilled technicians who have aesthetic eyes and are proficient in shaping the golden ratio eyebrows. Therefore, each eyebrow carving is done meticulously, alternating real eyebrows to create the most natural and soft.
2. Suitable for both men and women
Sculpting eyebrows is the method to create the most beautiful natural eyebrows with even, lifelike hairs. Therefore, this method of beautifying eyebrows is suitable for both men and women.
3. Absolute safety guarantee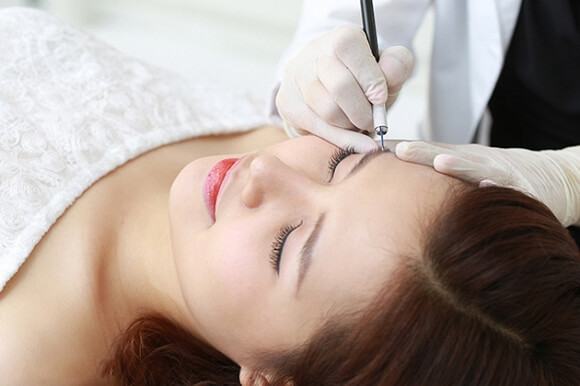 The sculpting process at Miss Tram is carried out in a closed manner, ensuring that the sculpting tools are completely sterilized.
Miss Tram's sculptural ink is all organic ink, is extracted from 100% natural. Therefore, it is safe, non-toxic, non-irritating, absolutely safe for the health of users.
4. No pain, no scars, no downtime
Before performing the eyebrow sculpting method, customers will be numbed in place so that during the procedure, they will not feel any pain or discomfort. Besides, the blade used in sculpture is extremely small and sharp, so it does not cause bleeding, less pain.
Therefore, after the sculpting process, customers can return to their daily activities immediately without taking time to relax, saving maximum time.
5. The result of eyebrow sculpting is durable and stable
Miss Tram uses natural ink material, has strong anti-oxidation ability, so it keeps the color fresh, maintains long-term stability, does not turn red-blue like other inks.
The ink lasts about 2 years after sculpting, then it will fade because it does not affect the epidermis too deeply. Because your face will change over time, this method will help you actively change the shape of your eyebrows to suit each time of your face.
>>> Related posts: Guide to Beautiful Eyebrows & Feng Shui – What is a good feng shui eyebrow? And how to shape and draw eyebrows according to feng shui? Please refer to the article.
Do Real Eyebrows Fall Out After Eyebrow Sculpting?
At Miss Tram, the sculpting process uses specialized knives and modern sculpting techniques, so the thread carving process affects the epidermis, interwoven with real eyebrows. Besides, does not affect nor affect the real eyebrows. So customers are completely assured because real eyebrows will does not fall off or lost after sculpting.
However, with poor quality cosmetic facilities, using tattoo ink If the origin is unknown, the sculpting process is not guaranteed, the tools are not sterile, customers can completely face risks such as: swollen eyebrows, infection, even hair loss. Moreover, sculpting is a difficult beauty technique, so less skilled professionals can sculpt eyebrows or cause irritation and itching due to improper knife force.
Therefore, in order to have the most perfect eyebrow sculpting results, you need to choose a reputable cosmetic facility that guarantees quality ink, modern equipment and a team of highly skilled technicians.
* A note when sculpting eyebrows is: For those of you with oily skin, it is necessary to consider and have the examination and advice of experts. Because oily skin will cause tattoo ink to fly quickly and make it difficult to get a sharp ink color, it may be necessary to reapply several times.
>>> Related posts: Does Eyebrow Sculpture Need Miles – The question that many people interested in eyebrow sculpting want to know. So let's refer to the article to understand better.
So, Miss Tram - Natural Beauty Center shared the advantages and disadvantages as well as answered the questions of most customers about "Does eyebrow sculpture fall off?". This is a current favorite semi-permanent makeup method because of many outstanding advantages. So, do not hesitate to refresh your eyebrows, you will be surprised by the changes it brings. Hope this article will be useful to you, Wish you always have the most perfect eyebrows!
See More About News – Beauty Secrets By Miss Tram - Natural Beauty Center:
Where is Medical Standard Acne Treatment Effective?
Miss Tram Acne Treatment Committed No