Tattoo It is a way to express the personality, style and outlook of many people. However, for many reasons, some people want to remove their tattoos. Have a lot of tattoo removal method are commonly used today, but which method is the most effective and safe? Let's find out more through the following article of Miss Tram - Natural Beauty Center .
Check Out Effective Tattoo Removal Methods
1. Tattoo removal with natural materials
Salt and lemon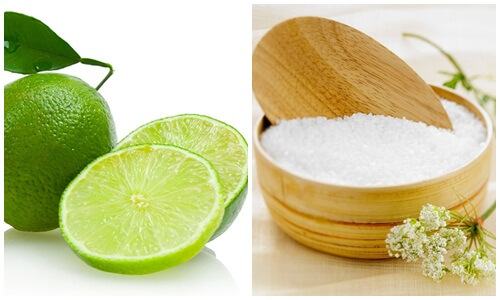 Salt contains a lot of Sodium and Chlorine - which penetrates deep into the skin, helping to break the ink color bonds inside the epidermis. Lemon contains a natural acid component that has antiseptic, anti-inflammatory properties and also works to fade tattoos quickly. These two ingredients when combined will form an effective tattoo removal mixture.
Using:
Step 1: Mix ½ teaspoon of white salt and ½ teaspoon of lemon juice.

Step 2: Gently rub the mixture just created on the tattoo.

Step 3: Leave overnight and wash your face the next morning.
note, you should only use this method with unprocessed pure salt and use once a day for the most effective results.
>>> Related Articles: Theo learning cosmetic tattoo spray difficult or easy? Let's see the shares from the insiders.
Vera
Nha dam is a very familiar beauty ingredient for women. In addition to moisturizing the skin, acne treatmentAloe vera also has an effective tattoo removal effect because of its antiseptic, anti-inflammatory, exfoliating properties and stimulating rapid skin regeneration.
Using:
Step 1: Wash aloe vera, separate the gel.

Step 2: Use aloe vera gel to gently apply to the tattoo area and gently massage for 10 minutes.

Step 3: Rinse with warm water.
Persist in doing this method every day, after a few weeks you will see the tattoo will fade.
Lavender oil
Lavender essential oil is the ingredient recommended by most dermatologists in acne treatment because of its powerful bactericidal and anti-inflammatory properties. Besides, this essential oil also has the effect of removing tattoos effectively if persistently done for a long time.
Using:
Step 1: Put lavender essence on a cotton swab and dab it on the tattoo.

Step 2: Gently massage these skin areas for 3 minutes and leave for 20 minutes.

Step 3: Rinse with cool water.
This method you should use 2 times a day and remember to choose pure essential oils, of origin to bring the most effectiveness.
2. Remove tattoo with tattoo removal cream
Currently on the market there are many tattoo removal creams that are advertised as effective, fast and safe tattoo removal. With a commitment to 100% natural ingredients, when absorbed into the skin, these ingredients will stimulate cells to produce more. collagen Keeps skin healthy, soft and smooth. All tattoo ink pigments are broken down into small pieces and eliminated naturally by the lymphatic system.
However, with many recommendations from customers who have used tattoo removal creams, you SHOULD NOT use these products because the consequences are great but the effect is not very satisfactory.
The reason is that tattoo ink is inserted very deep into the dermis, but the effect of topical creams only stops on the skin and blurs the tattoo ink outside, but not deep inside. Not to mention, tattoo removal products are widely sold on the market, of unknown origin, making it easy for users to buy poor quality products, causing great damage to the skin.
3. Temporary tattoo concealer
There are many types of temporary tattoo covering creams on the market that many young people love and choose. Here's how to remove a temporary tattoo and give it an effect like never before in just a few minutes:
Step 1: Clean and dry the tattooed skin to avoid dirt sticking.

Step 2: Apply a layer of cream to the tattoo, apply evenly so that the cream covers the tattoo and is the same color as the skin.

Step 3: Use powder (included with the product) to spread evenly to ensure that the cream is the same color as the skin.
With the advantage of waterproofing, stick to the skin and can cover up to 24 hours. This temporary tattoo cover is the most commonly used method today.
Laser Yag is an advanced tattoo removal technology, rated top in the US and Germany. In particular, this technology is also certified by the FDA for its effectiveness and safety when used on the human body. During the irradiation process, the tattoo ink accumulated under the skin will be absorbed, broken the color bond and then peeled off into tiny particles and gradually eliminated according to the body's natural elimination mechanism.
With a very small heat effect, non-invasive as well as no burning sensation, Laser Yag provides up to 95% tattoo removal efficiency without any adverse effects on the skin.
Currently, Miss Tram has been promptly transferred Laser Yag . technology and successful tattoo removal for many customers. In addition, with spacious facilities, modern equipment and machinery, meeting the standards of health agencies and a team of professional technicians, Miss Tram confidently commits to bringing high tattoo removal efficiency. with each customer.
So, Miss Tram - Natural Beauty Center shared the most popular tattoo removal methods today. Each method has its own advantages and disadvantages, you should learn and choose for yourself the safest and most suitable tattoo removal method. Hope this article is useful to you. Good luck with your tattoo removal! (Refer Safest tattoo removal technology Currently applied by many reputable beauty addresses).
See More About News – Beauty Secrets By Miss Tram - Natural Beauty Center:
Harmful Mistakes That Make Skin Aging Fast
Effective Mole Removal Methods