Look at the couple eyebrow, you can tell if it's bad or beautiful eyebrows. Thanks to features such as beautiful eyebrow shape and suitable for the face, the eyebrow hairs grow long and evenly. In anthropology, looking at the eyebrow shape can also predict the personality and destiny of the client. So, these eyebrow shape Which is considered good? Let's take a look at the eyebrow shape has a rich general through the next post of Miss Tram - Natural Beauty Center ok
Check Out The Eyebrow Shapes With General Phu Quy
1. Men's eyebrow shapes have rich generals
Dragon Eyebrows
Dragon-shaped eyebrows are a favorite eyebrow shape for men, this eyebrow style has the following characteristics:
Thick and long eyebrows.

The top of the eyebrow is thin, the tail of the eyebrow is thick.

The tail of the eyebrow is higher than the tip of the eyebrow.
Men with dragon eyebrows are often very smart, talented and have a lot of luck on the path of career development. In the future, this man general will have many good opportunities to develop his career because he is always supported by noble people.
Regarding family life, this man general is also very happy. The family is full, the parents live a long life and the brothers and sisters in the house are full and prosperous. Therefore, men with dragons belong to the generals of wealth and fortune and have many smooth sailings in life.
>>> Related Articles: Should eyebrow tattoo be done for beauty?? GO to find the most honest answers from leading beauty experts.
Blade Eyebrows
Another rich eyebrow general is the sword-shaped eyebrow shape, the characteristics of this eyebrow style are:
The eyebrows are triangular, both the head and the tail of the eyebrows have a pointed shape, the top of the triangle is high and close to the tail of the eyebrow.

Shaped like the tip of a sword or a knife.

Sharp and neat eyebrows.
Men with this eyebrow general will not be officials in the future, but they will also be bosses and have a rich life. This is a general who values ​​his honor and credibility, is always responsible for life and often helps people around.
In addition, they are also intelligent and well-educated generals, love to explore and often become experts in their field. If they can promote their abilities, sooner or later these men will become good leaders.
Thick and long eyebrows
According to the general, men with thick eyebrows are talented, intellectual, good at communication and very confident. They are always alert to solve all difficult and challenging situations quickly and accurately.
For men with thick and long eyebrows have a friendly and approachable personality. They are always trusted and loved by everyone around them. Therefore, people with this eyebrow shape often have many advantages in life. In the future, their career path also has many opportunities to thrive.
However, the love line of this man's general is quite arduous and thorny. (Read more about eyebrow sculpting method at Miss Tram).
2. Female eyebrow shapes with rich generals
Willow leaf eyebrows
This eyebrow has shape like a willow leaf: stick, slightly curved tail up. In anthropology, this eyebrow general is characteristic of an Asian woman: meek and gentle. This eyebrow general shows that they are gentle, honest, and trustworthy people. Their lives are also peaceful, without much hardship and live a prosperous and happy life with their families.
In predestined relationships, people with willow-shaped eyebrows often have a strong attraction, especially to successful men. And when they get married, they are also loved and spoiled by their husbands and are effective assistants for their husband's career path.
V-shaped eyebrows
V-shaped eyebrows are also an eyebrow shape with a rich general. This eyebrow general shows that you are an intelligent, rational woman who is always in control of her thoughts and actions.
These women are fortunate to be born into well-off families and are very warm and harmonious. At work, they are very responsible, always trying to complete the job well, so their career path is also very open.
The love life of these women is also very smooth, they have a happy, peaceful and rich family life.
Long and even eyebrows
Long and even eyebrows are also one of the good general features. This eyebrow general shows that you are a woman with a cheerful, sociable and loving personality. They are also smart people, quick in communication and behavior. Therefore, these women seem to be favored over many people on the career path.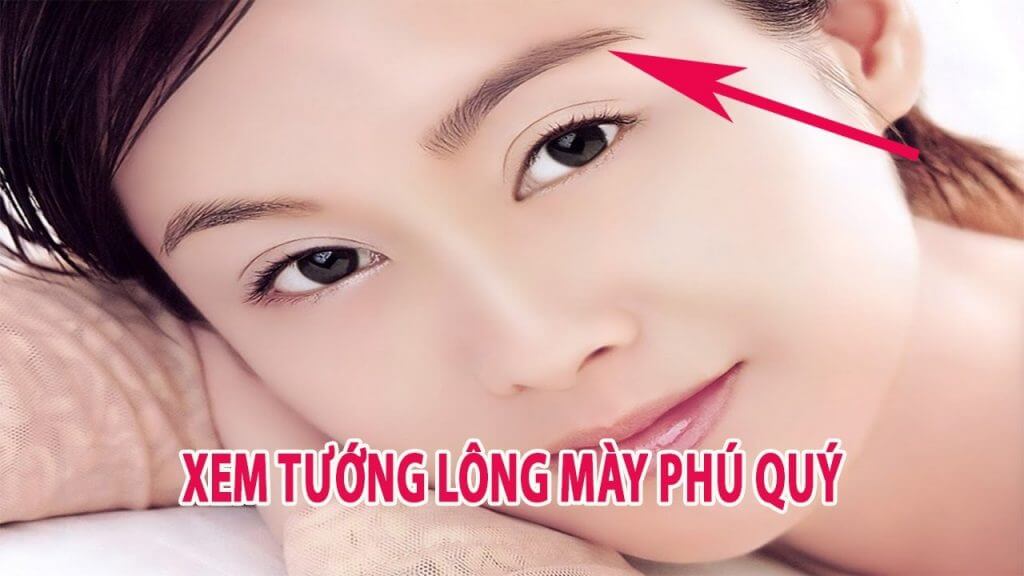 Although this general has gone through many difficulties, in the end, he still has a happy and prosperous life. People with long and even eyebrows are also very attractive and often have advantages in love affairs.
Above are the Eyebrows with rich generals of men and women. In addition to a beautiful eyebrow shape, these eyebrow styles also speak of good fortune in the future in terms of life as well as career. Let's see if your eyebrows belong to the above eyebrow shapes. Miss Tram - Natural Beauty Center Wish you have the perfect eyebrows! (Tutorial How to draw eyebrows that suit your face most shared from leading estheticians).
See More About News – Beauty Secrets By Miss Tram - Natural Beauty Center:
Guide to Beautiful And Feng Shui Eyebrows
Hollywood Stars Prove: Changing Your Shape Is Changing Your Appearance