MISS TRAM NATURAL BEAUTY CENTER
Tattoos are one of the most popular trends today. Tattoos not only show a strong style, full of personality but also a passion of many people. However, for some reason, there will come a time when we want to remove the current tattoo.
And it is not easy when tattoo ink penetrates deep into the skin, if using conventional laser burning methods, you can only partially fade the ink color, even if you are not careful, you will suffer a lot of damage (burning pain, burning pain, etc.) patchy ink color, ugly scars,…).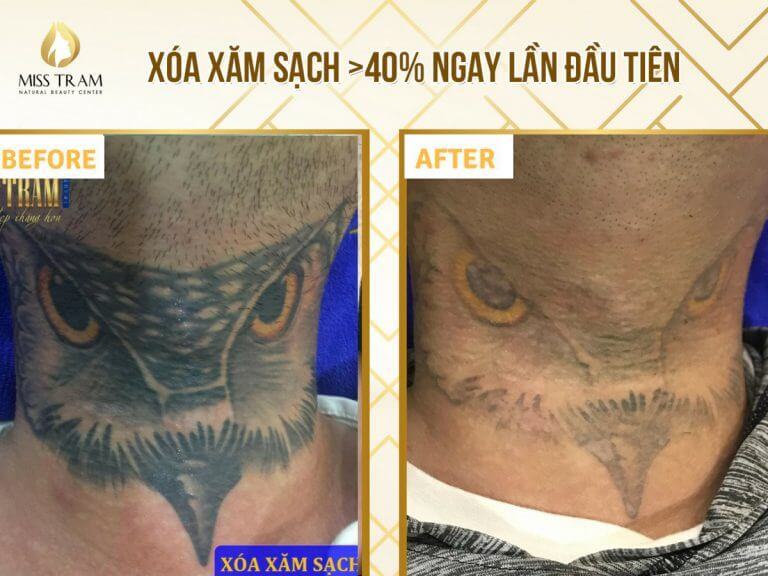 Sign Up for a Consultation Now
YOU SHOULD BE CONFIDENTLY SHOWING YOUR PERSONALITY – WHEN DELETE IMAGES FOR MISS TRAM
Tattoo removal is not too complicated, but using high laser wavelengths will cause the skin to suffer many negative effects. Understanding this, Miss Tram - Natural Beauty Center promptly transferred Yag Laser technology with the desire to help its customers troubleshoot effectively.
Laser Yag is an advanced tattoo removal technology, rated top in the US and Germany. In particular, this technology is also approved by the FDA (US Food and Drug Administration) for effectiveness and safety when used on the human body.
With lasers with wavelengths of 1064nm and 532nm, Yag technology will form a dual impact on the skin to be treated.
During the irradiation process, the pigments (tattoo ink) accumulated under the skin will be absorbed, break the color bonds and then dissected into tiny particles and gradually eliminated according to the body's natural elimination mechanism. The Yag laser has a very small amount of heat, which is non-invasive and does not create a burning sensation.
After many serious studies and tests, medical experts have recognized the safety of Laser Yag on both thin skin and people with weak muscles.
Sign Up for a Consultation Now
HOW DOES LASER YAG BE EFFICIENT?
Unlike conventional laser projection methods, Yag technology offers outstanding results, high safety:
Only absorb tattoo ink, erase all tattoo colors even the most difficult (red, black, green, blue)

The beam has moderate heat, the process is gentle and painless

Up to 95% tattoo removal efficiency

The tattooed area recovers quickly, leaving no ugly scars
If you want to remove tattoos effectively, without pain and without leaving scars, Miss Tram will be the perfect choice. Not only applying the world's leading advanced technology, Miss Tram also has many outstanding advantages:
More than 15 years of experience in the industry

Is a brand that is guaranteed for prestige and quality

Gathering experienced, knowledgeable experts and dedicated and enthusiastic staff

Spacious facilities, modern equipment and machinery, meeting the standards of health agencies

Professional process, dedicated in every smallest step

Quick execution time
Now with Yag laser technology and Miss Tram's professional techniques - Natural Beauty Center, you can freely pursue your interests, experience a variety of artistic senses with unique tattoos.
To better understand the technology of tattoo removal without scars, as well as to hear experts advise on the right solution for your current situation, quickly contact Miss Tram at the following hotline:
Miss Tram Beauty Center – For sublimated beauty
Hotline: 1900 7018
Working time: 9H00 - 18h00 (All days of the week)