Acne scars is considered as one of the difficult diseases to treat, it is necessary to combine machines and cosmetics in the new regimen to bring high results. Therefore, not all Spas have quality procedures and treatments.
If you are in 8 District and need one address to treat pitted scars If you are a professional, follow the article Top Best Places to Treat Pimples and Acne Scars in District 8 below. It will definitely give you the information you need.
Address to Treat Acne Scars UY Tin District 8 HCM
1
An Tay Spa
Owning high quality and professional acne scar treatment service, An Tay Spa Many customers trust in the treatment and care of skin diseases.
To thing pitted scar treatment acne, spa applies non-metallic micropoint technology, an advanced method in pitted scar treatment and regulate pores, help stimulate cells and regenerate skin.
Coming to An Tay Spa, customers will be taken care of by a team of highly qualified, professional and technical professionals. There are often great promotions for women who love beauty to experience at an affordable cost.
Contact information:
Address: 15N Nguyen Thi Tan, Ward 2, District 8, City. HCM.

Hotline: 0987 132 321.
2
Amoon Spa & Clinic
Owning many highly skilled professionals, combined with modern machinery, Amoon Spa & Clinic has helped many customers get rid of acne scars to be more confident with life.
Here, all services are performed according to the process. To develop a specific treatment regimen, Amoon conducts skin examination, examination and advice on the most suitable method for the client's skin.
The method of using acne scar treatment that spa is applying is non-metallic micropoint and IPL Pro. However, with these technologies, patients need to be patient to follow the regimen to bring high efficiency.
Contact information:
Address: 874C Ta Quang Buu, Ward 5, District 8, City. HCM.

Hotline: 0986 650 299.
3
Nhi Beauty Spa
The size of the area is not large, but with professionalism and good service, Nhi Beauty Spa still trusted by many customers. The most prominent service at the spa is the treatment of acne scars with modern technologies such as non-metallic micropoints, Cold Plasma, etc. These are all advanced methods, bringing high efficiency in skin treatment.
Nhi Beauty Spa is committed to have a treatment regimen for each skin type, not re-concave after the treatment period. All services are performed by a team of highly qualified and responsible professionals.
Contact information:
Address: 61 Ta Quang Buu, Ward 4, District 8, City. HCM.

Hotline: 0983 211 931.
4
Viet Nhat Spa
Viet Nhat Spa is one of the famous addresses in the treatment of acne scars by CO2 laser method with the following advantages:
Effective directly with the technique of removing the bottom of the scar, helping the skin to fill and heal the scar.

Fast time.

Only one time, the efficiency is up to 1%.

The method meets FDA standards and is absolutely safe for users.
All medical examinations at Viet Nhat Spa are subjected to dermatoscopy to create a specific treatment regimen, which is performed under the "magic" hands of a team of highly skilled doctors and specialists. In addition to CO2 Laser, Viet Nhat Spa also applies many modern technologies with advanced machines, helping customers get rid of the obsessions of pitted scars, acne, melasma, freckles, ...
Contact information:
Address: 994 Ta Quang Buu, Ward 5, District 8, City. HCM.

Hotline: 0988 498 923.
5
Quynh Nhu Facial Spa Skin Care
As an address specializing in "repair" and medical-standard facial care, Quynh Nhu Facial Spa Skin Care Many customers choose because of its professionalism.
Every skin problem, especially pitted scars, Quynh Nhu Facial Spa Skin Care focuses on finding out the cause to treat the root. Here, all modern machines for dermatoscopy, treatment and treatment are equipped and updated continuously.
The acne and pitted scar treatment service is planned by experts, using specialized machinery and cosmetics to return the "freshness" and smoothness to the customer's skin.
In the course of skin treatment, spa applies methods of micro-matric, laser waves, biological tissue cells, ... to help the skin be stimulated and regenerated naturally.
Contact information:
Address: 15 Nguyen Duy Duong, Ward 5, District 8, City. HCM.

Hotline: 0772 977 379.
6
Venus Spa
Bringing together a team of highly qualified and skilled doctors and technicians with modern equipment and technology, Venus Spa Currently, it is one of the top spas in District 8 with advanced beauty methods, speeding up the effectiveness of treatment and skin care, especially the problem of pitted acne scars.
The treatment will stimulate cells, create fake wounds to promote the natural healing process of the skin; at the same time focus on deeply nourishing nutrients for the skin to recover quickly and healthily. Therefore, the methods used to treat acne scars at the spa are extremely safe and effective at the root.
Coming to Venus Spa, the spacious and extremely relaxing space will help you have the most comfortable and secure treatment sessions possible.
Contact information:
Address: 11 Quan Trong Linh, Ward 7, District 8, City. HCM.

Hotline: 0772 977 379.
7
Kim Ngan Spa
Owning a small spa space but delicately decorated, neat and comfortable, Kim Ngan Spa loved and frequented by women for their professional and highly effective beauty services.
For acne scar treatment, Kim Ngan spa uses SRM technology to apply needle roller, laser treatment, cell dissection and direct serum essence implantation. Up to now, Kim Ngan Spa has treated hundreds of cases of severe acne scars, returning healthy and beautiful skin to customers.
The service of treating acne scars needs a long process, but the cost of treatment at Kim Ngan spa is also very suitable and competitive.
Contact Info
Address: 30 Street No. 3, Ward 5, District 8, City. HCM.

Hotline: 0382 508 159.
8
Miss Tram - Natural Beauty Center: Quality, Prestigious & Professional Spa Specializing in Acne Scars Treatment
As a famous address in HCM in skin care and treatment, Miss Tram VietNam has returned rosy, smooth and healthy skin to hundreds of thousands of customers.
Therapy acne scar treatment At the spa is built and adjusted for each case, but all are dermatoscopy, skin condition analysis and then a treatment plan.
To handle the problem of skin with pitted acne scars, Miss Tram will flexibly apply methods such as non-metallic, fractional CO2 laser, scar bottom removal, etc., with specialized treatment products to restore - regenerate the skin. be most effective.
The application of the above methods, Miss Tram has brought many results to customers. Let's refer to the cases acne scar treatment Made at the spa: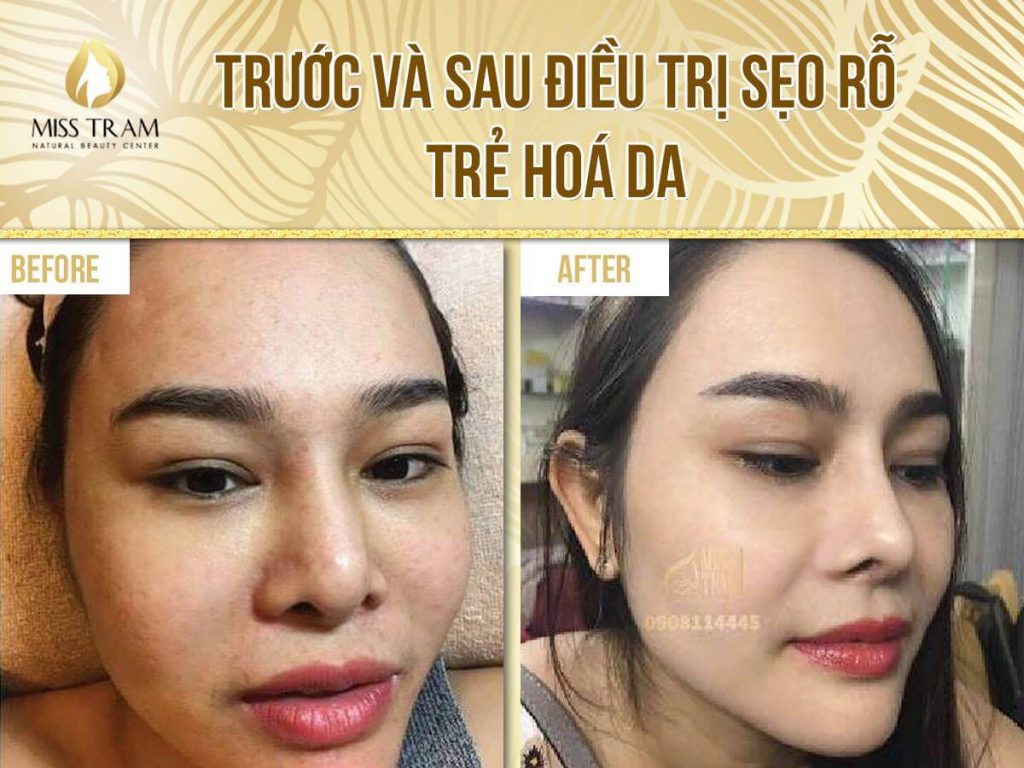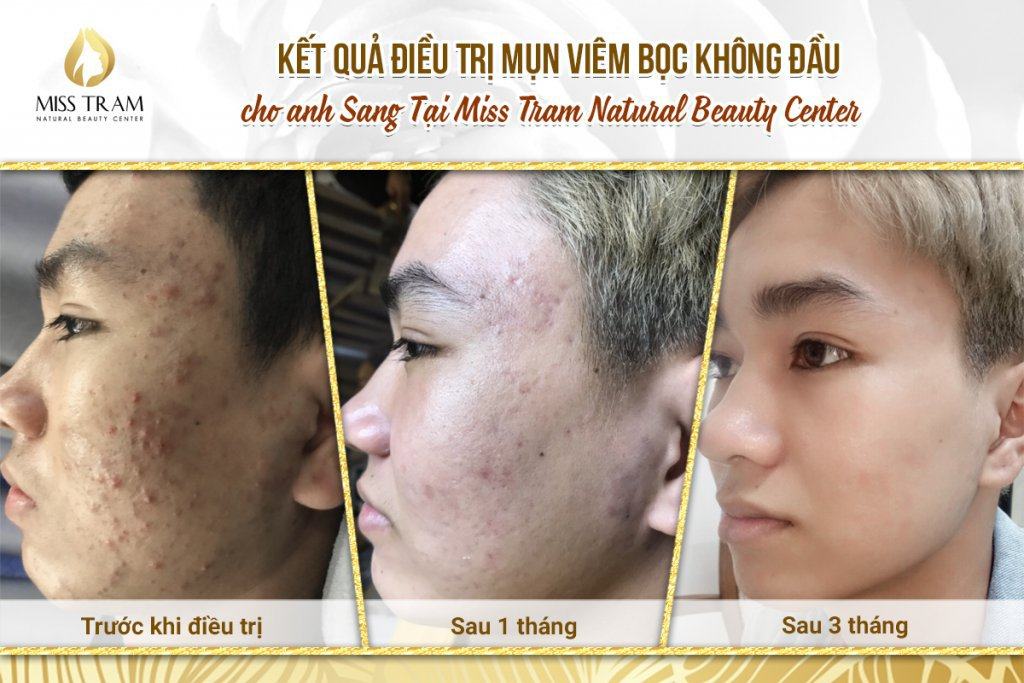 Out acne scar treatment, Miss Tram also has many services about acne treatment, Spray cosmetic tattooing, waxxing, make nipples pink... with cost commensurate with quality.
Choosing beauty services at Miss Tram, customers receive:
Guaranteed to be effective if done correctly.

Apply many modern technologies in treatment and care.

All services are performed according to standard procedures.

Use quality, genuine and clearly sourced cosmetics.

Performed by highly skilled and professional technicians.
Through the article Top Best Places to Treat Pimples and Acne Scars in District 8, Miss Tram VietNam Hope the information we send to you will be useful to you. Any problems that need to be answered by Miss Tram, please contact Contact the hotline number for specific advice.
Hope you have a good skin soon.