Acne scars It is not only the obsession of women but also the insecurity of men. This is a problem that seriously affects both appearance and spirit, gradually giving rise to low self-esteem for the owners.
Status acne-scarred skin It requires the intervention of machines, performed by experienced experts and technicians and following a new process to bring effective results.
If you are in 10 District And want to find an effective acne scar treatment facility? Together Miss Tram VietNam Generality Top Best Places to Treat Pimples and Acne Scars in District 10, will definitely be useful to you.
Skin Condition When Acne Scars
Acne scars is a skin condition after having acne, untreated or improperly treated, causing surface damage, forming ugly, concave pits that cause aesthetic loss.
The nature of acne scars is due to a lack of proteins and collagen. Currently, topical products or functional foods that treat pitted scars, even if they are used diligently, are still difficult to bring about high efficiency. Skin with pitted acne scars requires mechanical intervention, combined with external application to bring results.
Prestige Acne Scar Treatment Address, District 10, HCM
1
Dermatology Clinic Doctor Acnes
Doctor Acnes dermatology clinic was founded by a group of dermatologists, specializing in thorough research on pitted scars and acne, improving the skin so that people with pitted scars are more confident with life.
A special feature of Doctor Acnes is that the treatment process complies with all control guidelines of the Ministry of Health, avoiding cross-infection for customers. At the same time, all equipment of the clinic is disinfected and disinfected by 100% machines.
Currently, the clinic not only owns a team of highly qualified and experienced doctors and nurses in treating acne scars, but also applies advanced and modern machines in examination and treatment. .
The cosmetic drugs used in the treatment are also those of clear origin and prescribed. The cost of acne scar treatment is not small, but at Doctor Acnes, it is evaluated quite competitively, in line with service quality and efficiency.
Contact information:
Address: 283/34 Cach Mang Thang Tam, Ward 12, District 10, City. HCM.

Hotline: 0708 380 878.
2
Dong A Cosmetic Hospital
As a famous address that brings good results to thousands of acne scars, Dong A Cosmetic Hospital trusted by many clients.
All services of Dong A Aesthetic Hospital are strictly follow the process and performed, there is a contract that obliges the customer to follow the procedure for the best results.
Benefits of using services at Dong A Aesthetic Hospital:
Using many advanced technology to treat pitted scars such as Matric micropoints, Laser waves, biological tissue cells, ...

Use cosmetics that are safe for health.

Improve skin according to the right schedule, without incurring costs.

There is a personal doctor to examine and monitor throughout the treatment process.

Guaranteed refund if there are no results after the treatment.
Contact information:
Address: No. 69A, 3/2 Street, District 10, City. HCM.

Hotline: 1900 6499.
3
Beauty salon – Spa – Clinic Thu Cuc
Beauty salon – Spa – Clinic Thu Cuc must have been familiar with the people of Saigon for the level of professionalism and dedicated service. Here, we have successfully treated thousands of moderate to severe acne scars, returning confidence and radiance to each customer.
Every customer who comes to Thu Cuc receives advice from leading experts in health and beauty care, uses modern advanced services at extremely affordable prices.
The methods that Thu Cuc is implementing to treat pitted acne scars include:
Bio Scare treats concave scars.

Cut keloid scars.

Treatment of 3D microscopic keloid scars.
Customers use 1 of 3 methods to apply Chemical Peeling service to remove dark spots, return skin rosy and healthy.
Thu Cuc's big plus point is that it owns a system of modern and large-scale facilities in addition to the dedicated and highly qualified human resources of doctors and technicians. Thanks to that, customers coming here have more confidence and comfort in treatment.
Contact information:
Address: No. 55A, 3/2 Street, Ward 11, District 10, City. HCM.

Hotline: 1900 1920.
4
Ngoc Dung Beauty Salon
Ngoc Dung Beauty Salon Currently being one of the beauty salons that successfully apply 1-in-2 scar treatment, helping customers get rid of the obsession of acne scars.
The scar treatment process is highly effective thanks to direct laser treatment, specifically:
TCA laser energy directly burns the scar tissue so that the cells are destroyed and revived.

The surface keratinocytes are released by RS Laser light radiation, preventing the formation of pitting on the surface.
Using 2 methods at the same time helps to stimulate soft, smooth cells, enhance collagen synthesis so that cells are fully supplied with nutrients when forming. Fill in the previous damage so that the skin surface is "flat."
Each treatment regimen at Ngoc Dung will have staff closely reminding and monitoring so that customers can feel secure during the treatment process.
Contact information:
Address: 32 – 34 – 36 3/2 Street, Ward 12, District 10, City. HCM.

Hotline: 1800 6377.
5
Ula Beauty Salon
Ula cosmetic hospital is a large-scale system, developed in many provinces and cities across the country. Currently, Ula owns many effective acne scar treatment technologies topping the list in District 10.
When customers come to Ula cosmetic hospital, they will be examined, examined and consulted by a team of medical professionals. Modern methods performed in the treatment of acne scars include: Laser fractional CO2, scar bottom removal with Nokor technology, Cross TCA, etc.
The cosmetics used are also those of clear origin, originating from Europe. In particular, customers will be signed a treatment contract to ensure that they follow the set course, do not arbitrarily use products other than the doctor's prescription.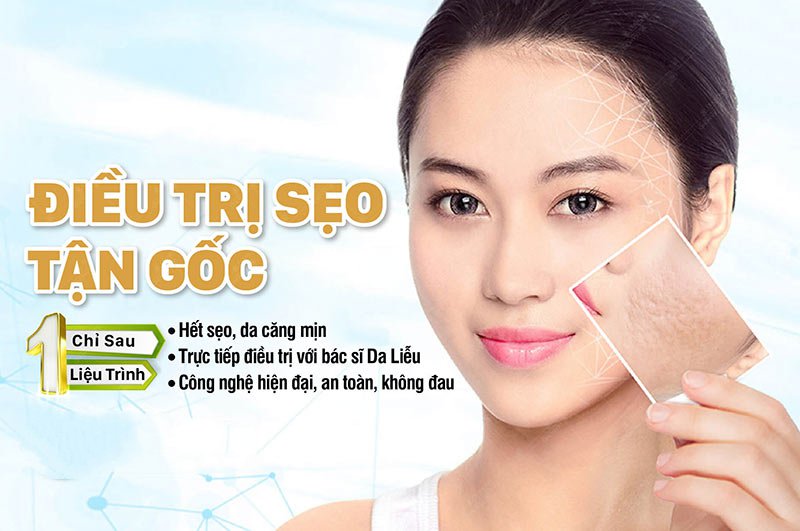 Contact information:
Address: 449/33 Su Van Hanh, Ward 12, District 10, City. HCM.

Hotline: 0944 255 226.
6
Doctor Scar Dermatology Clinic
Building a brand with the motto Safety first, Doctor Scar dermatology clinic This is the address to visit once if you need to treat acne scars. Here, modern and advanced machinery technologies are updated continuously and regularly, serving the treatment process to achieve the best possible results.
The clinic gathers a team of highly qualified medical professionals who participate in regular knowledge improvement courses. The techniques used in the treatment of acne scars at Doctor Scar are mostly proprietary techniques, so the cost is a bit high, but the effect is satisfactory.
When customers come to the clinic to treat pitted acne scars, they will be examined by a doctor, check their skin condition by machine and advise on methods and costs for customers to choose. Customers can choose different payment methods for their personal needs.
Contact information:
Address: SS1N Hong Linh, Ward 15, District 10, City. HCM.

Hotline: 0976 528 080.
7
Miss Tram - Natural Beauty Center: Quality, Prestigious Spa Specializing in Acne Scars Treatment
As a long-standing beauty salon, with more than 18 years of experience in the field of research and treatment of acne scars. There have been no cases of pitted acne scars that the team of dermatologists and specialists Miss Tram VietNam "give up", on the contrary, brings many satisfactory results for customers.
By many different methods, applying modern technology and high skills, after treating acne scars, customers are committed to achieving:
The skin is rosy, bright and scars disappear.

Increase collagen production, improve aging and deeply moisturize.

The skin becomes healthy and avoids recurrence.
In addition to the effective commitment, the service implementation process at Miss Tram is also highly appreciated by customers by:
Short treatment time, non-invasive, surgical, burning pain.

Many payment support programs, with preferential policies for students.

Guaranteed refund if not successful.

Follow the examination process properly, do not skip the stage.

Tests and dermatoscopy are performed to provide treatment for each skin type.
Refer to some results of acne scar treatment at Miss Tram: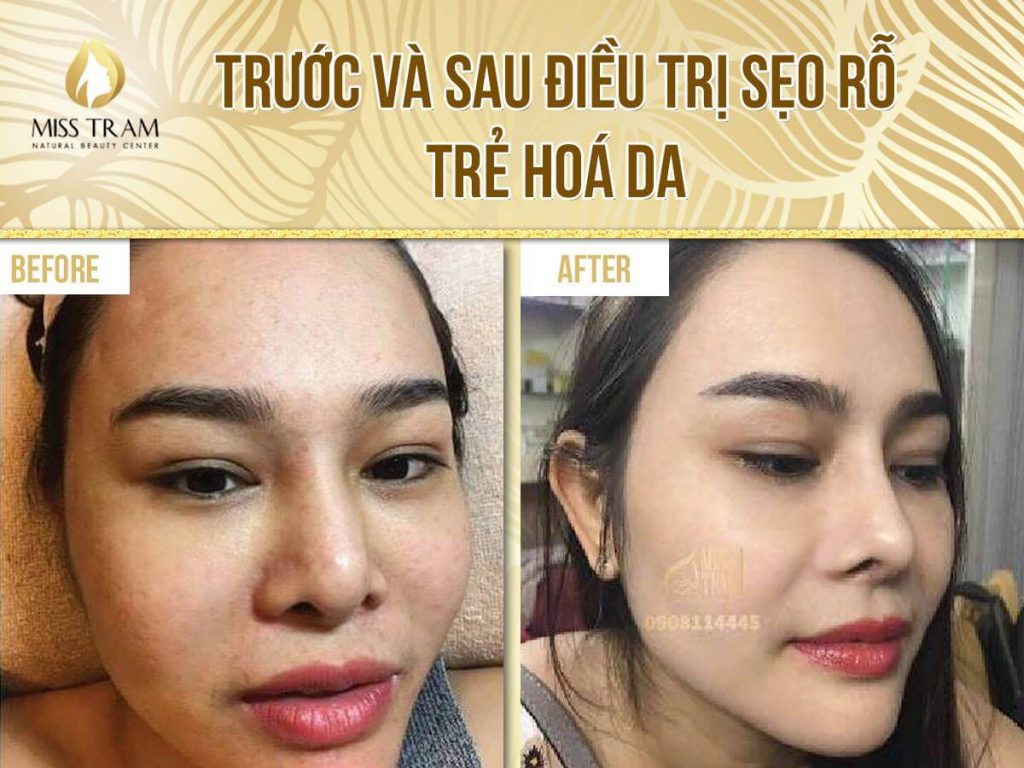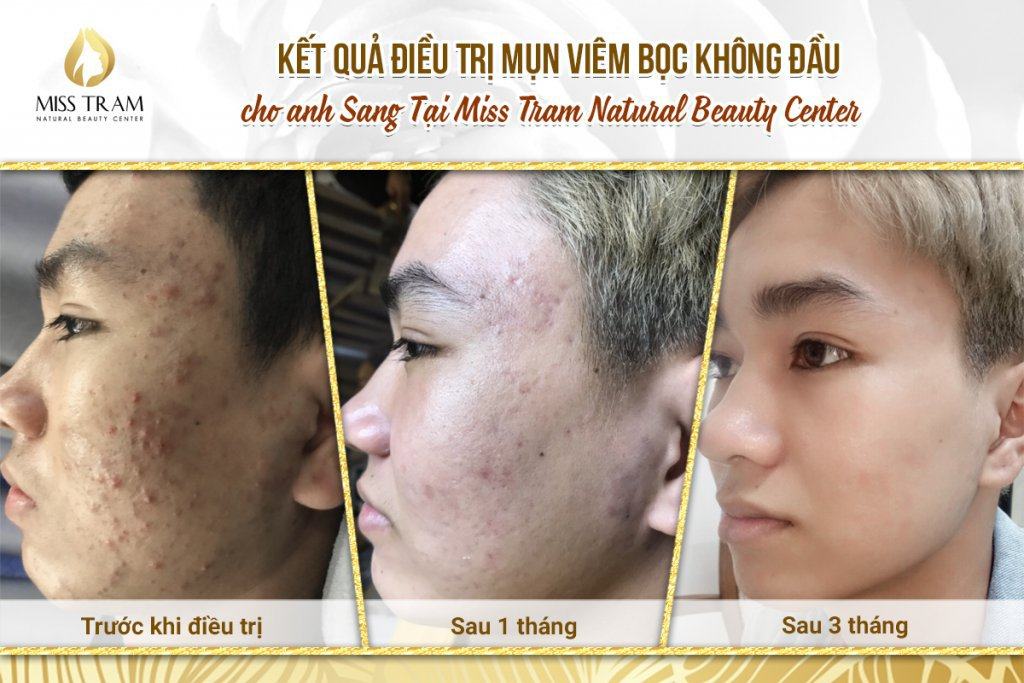 Through the pictures, it can be seen that the treatment of acne scars is a process, so customers should follow the correct course of treatment, do not cut or quit. As such, Spa will not refund, lose costs and do not improve.
Miss Tram currently has the following acne scar treatment services:
Treat pitted scars caused by Acne new and old.

Treat pitted scars caused by burns or chickenpox.

Treat pitted scars caused by blackhead.

Procedures used: Scar Bottom Removal, Fractional CO2 Laser, Non-Needle Stem Cells, ...
In addition to the above services, if customers want to experience the service, Intensive skin care; cosmetic tattoo spray.. or learn a spa job at a competitive cost contact with Miss Tram for specific advice.
Hope the article Top Best Places to Treat Pimples and Acne Scars in District 10 will be useful to readers. Wish you always happy and confident in life.