Thu Duc is one of the cities directly under Ho Chi Minh City, with a dense population and increasing demand for beauty. That's why there are so many skin rejuvenation address here.
However, not all addresses bring the desired effect. To help you choose a place "hold on to youth" Safe, reputable, below are the top skin rejuvenation address in Thu Duc City trusted by many people Miss Tram VietNam would recommend.
Safe and Reputable Skin Rejuvenation Spa/clinic in Thu Duc HCM
1
Bao Han Beauty Spa
If you are looking for a medical-standard skin rejuvenation method Bao Han Beauty Spa is a quality suggestion. This place is equipped with modern machinery and equipment as well as genuine skin care products, ready to bring you the perfect beauty treatment with high quality, quick and long-lasting results.
The spa guarantees that your skin will be smooth, shiny and rosy, and wrinkles will disappear, making your face more youthful thanks to seaweed microneedling treatments, Peeling, etc.
Contact information:
Address: 24 Le Huu Kieu, Binh Trung Tay, City. Thu Duc, HCM
2
Sunshine Beauty Salon
Sunshine Beauty Salon is one of the prestigious, professional, and quality beauty salons in Thu Duc City, Ho Chi Minh. Skin rejuvenation service with nano spirulina implant technology at Nang Mai brings many benefits such as:
Increases collagen and elastin to maintain elasticity and firmness.

Skin is shiny and smooth.

Provides nutrients to nourish bright, white skin.

Eliminates signs of aging, increases moisture.

Helps shrink and tighten pores, improve dry skin, weak skin, dull skin, lack of nutrients.
Contact information:
Address: 535 Do Xuan Hop, Phuoc Long B Ward, District 9, Thu Duc City, HCM
3
Seoul Spa Beauty Salon
Not only famous with more than 50 branches nationwide, Seoul Spa Beauty Salon It is also highly appreciated thanks to its team of well-trained estheticians and modern skin care support equipment system. Seoul Spa imports the highest quality products from developed countries. The skin rejuvenation service with fresh collagen here promises to help customers change their appearance, regenerate and restore new and perfect skin.
Thanks to the infusion of recovery essence collagen broken, the skin will absorb water and lock in moisture deeply, making the skin look softer and firmer.

Slows the skin aging process and prevents wrinkles.

Young skin is healthy and always hydrated.

Contact information:
Address: 314 Vo Van Ngan, Binh Tho, Thu Duc City, HCM
4
An Nhien Spa & Therapy
An Nhien Spa & Therapy is one of the spas in Thu Duc that women often visit to "renew" their beauty and relax their bodies. The services here are very diverse, especially skin rejuvenation essence implant treatments with the following uses:
The skin is deeply purified, becomes healthy and smooth, impurities on the skin are removed.

Rejuvenate the skin and remove wrinkles, melasma and freckles.

Prevents skin aging, improves elasticity.
Contact information:
18 Dang Van Bi, Binh Tho Ward, Thu Duc City, HCM

36 Street 11, Binh Tho Ward, Thu Duc City, HCM

06 Dang Van Bi, Binh Tho Ward, Thu Duc City, HCM
5
Shynh House
Shynh House is a chain of spa & cosmetic systems under Shynh Beauty company - a quite reputable beauty cosmetics brand. Coming here, you will experience exilis ultra 360 skin rejuvenation technology, effectively applied to the face and many other skin areas on the body.
Possessing modern and state-of-the-art equipment, Shynh House is committed to providing quick, safe results and without causing any unwanted effects.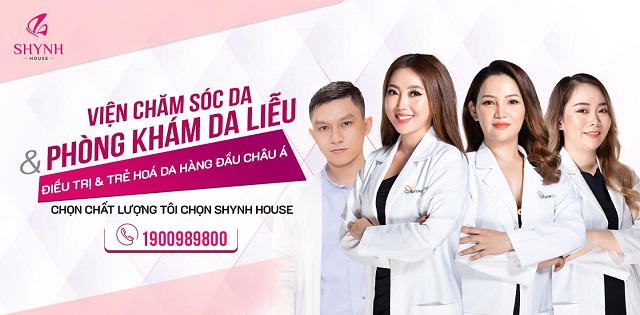 Contact information:
Address: 22 Street 20, Linh Chieu Ward, Thu Duc City, HCM
6
Morning Spa
Morning Spa Outstanding with luxurious, comfortable and relaxing design space; Our team of consultants and technicians are dedicatedly trained and have many years of experience in the beauty field. Here, you can choose skin rejuvenation services such as: Essence implant, skin peel,... with the commitment:
Helps you have shiny, healthy and beautiful skin.

Absorb nutrients and cosmetics effectively.

Beautiful clean skin, prevents acne, improves some skin problems.
Contact information:
Address: 29 Street 2, Quarter 6, Hiep Binh Phuoc Ward, Thu Duc City, HCM
7
LEVA Spa Clinic
At LEVA Spa Clinic, a team of doctors and staff with many years of experience in the beauty industry will bring you the best beauty experiences. With skin rejuvenation services using PRP technology, LEVA Spa Clinic commits to:
The skin is smooth from the inside out and naturally pink and white.

Solve problems of damaged skin and unsightly skin.

Treats and prevents skin aging, wrinkles and sagging.

Treat melasma, concave scars, large pores, acne.
Contact information:
Address: 5 Street 3, Quarter 5, Hiep Binh Phuoc Ward, Thu Duc City, HCM
Miss Tram Dermatology Clinic: Address for Safe, Quality Skin Rejuvenation in Ho Chi Minh City
With more than 20 years of operation and experience in the industry, Miss Tram VietNam We are proud to be trusted by many customers and choose our beauty services. Always putting the interests of customers first, the Miss Tram team constantly researches and updates new technologies and techniques to bring skin care routine – skin treatment most effective for each customer.
Skin rejuvenation treatments at Miss Tram include:
Skin rejuvenation using Filler injection technique: Using active ingredients Juvederm or Teoxane, Dermalax biologically tightens and plumps the skin, improves skin defects, and makes the face more balanced.
Skin rejuvenation using Meso injection technique: Services include MesoTherapy, Meso Whitening, Meso Reju, Meso Booster to help solve skin problems such as skin aging, acne-prone skin, melasma, dark skin, large pores. Moisturizes the skin, making it shiny, even-toned and bright white.
Skin rejuvenation by BAP injection technique: Specializing in injections of BAP Jalupro and BAP Profhilo to ensure safety and no irritation.
Skin rejuvenation with Botox injection technique: Providing Botox Allergan 100 (USA) and Botox Botulax 100 (Korea) injection services to help treat wrinkles, tighten pores, improve smiles, balance facial contours, and smooth skin , plump.
Skin Rejuvenation with Thermage FLX Technology: The CNC Thermage FLX machine uses appropriate wave energy to help your skin become firm and youthful, fade wrinkles and stimulate collagen production effectively.
Skin rejuvenation with HiFu S+ Technology: Stimulates the production of collagen and elastin to help smooth skin and remove wrinkles, while also improving firmness and lifting facial skin.
Skin Rejuvenation with Fractional CO2 Laser: This technique uses standard wavelengths to help improve defects such as: increasing collagen and elastin, helping skin rejuvenate, become tight - bright - smooth, helping to improve dull skin, tighten pores, scabrous.
Some advantages of skin rejuvenation treatments at Miss Tram:
Using modern, advanced technology, highly effective in skin rejuvenation.

Enthusiastic consultation, thorough examination, clear detailed quote.

A team of experienced doctors, specialists, and highly skilled technicians.

The process of performing services always ensures safety and hygiene.

Does not cause any pain and does not leave scars.

Helps improve skin quality after treatment: bright, smooth skin, even color, rosy skin pigmentation, clear skin rejuvenation effect.

Committed to long-term effectiveness, safety for the skin and minimal side effects.
Above is Top 9 reputable skin rejuvenation addresses in Thu Duc HCM that you can refer to. If there is a need skin rejuvenation Then come to Miss Tram, you will be thoroughly advised on the appropriate skin care cycle during the beauty process as well as after treatment. You can be completely assured of Miss Tram's quality and service. Contact Get advice and support now from Miss Tram's care staff.