Filler injection is a beauty method performed by injecting biological fillers into areas that need aesthetics such as lips, cheeks, nose, chin, etc. to shape skin areas, remove wrinkles, and bring balance to the face. . Filler injections are currently chosen by many people because they are quick and highly effective. However, it's not Filler injection service At any beauty facility, it is guaranteed to be safe and not cause complications.
You are learning these Reputable Filler injection address? Let's see the information now Top 9 Guaranteed Reputable Filler Injection Addresses in District 10 in the article below!
Prestigious Filler Injection Address In District 10, HCM
1
Thu Cuc Saigon Beauty Salon
With 25 years of experience in the industry, Thu Cuc Beauty chosen and trusted by many customers. Beauty services here are very diverse, applying many modern technologies and methods, of which Filler injections are the most popular.
Thu Cuc Aesthetics uses the active ingredients Juvederm (France), Apriline, Teoxane (Switzerland), and Restylane Kysse which have been certified to ensure safety and high effectiveness for injections for customers. With a medical-standard injection process, performed by skilled cosmetic specialists, you can rest assured when getting beautified at this facility.
Thu Cuc Saigon Aesthetics – District 10
Contact information:
Address: No. 55A, 3/2 Street, Ward 11, District 10, City. HCM.
2
Sunny Beauty Clinic
Points to attract customers to Sunny Beauty Clinic is a team of doctors who are all members of the Korean Aesthetic Association with high expertise and experience. Modern facilities, Filler with clear origins, careful implementation process, and international standards are the plus points that create a prestigious Filler injection service at Sunny Beauty Clinic.
Contact information:
Address: 553 3/2 Street, District 10, City. HCM.
3
EMCAS Cosmetic Institute
EMCAS Cosmetic Institute It is also a beauty address worth choosing when you need Filler injections and other beauty care services. Coming to EMCAS you will experience the latest technology, with machines imported from Europe and America.
Popular Filler injection services at EMCAS Cosmetic Institute include nose lift, eye corner enlargement, wrinkle removal, etc. Performed by experienced doctors help bring natural, safe beauty results.

EMCAS Cosmetic Institute District 10
Contact information:
Address: 14/27 Hoang Du Khuong, District 10, Ho Chi Minh City.
4
Korean beauty salon
No longer unfamiliar to those who love beauty in District 10, Korean beauty salon made an impression and received much appreciation from a team of professional, highly specialized doctors. Enthusiastic and dedicated consultants in customer care.
The facility provides Filler injection services to plump lips, nose lift, create V-line chin, etc. Filler origin is carefully controlled for quality, Filler injection process is closed, injection tools are sterilized and cleaned. born clean.
Contact information:
Address: 136 To Hien Thanh, District 10, Ho Chi Minh City.
5
RINA Beauty Salon
A variety of beauty services, equipment, modern technology, and friendly working attitude are the points that help RINA Beauty Salon always pleases customers. For Filler injection service at RINA, doctors will perform an examination and suggest appropriate treatment. The facility uses Filler of reputable origin, reasonable price, bringing beauty effects beyond expectations.
Contact information:
Address: No. 22, 3/2 Street, District 10, Ho Chi Minh City.
6
Seoul Center Beauty Salon
Referring to reliable Filler injection addresses in District 10, we cannot ignore them Seoul Center Beauty Salon. Filler injection service here includes all steps from examination, consultation, injection, monitoring, and post-injection care. The fillers used are the active ingredients Dermalax (Korea) and Juvederm (France), which effectively tighten the skin, improve imperfections, and make the face more balanced.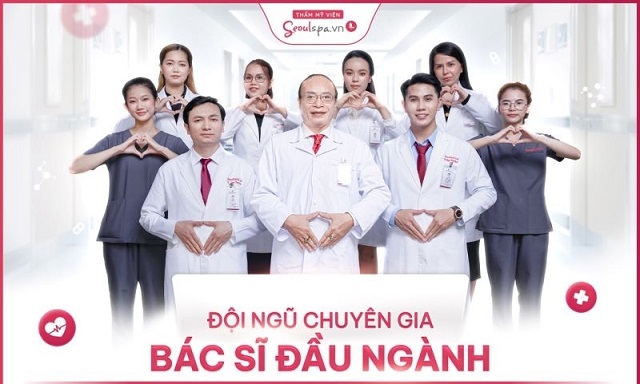 Contact information:
Address: 375 Nguyen Thuong Hien, Ward 11, District 10, Ho Chi Minh City.
7
Hoai Anh Beauty Salon
Hoai Anh Beauty Salon There are many Filler injection services that ensure safety and good effectiveness such as Filler injection to lift the nose straight, remove forehead wrinkles, create a V-line chin, etc. The injection process is carried out by experienced, professionally trained doctors. In-depth knowledge of Filler injection techniques. In addition, Hoai Anh Beauty Salon also has a support policy if injections cause complications for customers.
Contact information:
Address: 237 Ly Thai To, Ward 9, District 10, City. HCM.
Miss Tram Dermatology Clinic: Reputable and Safe Filler Injection Address in City. HCM
More than 20 years working in the beauty industry, Miss Tram Dermatology Clinic Proud to be a beauty address trusted by many customers in the HCM area. The clinic offers a variety of beauty services such as: Intensive skin care, tattoo spray - aesthetic sculpture, Non-invasive beauty.
Experience Filler injection service in Miss Tram VietNam You will be examined and consulted by a team of experienced doctors and technicians before, during and after injection. The active ingredient used for Filler injections is Juvederm from France , and Teoxane – Korean Dermalax. The injection process is carried out professionally and methodically step by step, helping you feel secure and completely satisfied with the results.
Safe and reputable beauty filler injection service at Miss Tram
Advantages of Filler injection service at Miss Tram:
Injection tools are cleaned and disinfected before and during injection to ensure cleanliness and safety.

Inject correct dosage, correct injection technique, quick injection time.

Filler has a clear origin, has a certificate and is inspected to meet quality standards.

Experienced doctors are professionally trained in Filler injection techniques.

Customers are examined and advised on injection treatments appropriate to their needs and skin condition.

Each skin area will undergo an injection process with the appropriate dosage and active ingredients, committed to bringing the best results to customers after the injection process.

Modern environment and invested facilities give customers a professional and comfortable Filler injection service experience.
Information about Top 9 Reputable and Guaranteed Filler Injection Addresses in District 10 provided in this article, hopefully will help you choose a trustworthy beauty facility, helping your beauty become more radiant. If interested in the services at Miss Tram VietNam, contact Now for specific advice!