Besides spraying or sculpting eyebrows, embroidery is also a technique that many people love. Embroidery will shape the hairs intertwined with the real eyebrows. Thanks to that, we will own the most natural, soft eyebrows. This technique is present in every cosmetic center, but note that you should choose a reputable address to ensure the result: beautiful - harmonious and safe.
Advantages of eyebrow embroidery method
Embroidery is a traditional method of creating eyebrows, combined with modern spraying techniques to enhance the shape and bring natural beauty to the eyebrows. At first, many people think it is similar to spraying, but this form is many times more meticulous because it is necessary to use a micro-needle to create each eyebrow woven with real eyebrows.
Currently, there are many types of eyebrow shaping such as:
1. Fence: Used to embroider the tail when the eyebrow head has a lot of hair
2. Bamboo leaves: yarn types are intertwined, pointed V-shaped, top and bottom are equal
3. Herringbone (knitting net): create hairs that cross each other like a fishnet, can form many hairs
4. Scavenging yarn: The yarn lines are not seamless, embroidered in the direction of the available eyebrows, spread the yarn evenly in the middle to create thickness and boldness
Each type of embroidery will bring different beauty and at the same time, each person will have a suitable embroidery pattern. Therefore, when embroidering eyebrows, you need to consult carefully to see which style suits your eyebrow condition best.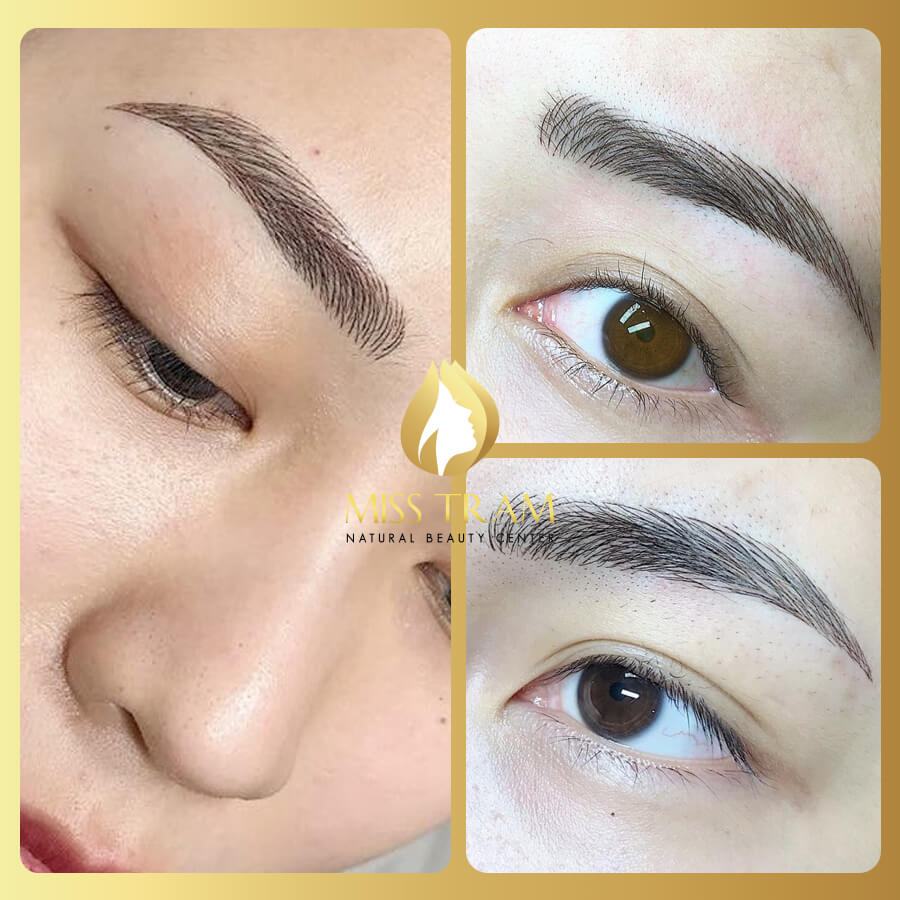 Eyebrow embroidery has the following outstanding advantages:
The small needle only gently affects the epidermis, so it does not cause pain, there is no need to rest after the procedure

Embroidery is suitable for many different eyebrow shapes, especially those with large eyebrows and long fibers

Gentle eyebrow shape, still retains the natural eyebrow color

This method meets the wishes of those who want to own eyebrows with many fibers and clear lines
Although there are many advantages, but if your current eyebrows are too thin and light, you should not apply this method, because the embroidery lines will be difficult to harmonize with the real eyebrows. In addition, the implementation process requires the person in charge to have solid skills, ingenuity to control the needle to go decisively, creating a soft eyebrow shape. On the contrary, it will make the embroidered eyebrows look rough, losing the natural harmony of the overall face.
>>> Related posts: Choose The Right Eyebrow Aesthetic Method for You - Learn the characteristics, advantages and disadvantages of each method of eyebrow beautification today to see which method you will be suitable for.
Where should I embroider eyebrows?
It is not difficult for you to find a center that specializes in eyebrow embroidery, but finding a reputable, beautiful embroidery place makes us confused. Among a series of addresses, you need to find out carefully before deciding to use the service. Eyebrow embroidery affects many factors, not only aesthetics but also a person's character.
Eyebrows are the master of character, deciding a person's destiny, path of fortune and blessing. Therefore, before spraying embroidery, we must define the standard eyebrow shape, both naturally beautiful and creating harmony compared to the overall face. In this way, other defects will be covered and when you look at it, you will see your bright and outstanding temperament.
Note, each face shape will have a suitable eyebrow style, so you should not follow the trend but lose your own beauty. Specifically, the oval face suits most eyebrow styles, the round face is more beautiful when the legs have a high top, the long face suits the horizontal eyebrows, etc.
In addition, choosing a beauty center must pay attention to quality criteria, whether equipment meets safety standards or not. Making eyebrows, making lips must use sharp objects (injectors) to impact the skin, otherwise the device will easily infect many dangerous diseases. Besides, if you choose a place that is committed to being done by highly skilled professionals, you will be beautiful and satisfied when you're done, avoiding having to fix it over and over again.
>>> Related posts: How to Choose the Right Eyebrow Shape for Each Face, Skin Color – Each face, skin color is suitable for different eyebrow shapes, let's find out.
So which address best meets the above criteria?
Perfectly meeting the expectations of a beautiful, natural and harmonious eyebrow by using embroidery spray technology or any other eyebrow aesthetic technique, Miss Tram is the first choice of many people.
Over the past 15 years, Miss Tram has constantly updated the world's most advanced aesthetic technology, improving service quality to bring absolute satisfaction to customers. Miss Tram always upholds the motto of beauty, but it must be natural and harmonious, so customers can confidently give their trust to the Miss Tram team.
The criteria for equipment, facilities, and quality of ink used all meet the strict requirements of the Health agency. Not to mention, Miss Tram experts have all undergone thorough and in-depth training, are capable of mastering techniques, and handle all situations well.
Coming to Miss Tram, the first step will be to discuss with an expert to find the most suitable option for you. Miss Tram always listens, understands the aspirations to best meet the expectations of customers. That's why, everyone who has worked as a friend here appreciates the professionalism, dedicated service and technique of making you."beautiful standard without adjustment". If you want to have perfect eyebrows, please contact Miss Tram for more complete advice.
See More About News – Beauty Secrets By Miss Tram - Natural Beauty Center:
How Natural Eyebrow Embroidery Is Different From Tattoos
Where Beauty and Prestige Lip Cosmetics Are Made