can speak Miss Tram - Natural Beauty Center become one of the "golden addresses" of beauty that many people trust. Thanks to the effective treatment of skin problems with micro-shock technology, combined with the secret of esoteric Eastern medicine that obsession with acne of many of you have disappeared. So how effective is this heirloom method in the process? acne treatment? We invite you to join us Miss Tram Natural Beauty Center find out!
A simple way to treat acne with MICROPRACTIVE TECHNOLOGY combined with SECRETS
1. How seriously does acne affect the skin?
Acne is always the "obsession" of not only the person with acne, but also the worry of the parents. Acne takes away the aesthetic beauty of the face, making you lack confidence when communicating with the engraver or even taking a selfie. This seriously affects your academic performance and life.
With more than 10 years of experience in the beauty industry, Miss Tram has had the opportunity to meet and treat thousands of cases of acne from mild to severe for young people, helping them overcome their inferiority complex and regain their confidence. Confident with acne-free skin. (Refer to tips Prevent acne for sensitive oily skin currently recommended by experts).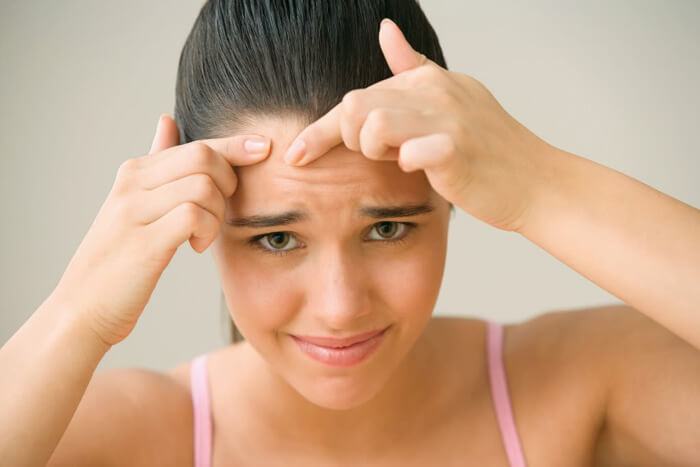 2. Beat acne with micro-shock technology combined with Traditional Chinese Medicine
Technology Fractional Laser Fractional CO2 is a technological breakthrough in the field of treatment and recovery acne skin – pitted scars. This technology owns a wavelength of 10.600 nm, capable of penetrating deep into the dermis without causing invasion of the surrounding healthy skin.
CO2 laser helps stimulate tissue proliferation collagen filling acne scars, while improving facial skin problems, helping to firm skin, reduce dark spots, wrinkles, smoother and younger skin. Fractional CO2 laser method is now commonly used in skin treatment in countries with advanced cosmetology in the world such as the US, Japan, Korea, Germany... This method is highly appreciated for its sudden effectiveness. break and high safety.
Besides, the advantages of Fractional CO2 laser are no surgery, no invasiveness, no pain, no side effects, short treatment time and high efficiency. Fractional CO2 laser can be applied to both male and female clients.
In the treatment of acne, micro-shock technology brings the following effects:
Skin balances necessary moisture, cleans oil, tightens pores, especially in the T-zone

Acne hidden under the skin absorbs the drug and eliminates itself when washing the face

Blur bruises, reduce inflammation significantly

Bright skin, healthy pink and white

Combination of Oriental medicine herbs penetrates deep into each acne spot, helping to treat acne safely and naturally.

Acne bud shows signs of gathering after 1 week of using Traditional Chinese Medicine

Concave scars improve 20-40% depending on each person

Safe for all skin types, short treatment time, no downtime

Improve oily, dark acne, help even skin tone, fade dark spots, smooth skin, white pink

Long-lasting effect, preventing acne from coming back
3. The treatment process using micro-shock technology at Miss Tram - Natural Beauty Center
Step 1: The specialist will conduct an examination of the skin condition and advise the detailed course of treatment. Depending on the acne condition of the customer, there will be different treatment courses.
Step 2: Wash your face with a specialized acne cleanser at Miss Tram - Natural Beauty Center
Step 3: Exfoliate, steam and absorb impurities
Step 4: Experts examine and remove acne in accordance with medical standards
Step 5: Fractional CO2 Laser Laser Anesthesia and Micro-Shock
Step 6: Apply nutrients after the laser to help soothe the skin quickly, completely without burning
Step 7: Experts guide how to take care and use special oriental medicine suitable for different skin types
Step 8: You will be fully supported by the customer care department throughout the process of treating acne as well as using medicines at home. In addition, we also support to schedule an appointment 10 days later for the specialist to periodically examine and treat the skin and change the corresponding medication.
You should know that the longer acne is left, the more serious your skin condition will be. Therefore, a safe and effective course of treatment is recovered after treatment at Miss Tram VietNam at an extremely attractive price is absolutely necessary. So, what are you waiting for without coming to us for a free consultation and examination? (What does the successful acne treatment process require? See now Requirements for acne treatment for the safest and most effective treatment.
See More About News – Beauty Secrets By Miss Tram - Natural Beauty Center:
Exclusive Dermatological Acne Treatment Process at Miss Tram
What is the best method to treat pitted scars?