Rose water Used by girls in removing makeup, moisturizing the skin every day to help tighten pores. However, is this nutrient suitable for all skin types, especially? dry skin? Next post by Miss Tram - Natural Beauty Center will help you answer this question.
How To Use Toner For Dry Skin
What is rose water and is it suitable for dry skin?
Rose water is a liquid extracted from fresh rose petals and the products that we see on the market are a combination of filtered water, petals and some ingredients used in cosmetic preparations. other products.
>>> Related Articles: Tutorial how to make toner for dry skin The safest, most effective natural.
And usually to get rose water extract, we have 3 methods to do it:
Mix rose essential oil in water

Boil rose petals with water

Distilling rose petals according to a closed process
Rose water is one of the indispensable skin care ingredients of girls. This type of solution is used after washing your face or removing makeup to thoroughly remove dirt and tighten pores. Rated as essential, but still many people are not clear about the use and useful components of this solution. So what ingredients are in rose water?
Rose water is rich in vitamins A and C, which help increase production collagenAt the same time, it fades brown spots on the skin (born due to the accumulation of melanin), making the skin look smoother and younger.
Niacinamide derivatives found in rose water are excellent moisturizing ingredients, while strengthening the skin's protective film to "respond" to environmental agents. Not only that, this solution is also appreciated by the presence of Glycerin, which has the effect of retaining water, restoring dry skin cells, improving moisture and maintaining the health of new cells.
In addition, rose water also contains Hyaluronic Acid, which actively participates in the production of collagen, limits the formation of wrinkles and helps the skin absorb water to always have a smooth and healthy appearance.
With such useful ingredients as above, rose water is very suitable for people with dry skin type. Because the characteristic of dry skin is the lack of water at the surface and deep inside the epidermis. When supplemented with compounds with moisturizing properties, pH balance, dry skin will be greatly improved, helping skin cells absorb nutrients, retaining the necessary amount of water for exchange and regeneration activities.
Not only that, rose water also has the ability to deeply soothe dry, flaky skin, natural antibacterial of these damaged skin areas.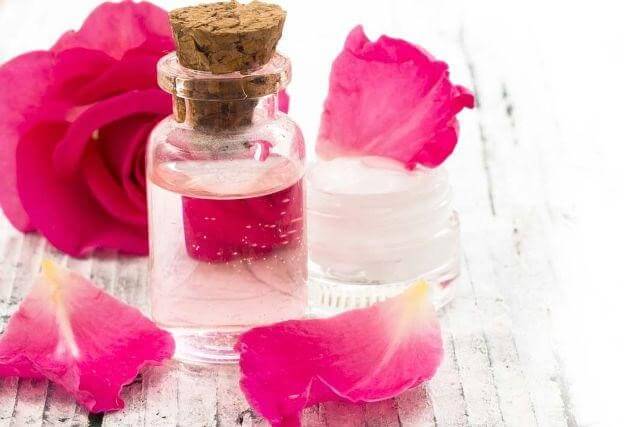 >>> Related Articles: Recipes Anti-aging skin from natural essential oils you should not miss.
How to use rose water for skin care?
We have many ways to treat dry skin with rose water, and one of the simplest ways is to apply it after washing our face every day. When cleaning your face (with water or cleanser), take a soft cotton pad soaked in rose water and gently wipe it over your face. We do not wipe this layer of water but let it dry naturally.
Also try applying the mask formula with the face of rose water below, the skin will be provided with more nutrients, both moisturizing and smooth over time!
You need to prepare the following ingredients:
3 tablespoons glycerin

3 tablespoons pure rose water

1 teaspoon lemon juice
Mix all these ingredients together and place in a glass jar. We will store this mixture in the refrigerator for later use. For each use, take a small amount, apply evenly on the face and then gently massage for the nutrients to be fully absorbed. With the hydrating ability of rose water, the water-holding ability of glycerin, and the whitening vitamin C of lemon, it will help nourish the skin to be white and bright, and control sebum effectively. (Should acne-prone skin use rose water?? - See now sharing from experienced people in skin care).
See More About News – Beauty Secrets By Miss Tram - Natural Beauty Center:
Tips to Whiten Your Face With Beer
How to Whiten Skin In Summer Effectively