Today, women's beauty needs are increasing, that's why aesthetic method about eyesbrown never stopped being "hot". However, whether you choose to draw, spray, embroider, or sculpt eyebrows Choosing the right color is very important.
There are so many questions to ask Can black skin sculpt eyebrows? and are you afraid to see your eyebrows clearly? In this post Miss Tram - Natural Beauty Center Will answer your questions!
Can a few women contact Miss Tram for advice on black skin that can sculpt eyebrows? Does the eyebrow thread stand out? Today Miss Tram VietNam Will always answer for you!
Uncover Black Eyebrow Color Suitable for Black
1. What color eyebrow sculpture is suitable for dark skin?
For those of you with dark skin, you can still perform eyebrow sculpting and you just need to choose the right eyebrow tone for your skin. People with dark brown skin will often be born, but sometimes this skin is easier to choose eyebrow color. It's very simple, you just need to choose a darker eyebrow color with our skin tone a little bit like chestnut brown, coffee brown, dark brown, reddish brown...
With these colors will help your eyebrows become in harmony with the face. In particular, dark brown eyebrow sculpture is especially suitable for women over the age of 30. However, young people who love this color can also choose. (Refer to the The hottest method to beautify eyebrows The current).
2. 6D eyebrow sculpting – the secret to creating perfection on the face
6D eyebrow sculpture is a form of using a fiber engraving machine combined with wax ink extracted from natural essences to create a realistic and natural color palette for eyebrows. Therefore, the color of the eyebrows is long-lasting and does not change color like conventional technology. The technician will use the machine to create hairs with sculpting ink mixed with real eyebrow hairs, the carving fibers go in the direction of the eyebrow growth and down the end of the eye. The etched fibers will be interlaced to form a more complete eyebrow shape.
For those of you with dark skin, rest assured because the eyebrows are not only prominent but also very true and natural. 6D eyebrow sculpture keeps for a long time from 4-5 years, not as permanent as old tattoo forms, so it will be easy to change the style as well as erase if you find it not suitable for you anymore! This is the advantage for those who like change.
3. The process of doing 6D eyebrow sculpting at Miss Tram - Natual Beauty Center
Step 1: Examination and consultation
The 6D eyebrow sculpting technique will make you feel confident with sculpted eyebrows that are very natural, identical to real eyebrows. This method is suitable for both men and women if your eyebrows are pale, hairless or lacking a tail. At this step, you will be consulted by experts to choose the right eyebrow color for your skin tone as well as the care steps before and after eyebrow sculpting.
Step 2: Shaping your eyebrows
Before proceeding to draw, the technician will identify a round, oval, angular face ... and design an eyebrow shape that is most suitable. This step is extremely important and is directly consulted by a team of experienced consultants to ensure that you choose the most suitable color tone for your current eyebrow condition and skin tone.
>>> Articles up to: Tips for beautiful, feng shui eyebrows for KTV Spas.
Step 3: Mix natural color
Miss Tram is famous for its exclusive technology of mixing diverse ink colors, colors exclusively for eyebrows extracted 100% from natural herbs, imported directly from Germany and the US, without chemicals harmful to health. strong. Customers will be assured of the ink color that is not blue, red and will be advised on the most suitable color for skin pigmentation, hair color, and lightness of the eyebrows.
Step 4: Anesthesia
In order to avoid the medicine flying into the eyes, the customer will be used to protect the eyes, then clean the area to be sprayed with an antiseptic. Next, you will be incubated with a full anesthetic on your eyebrows, waiting for about 2-5 minutes to be able to proceed with eyebrow sculpture.
Step 5: Sculpt eyebrows
The technician conducts etching of fibers mixed with real eyebrow hairs, the engraved fibers must follow the direction of the eyebrows growing in the direction down to the end of the eye. The etched fibers go from the tail and become lighter when reaching the tip of the eyebrow. The technician uses a cotton swab to gently wipe it, then keep moving until the color is hidden and there are soft sculpted fibers under the skin. The more you go to the top, the lighter your hand will be to keep the naturalness of the eyebrows.
Step 6: Care after sculpting
After performing the above 5 steps, the customer carefully advises on how to clean, how to care, how to care so that after the peeling process, the product will be the most perfect. (Refer Tips to help eyebrows spray quickly and up the standard color you need to remember clearly).
You should note the following things to perfect eyebrows, shape and color standard:
In the first few days, limit your eyebrows to water

Apply a cream according to the instructions of an expert or Vaseline to quickly peel off the eyebrows and keep the color for a long time

Absolutely do not use your hands to remove, pick up the scales but let the eyebrows fall naturally.
In addition to the above care notes, customers do not need to take any other antibiotics.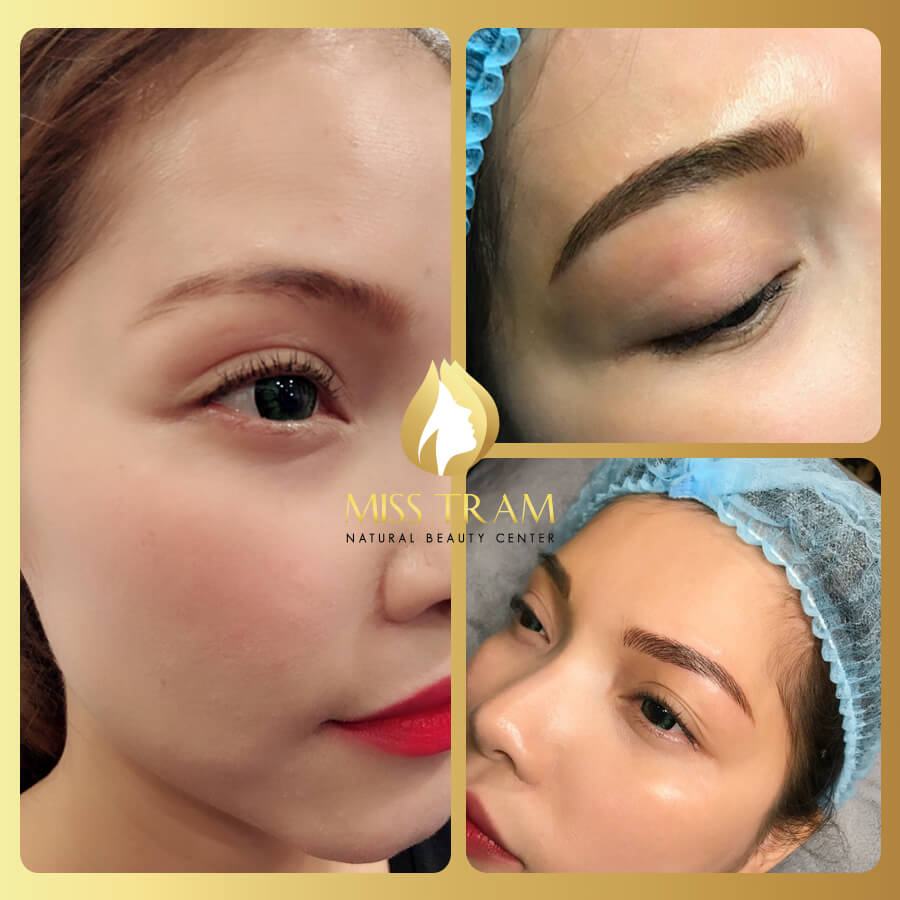 Eyesbrown is a part that creates accents on our own face. So, be a smart customer to choose a reliable eyebrow sculpting place. For more information about the service 6D eyebrow sculpture in Miss Tram - Natural Beauty Center, customers please call the switchboard 1900 7018 for free advice and answers.
See More About News – Beauty Secrets By Miss Tram - Natural Beauty Center:
What Method Should You Do With Your Eyebrow Shape With Head But Missing Tail?
Eyebrow Sculpting at Miss Tram Why Free Support Up to 1 Year