Ages ago long ago, olive oil be considered a skin care ingredients Known for its powerful antioxidant properties. With source vitamin E, vitamin K abundant and abundant fat axit beneficial, this ingredient is used a lot in recipes beauty mask.
However, what olive oil offers is more than that, if you know how to use it, this oil also helps improve your health problems as well as your beauty. And Miss Tram - Natural Beauty Center Discover the amazing uses of this ingredient.
Discover The Uses Of Olive Oil For Health And Beauty
Ingredients Of Olive Oil
Olive oil is an oil pressed from olives, native to the Mediterranean countries. This is one of the most used ingredients in cooking, cosmetics, and pharmaceuticals because it has many uses for health and beauty.
Olive oil contains many healthy components such as vitamins such as E, K, A, D, etc., especially antioxidant compounds and beneficial fatty acids. Thanks to that, they are easily absorbed and digested into the body, helping to improve and promote health effectively.
In addition, this is also an extremely benign material, you can use olive oil to beautify from head to toe without worrying about any irritation on the skin.
>>> Related Articles: Revealed The best oil skin care routine Temples from the most experienced.
The Amazing Uses Of Olive Oil
Uses for health
Improve heart health
Nutritionists have shown that, if you replace olive oil for fats or butter in your daily dishes, it will help you prevent and improve cardiovascular problems very effectively. The reason is that olive oil is rich in antioxidant compounds, which bring a lot of benefits to heart health as well as other health problems (especially in the elderly).
Prevent stroke đột
According to French scientific studies, the regular use of olive oil in meals not only reduces the risk of cardiovascular diseases but also strokes. Specifically, those who regularly use olive oil can reduce the risk of stroke by 41% compared to those who have never used olive oil.
Increased longevity
Of course, when preventing dangerous symptoms such as high blood pressure, stroke and cardiovascular diseases, olive oil will effectively increase life expectancy. The evidence is that according to statistics, the life expectancy of people in the Mediterranean region is very long.
**Note for proper use:
There are many types of olive oil on the market, namely: virgin, extra virgin, pure, extra light/lite, pomace… However, extra virgin is the oil with the highest value for health – this is pure oil. , without any treatment and has an acid concentration of less than 0.8%. Therefore, you should prioritize using this oil in eating and beauty to bring about the highest efficiency. (Refer to the secret Oily skin care with olive oil extremely effective shared from insiders).
Use with beauty
Moisturize skin, prevent aging
With an abundance of vitamin E and active polyphenols, phytosterols, olive oil brings effective moisturizing and antibacterial, anti-inflammatory, and antioxidant effects to the skin.
In particular, olive oil contains benign ingredients, so it is suitable for all skin types as well as skin areas on the body. You can use this material to make a face mask, massage oil or use it as a body moisturizer.
Acne treatment support
With anti-inflammatory and antibacterial properties, olive oil is used as a makeup remover, helping to clean cosmetic residue without irritating the acne area. Besides, a healthy diet and suitable skin care mask recipes with olive oil will help improve acne on the skin effectively.
Some acne mask recipes with olive oil you can refer to: olive oil + lemon, olive oil + aloe vera gel, olive oil + honey, ...
Soft and smooth lip balm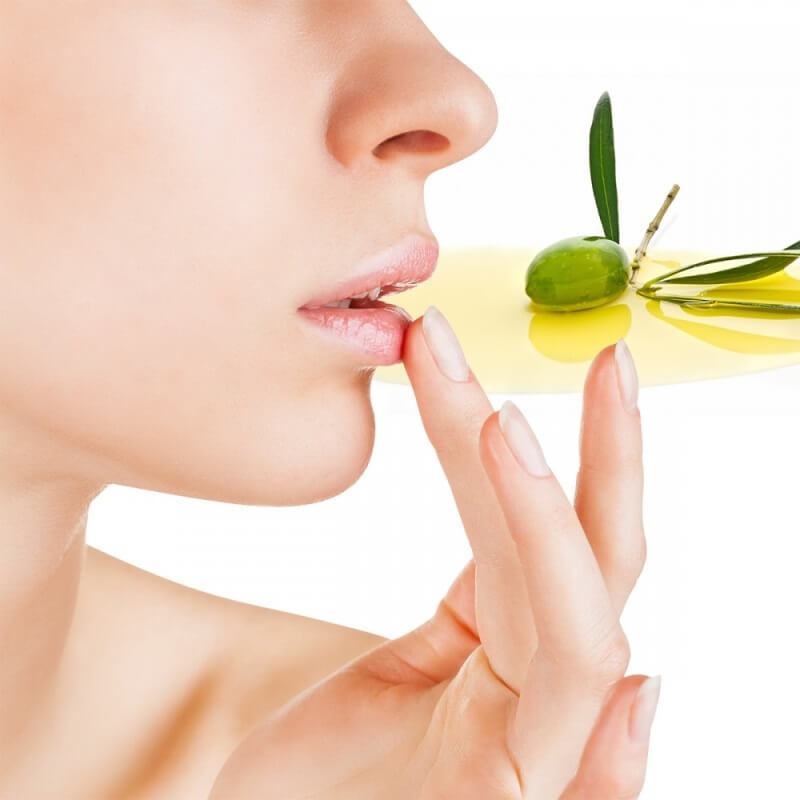 Besides coconut oil, olive oil is also an ingredient for daily lip care of many women. With abundant vitamin E and antioxidant compounds, this oil is extremely effective in moisturizing and preventing darkening of lips.
You can use olive oil to moisturize your lips every night or combine with honey and avocado to make a lip mask 2-3 times a week.
Eyelid care, thick and long eyebrows
The nutrients in olive oil work to nourish hair follicles and stimulate hair follicle growth quickly. As a result, your eyelashes and eyebrows will grow thicker and longer if you use olive oil every day.
You should extract the oil into containers such as mascara to make it more convenient to use.
Scalp Care
For those of you who often suffer from dry scalp in the winter, olive oil is a simple but extremely effective savior. Just massage the scalp with olive oil for 5 minutes, incubate for 1 hour and then wash with shampoo, your scalp will regain its natural moisture quickly.
In addition, with dry hair - split ends, you can add 1 tablespoon of olive oil to shampoo to make hair softer and stronger.
Moisturize hands, treat cracked heels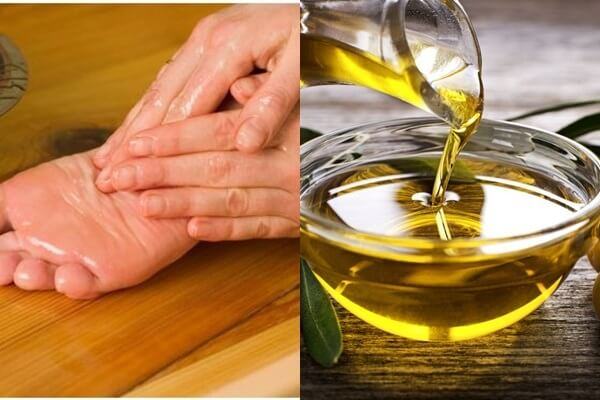 Possessing an abundant amount of vitamin E, olive oil can be used as an effective moisturizer for the skin of hands and feet.
How to use is very simple, just gently massage a sufficient amount of oil into your hands, feet, elbows, knees before sleeping and leave overnight. After one night, you'll feel these areas noticeably softer.
Not only that, olive oil can also improve cracked heels if you regularly exfoliate (2 times a week) and moisturize with olive oil (daily) for this skin area.
Olive oil is an easy-to-find ingredient with many great uses for health and beauty. Therefore, regularly use this ingredient in daily meals as well as skin care recipes to have a healthy and beautiful body. In particular, with skin care formulas, you need to be very persistent to bring the most visible results.
Hope the sharing of Miss Tram - Natural Beauty Center will be useful to you. Wish you always beautiful! (Refer to the good article: Finding the benefits of himalaya pink salt for skin health).
See More About News – Beauty Secrets By Miss Tram - Natural Beauty Center:
Guidelines for Setting Diet and Living for People with Acne
Top 5 Most Essential Vitamins For Acne Skin