Should you spray powdered eyebrows?? Perhaps many women have wondered about this. Owned eyebrows delicate, can help enhance the beauty, charisma for the eyes as well as the face is always the desire of all women.
In today's modern life, it is not difficult for you to achieve this dream thanks to eyebrow beauty services at beauty salons. Sisters who want to own beautiful eyebrow shape but still don't know what to do, let's Miss Tram - Natural Beauty Center Learn more about the method powder eyebrow spray Hey!
Should I Spray Eyebrow Beauty Powder Or Not?
1. What is powdered eyebrow spray?
Spray powdered eyebrows is one of the beauty methods from the land of kimchi  (Korea) -  The country has the most developed cosmetic industry today. This is a modern eyebrow cosmetic method, giving you smooth, beautiful, natural eyebrows.
Its essence is a combination of eyebrow spray form and powder form. With the micro-touch technique that pushes the ink into the epidermis of the skin without affecting the dermis, combined with the natural pigment powder technique, the eyebrow powder spray creates a smooth color like when you draw makeup. . In particular, the ultra-small needle tip and gentle manipulation will create lines that are not too sharp and still look natural.
The palettes used in eyebrow powder are very diverse, so they can be suitable for all ages, skin tones and faces. Thanks to the application of modern technology, eyebrow powder spraying uses completely natural materials, quite durable over time. If you trust using this service, the result you will receive will be eyebrows with clear and natural lines like real eyebrows. (Daily habits make eyebrows ugly you already know? Learn 5 habits that make your eyebrows look uglier and uglier for the most effective remedy.)
2. Should you spray powdered eyebrows at Miss Tram - Natural Beauty Center is not?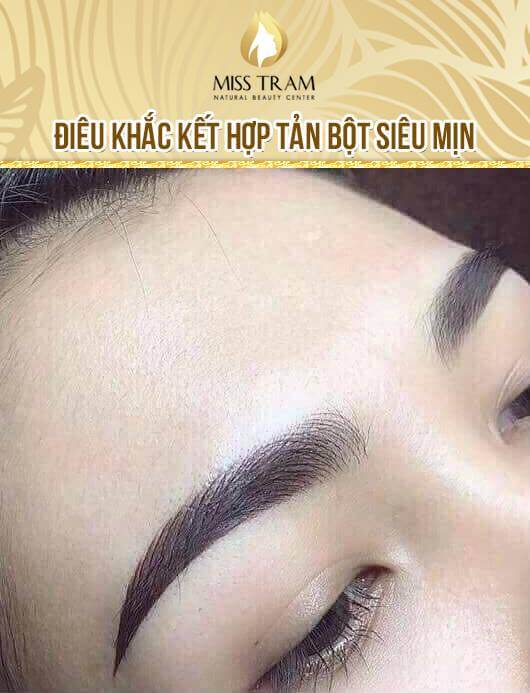 The reason why women prefer this method is because the eyebrows are not only softer and more natural, but also easily change the style of makeup. This beauty technique possesses many outstanding advantages:
Spray eyebrow powder at

Miss Tram - Natural Beauty Center

Using powder color extracted from nature, no toxins, so it does not irritate the skin, committed to the most beautiful natural color.

The eyebrow spray procedure is quick, safe, non-invasive, and requires no downtime.

You won't have to spend hours applying makeup to your eyebrows before going out.

Eyebrow powder spray helps you say goodbye to the worry of sweat or rain washing away the color of your eyebrows.

This cosmetic technique creates subtle accents on the face that make you confident and radiant whenever appearing anywhere, anytime.
>>> Related Articles: Tutorial How to spray eyebrows quickly and up to standard color for spa KTVs.
3. Who is powdered eyebrow spray for?
Powder eyebrow spray is suitable for most target groups because under the creativity of experienced experts, eyebrows will be "enchanted" to become youthful and naturally beautiful anytime, anywhere without to the eyebrow pencil.
The group of objects that should spray powdered eyebrows include:
People with no eyebrows or eyebrows that are fuzzy, pale, short or sparse

People who lose their eyebrows due to health and environmental influences

The eyebrow shape does not match the face, skin color and hair

Have a need to create a beautiful eyebrow shape, want to refresh yourself

Already done eyebrow tattoo but damaged or not satisfied
If you are the one who has the above concerns and questions, the powdered eyebrow spray method will be a completely reasonable solution for you.
Hopefully with a few words to share about the question "Should you spray powdered eyebrows??" brought you useful information.
If you intend to spray your eyebrows but are still shy and don't fully understand this beauty method, come to Miss Tram - Natural Beauty Center or contact via Hotline 1900 7018, experts are always ready to assist you. (Listen to experienced people about the problem predict the fate of women with thin eyebrows).
See More About News – Beauty Secrets By Miss Tram - Natural Beauty Center:
How to Spray Thick Lips To Thinner
Spray Lips Coating Collagen Coating Thousands Love At Miss Tram
Trend of Korean Horizontal Eyebrow Spraying Naturally Beautiful