What is orlistat stada 120mg? And Should I use orlistat stada 120mg to reduce fat? Surely that is the question of many people who want to learn about weight loss, right? Then let's refer together, see some information about Orlistat STADA 120mg fat loss right below.
1
What is Orlistat STADA 120mg?
Orlistat STADA 120mg is an over-the-counter medication that aids weight loss and fat loss for people who are obese or overweight. Products are manufactured by Stada Vietnam Factory, a member of STADA Group Arzneimittel AG (Germany).
Basic information:
Dosage form: Capsules.
Packing: Box of 2 blisters × 21 tablets.
Ingredients in each capsule include:

120mg Orlistat granules contain 50% orlistat.
Excipients are sufficient.

Product details are available at: https://orlistatstada.vn/
2
Orlistat STADA Fat Loss Pills 120mg Effective and Should You Take?
To answer your questions about the effectiveness and safety of Orlistat STADA 120mg, the following aspects can be studied:
2.1 Active ingredient Orlistat approved by the FDA for the treatment of obesity
Orlistat is a substance approved by the US FDA for use in the treatment of obesity. This ingredient is a potent reversible inhibitor of lipase enzymes. Orlistat acts on the active serine sites of lipases in the stomach and pancreas, forming a covalent bond to inhibit lipase in the gastrointestinal tract. At that time, lipase will lose the ability to hydrolyze fat in food from the form of triglycerides into free fatty acids and absorbable monoglycerides. These triglycerides are not digested and absorbed by calories, helping with weight loss and weight control.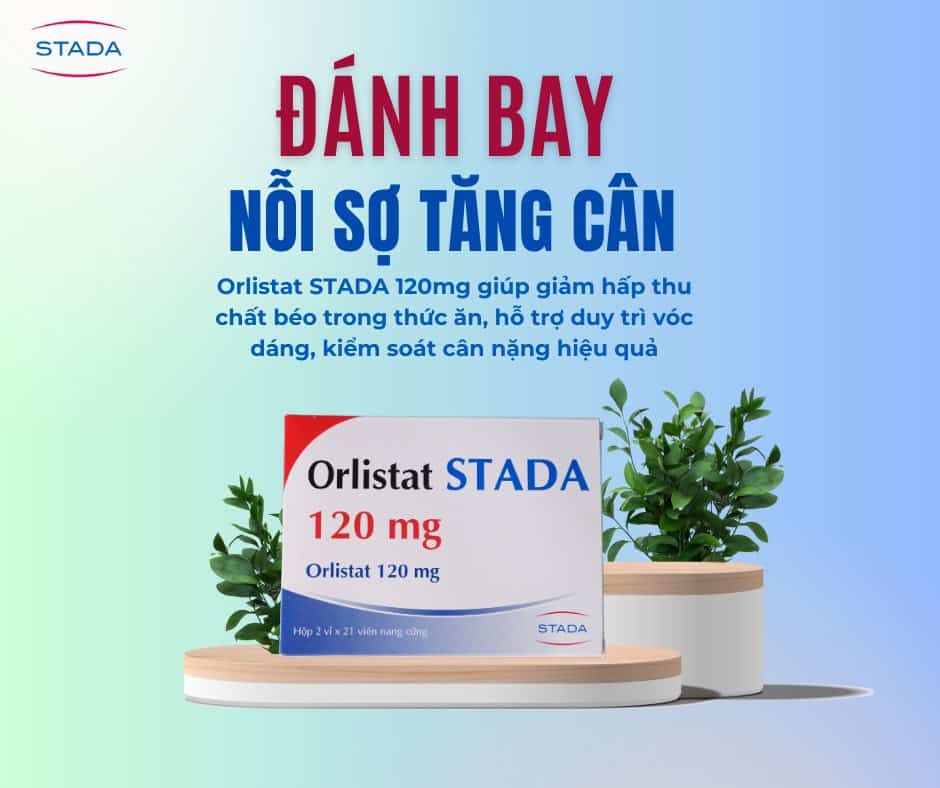 2.2 Proven weight loss effect
Orlistat STADA 120mg has proven effective fat loss through:
Studies in the US showed that when combined with a calcium-lowering diet, overweight patients who took 3 Orlistat 120mg/day tablets for 12 weeks had significantly greater weight loss results than the placebo group (5Trusted Source ). % vs 3,5%).
Clinical studies for 2 years:
People using Orlistat 120mg had more significant weight loss results than the placebo group at the end of year one. In the second year, they continued to maintain or lose weight. This proves that the use of Orlistat 120mg can reduce the initial body weight to more than 5% or 10%.
2.3 Origin, clear origin
Orlistat STADA 120mg clearly and fully shows information about the manufacturer, ingredients, intended users ... on the package, instruction sheet, so you can rest assured to learn and choose.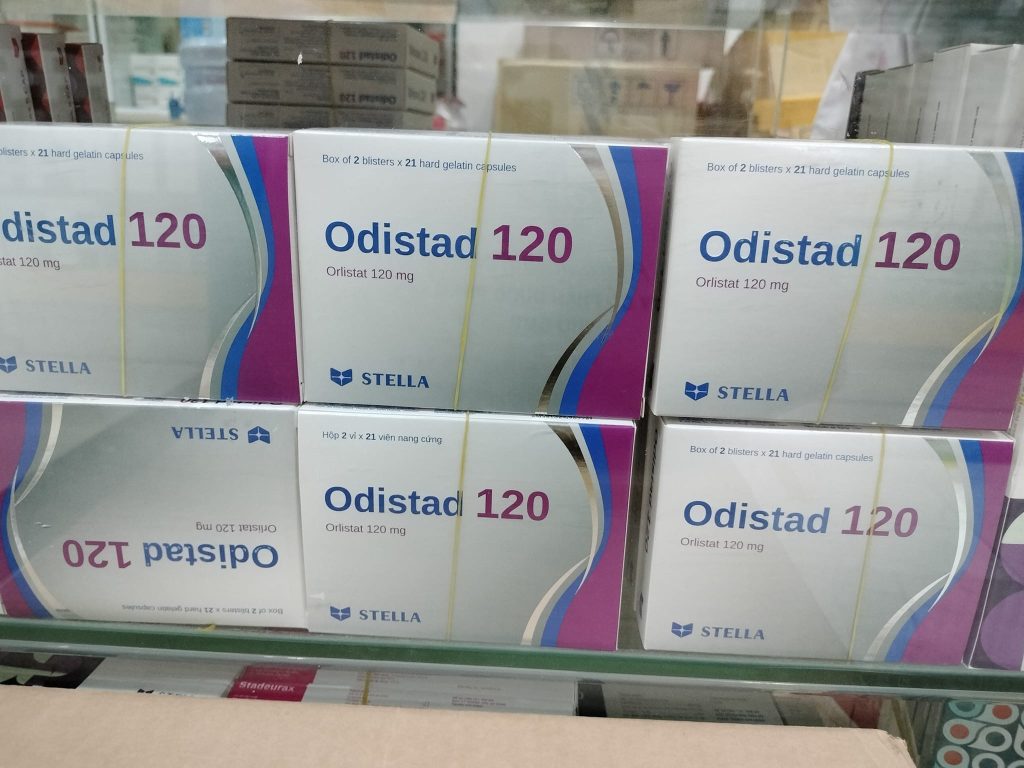 3
Notes Before/During/After Orlistat STADA 120mg
To use Orlistat STADA 120mg safely and effectively – you need to be aware of the following issues:
Orlistat STADA 120mg is suggested for use in people with a body mass index (BMI) 28kg/m² and on a weight-loss or obese diet (BMI 30kg/m²) with associated health risks. conditions such as diabetes, high blood pressure, and high levels of excess fat in the blood.
Side effects of medications:

Very common: abdominal pain - discomfort, urgency, frequent bowel movements, flatulence, loose stools, fatty stools, headache, flu, fatigue...
Common: rectal pain/discomfort, soft stools, abdominal distension, menstrual disorders…
Uncommon: skin blistering, rectal bleeding, rash, angioedema, urticaria...
Subjects contraindicated: hypersensitivity to Orlistat or any ingredient of the drug, lactating women, cholestatic liver disease, chronic malabsorption syndrome, pregnant women need a prescription from a doctor.

Using Orlistat 120mg does not affect the user's ability to drive vehicles and machines.
If within 12 weeks of using Orlistat without achieving a weight loss of at least 5% of body weight, use should be discontinued.
There is no need to use Orlistat if the meal is fat-free or skipping meals.
Using the correct dose (1 tablet x 3 times / day), increasing the dose too much does not bring any additional benefit.
In case of missed dose, skip the missed dose and continue taking the next dose as directed.
Using Orlistat can reduce the absorption of fat-soluble vitamins, so it is necessary to supplement the necessary vitamins in daily doses to avoid problems related to vitamin levels in the body.
You can easily buy Orlistat STADA 120mg at drugstores nationwide; Avoid buying at unknown addresses, easy to encounter poor quality products – affecting health.
For the best results, it is necessary to combine the use of Orlistat STADA 120mg with a scientific diet and appropriate exercise plan.
In order to maintain the desired body shape after stopping the medication, you need to continue to adopt an appropriate diet and exercise regimen.
Orlistat STADA 120mg is an effective weight loss and body fat loss support drug, however, to use this product safely and effectively, users need to carefully study the mechanism of action, the contraindications. and how to use the product. In particular, combining with a healthy diet, regular exercise and proper rest is very important to achieve the best results. Therefore, before using Orlistat STADA 120mg, you should learn about the product carefully and consult an expert to make a smart and safe decision to use the product.
To sum up, the use of Orlistat STADA 120mg to lose weight and reduce body fat is an effective and widely used method. However, this product needs to be used correctly and in the right dose to ensure its safety and effectiveness. Finally, before using Orlistat STADA 120mg, you should carefully study the product and consult with an expert to make a smart and safe decision to use the product.
See reviews of some other discussion topics: